Column: Clippers owner Steve Ballmer has all the pieces in place to add two more big ones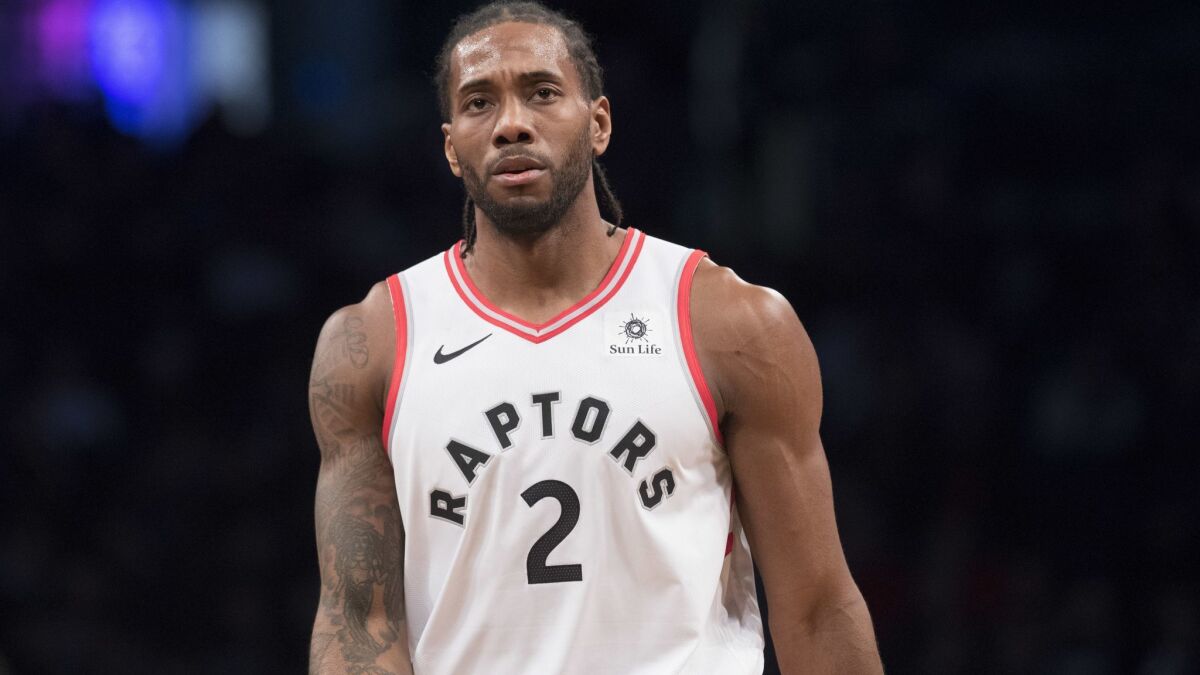 I made an early New Year's resolution this month while watching a team filled with sneaker-squeaking surprises.
I resolve, whenever I write about a potential free-agent NBA superstar coming to Los Angeles next summer, I'm no longer restricting my thinking to the Lakers.
I'm including the Clippers, in everything, with everybody.
They belong in the conversation. They are a legitimate landing spot. Even with their 123-99 loss to league-best Toronto on Tuesday at Staples Center, they are using this season to set themselves up as an attractive new home for this town's next box-office smash.
They will have two available max salary slots, and have become the kind of team and organization into which those slots would fit perfectly.
On the court, this is no longer star-struck Lob City, but a group of hustling, complementary-yet-competitive pieces that could readily embrace a star and honestly promise him title contention.
"We take all of our different skill sets and match them up and work them all together," said leading scorer Tobias Harris. "It's good for all of us."
The group is also supported by an owner who spends, a legend who advises, a smart front office, a championship head coach doing his best work and a potential Inglewood arena in the planning.
"We're just stacking it up," owner Steve Ballmer said Tuesday. "We're stacking it up with Jerry [West], stacking up with Lawrence [Frank], stacking it up with Doc [Rivers], stacking it up with a new arena."
Ballmer smiled even wider than when he once sat underneath DeAndre Jordan's dunks.
"We're headhunting in a place where this team has not been before," he said.
Kawhi Leonard wants a team that grinds like he does? These Clippers could grind their way into his heart.
"The only way you can win is to get all the ego crap out of the way and just play, and that's what we do here," Rivers said. "I think we're in a really nice place. This group is how you want to be. It makes you want to come to work."
Kevin Durant wants to finally create his own legacy? In the
aftermath of Lob City, these
Clippers are finally built in the tough, legacy-building image of Ballmer.
"If when we all leave this, we've done something grand, with this organization, it would be the best story ever," Rivers said. "It's a key selling point for free agents. You can make your history here."
Kyrie Irving, Kemba Walker or even Klay Thompson wants to be a star in a place that will support them like one? This has become that place.
"Players understand they can get a contract with any team, it's the other stuff that matters to them," Rivers said. "They want to come to a place that's competitive, a place that's nice to live, the right locker room, a place where they know everybody in the office is in it for wins."
You could see it late Tuesday afternoon here during the Clippers' early workouts. Standing behind the basket was Ballmer, who loves showing up early just to watch the scrubs shoot.
"We have a team that competes, we're getting a real personality I like. You want to be the guys who are gritty, who work harder, and that's who we are," Ballmer said. "We have a lot of advantages to play with."
The biggest advantage is Ballmer himself, who made sure this team didn't do the one thing most folks thought it would do.
They aren't tanking. It will cost them their only first-round draft pick if they don't make the lottery, but Ballmer said he couldn't
stomach it, and would never dare sell it.
"Our fans can and should expect more than that," he said. "That also should be attractive to players. You come here, you know we play to win every year, every year, every year."
Because they haven't tanked, they have entertained, with old-fashioned, selfless, star-free basketball, even despite Tuesday's debacle in the second game of a back-to-back against the team with the NBA's best record.
The Clippers are still 17-10 and still surprising with the likes of Danilo Gallinari and Montrezl Harrell and Harris. The Clippers are still among the best in the West, and, after a third of the season, still putting up the kind of numbers that would ensure them a playoff spot.
Leonard, who didn't play Tuesday because of a bruised hip, couldn't have liked what he saw when the tired Clippers committed 16 turnovers and missed 18 of 25 three-pointers. But he surely has liked what he has seen from a team located down the road from where he played high school basketball in Riverside.
Defense? Before Tuesday, the Clippers were tied for the NBA lead in defensive effective field-goal percentage.
Depth? They led the NBA in bench scoring, and recently set a franchise record with nine players scoring in double figures.
Disciplined? They recently set a franchise record with only four turnovers in a win over Portland.
They're doing it in the kind of locker room where, before Tuesday's game, I ran into giant Boban Marjanovic standing in the doorway holding a sandwich.
"Come in," he said, stepping aside. "Welcome."
It's a locker room where Harrell was sitting and sweating early Tuesday afternoon after a pregame workout as if he just played a game. It is Harrell's frenetic energy that has become the trademark of a team that needs that energy to win.
It didn't have that Tuesday night and it showed.
"I make sure I do any and all the little things to give our team the extra edge it takes to win the game," Harrell said. "Everybody says we don't have a superstar player on our team, but we have a lot of guys who can be a superstar every night."
Sitting next to him was Harris, who has had a breakout season by just being himself.
"We don't buy into hype of, they have a chance to get superstar free agent; we buy into the moment right now," Harris said.
When it comes to the Clippers, at least for now, you can buy into all of it.
Get more of Bill Plaschke's work and follow him on Twitter @BillPlaschke
Get our high school sports newsletter
Prep Rally is devoted to the SoCal high school sports experience, bringing you scores, stories and a behind-the-scenes look at what makes prep sports so popular.
You may occasionally receive promotional content from the Los Angeles Times.