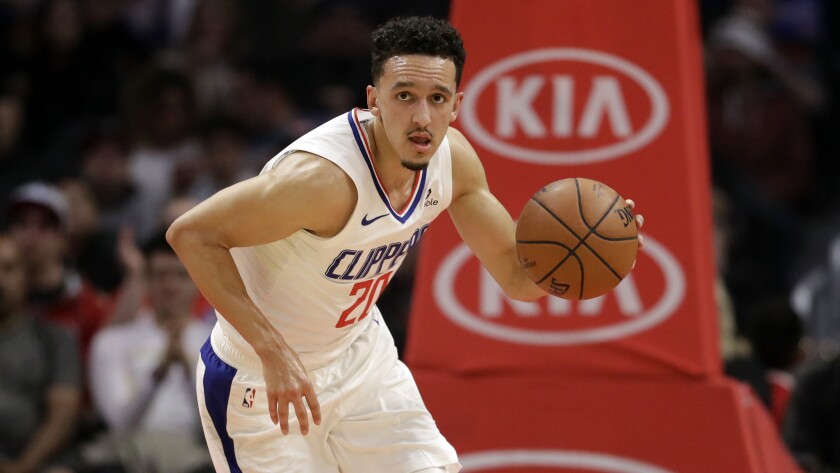 Clippers coach Doc Rivers gauges whether his team was unselfish enough on offense on any given night by looking at one statistic: the number of shots attempted by Landry Shamet.
The rookie shooting guard, acquired in a six-player trade with Philadelphia in February, was mentored by the 76ers' J.J. Redick, the former Clippers sharpshooter. Rivers has used Shamet just as he did Redick, by running him off screens at full speed to create separation from defenders.
Though Shamet can affect a defense by the mere threat of his shooting, with opponents forced to stretch and track his movement, Rivers wants the ball in his hands — but that requires passes from teammates.
In that way, Rivers views Shamet's production as an indicator of ball movement.
One game after Rivers criticized his team's reliance on isolation during a loss to the Lakers, the Clippers appeared to have learned their lesson while playing at Golden State, where Shamet made four three-pointers in the first quarter. In the last 15 seasons, a rookie has made four-plus three-pointers in a quarter no more than twice. Shamet has accomplished it four times.
During the next three quarters of a 131-104 loss, Shamet took only three more shots.
"I was disappointed," Rivers said. "I told them at halftime we got a guy on fire and he ends up with eight attempts. He should have had 30 attempts. … I just know if a guy has it going, he should get it more and I didn't think we did a very good job of that."
Shamet finished with a team-high 17 points, but took blame for not finding ways to score more in the second half, when Golden State adjusted by defending him with 6-foot-11 All-Star forward Kevin Durant.
"Give him credit," Shamet said. "I could feel his intensity go up, so I needed to find ways to be more effective and get involved and still be a threat."
Center Ivica Zubac considered it symptomatic of the "selfish" play that has lingered in the last week amid a three-game losing streak.
"We got confidence, but we played selfish," Zubac said. "I don't think confidence got anything with it. I just think the way we play, it's not right. We just got to get back to the thing we do the best."
The returns of veterans Patrick Beverley (hip), Danilo Gallinari (ankle) and JaMychal Green (child's birth) for the playoffs should help. Beverley has averaged 4.5 assists since returning to the starting lineup Jan. 20. Gallinari's 40.5 passes per game lead the team, according to tracking data from Second Spectrum.
Sign up for our daily sports newsletter »
Rivers said he reiterated at halftime to find Shamet for shots, but Durant's defense deterred that effort. It was the first time the Warriors had faced Shamet since the trade and, ahead of a potential first-round playoff series between the teams, the rookie from Kansas City left the reigning NBA champions impressed.
"He's an amazing young player and I think he will be a force in this league for a while, especially playing the way he plays," Durant said. "Credit to him that we had to switch our game plan up for him. I tried to take on the challenge of just chasing him around and using my length, and I was able to cut some of that stuff off."
Shamet wasn't the only young player to find success against the Western Conference's top seed. Rookie point guard Shai Gilgeous-Alexander joined Shamet as the only Clipper to score in double figures in the first half, and Zubac got the best of Warriors center DeMarcus Cousins on various occasions, including tipping an attempted hook shot by Cousins in the second quarter. During a break in play, teammates, including Beverley, high-fived Zubac animatedly.
"I feel like I have success every time I'm playing against him and I like playing physical, he likes playing physical," Zubac said of Cousins, a former All-Star center. "Just trying to play the best defense I can and try to be big."
The loss was the Clippers' second by more than 25 points in their last three games and came two nights after a costly loss to the Lakers. The Clippers (47-34) are vying with San Antonio and Oklahoma City for the sixth and seventh seeds, and trying to avoid the eighth — and a first-round matchup with the Warriors. To that end, they need to beat Utah in Wednesday's season finale at Staples Center and get some help.
"You kind of look back and that Laker game hurt," Lou Williams said. "That was one that we should have."
Yet coming off consecutive defeats in which players and coaches described the effort as unfocused, the Clippers left Oakland encouraged by their intensity during the first half, before the Warriors' strength and the Clippers' attrition led to a blowout.
"We haven't been the same the last couple games, especially," Shamet said Sunday. "I just feel like tonight we hit first, and if we got hit, it didn't flinch, we came right back. A couple of the other losses we got hit and it took us a little minute to get back up or we just didn't, in the case of the Laker game."
Twitter: @andrewgreif
---