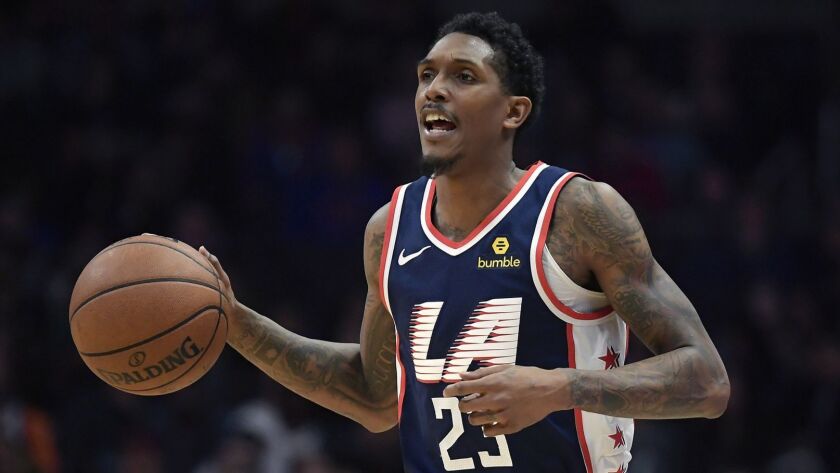 Thanks were in order last month when Lou Williams was voted the NBA's top reserve for a record-tying third time.
The Clippers, Williams said, had helped him play the best basketball of his career at a time when he thought it might be coming to an end.
"I came to L.A. [in 2017] and I was in an environment where I felt revitalized," Williams said after accepting his second consecutive NBA sixth man award on June 24.
Less than two weeks later, the Clippers have thanked Williams in their own way.
Williams' agent, Wallace Prather, said Tuesday that the team has agreed to guarantee the full $8 million Williams is set to earn during the 2020-21 season.
"It's a win for Lou and it's a win for [the Clippers]," Prather said.
It's a win for the team because, for the next two seasons, it can keep Williams on a deal that pays him far less than players with similar production. Williams' average of 20.0 points per game last season ranked 31st in the NBA, while his salary ranked 147th.
Williams, 32, was traded by Houston to the Clippers before the 2017-18 season and midway through he agreed to a three-year extension worth $24 million. The first two seasons were fully guaranteed. The final season, in 2020-21, had a partial guarantee of around $2 million, Prather said.
That guarantee date for Williams' final season was close to a year away, Prather said. That the Clippers agreed to lock in the final year of the deal so far out is "relatively unprecedented," he added.
"Being happy and comfortable with where I was in L.A. and where I was in my career, we took a deal that was kind of like, a lot of people were scratching their head," Williams said during a recent appearance on a podcast with former NBA player Gilbert Arenas, discussing his thinking before signing the extension. "But … made me happy. At the end of the day that's what it was about. My kids love it out here, I'm in a position where I can go out and hoop, go out and do my thing. Do I deserve more money? Of course I deserve more money. But I was happy at the time, so that was the conversation we had and that was the decision I made."
Sign up for our daily sports newsletter »
Williams' influence on the Clippers last season was felt in ways quantifiable and not. The 6-foot-1 guard averaged 20.0 points in fewer than 27 minutes a game off the bench but as a respected, veteran voice in the locker room, was vital in getting teammates to "buy in" to the team's plan, coach Doc Rivers said.
"I sold it hard the first four or five days of [training] camp but my guess is someone else had to, otherwise they wouldn't have bought in," Rivers said. "The culprits are probably Pat [Beverley] and Lou and, you know, probably [Danilo Gallinari] as well. But that had to come from them, even though it was my sell. Yet they bought in and they bought in the first day of camp, you could just see it."
Twitter: @andrewgreif
---