Clippers center Ivica Zubac, back from bout with coronavirus, finally gets on court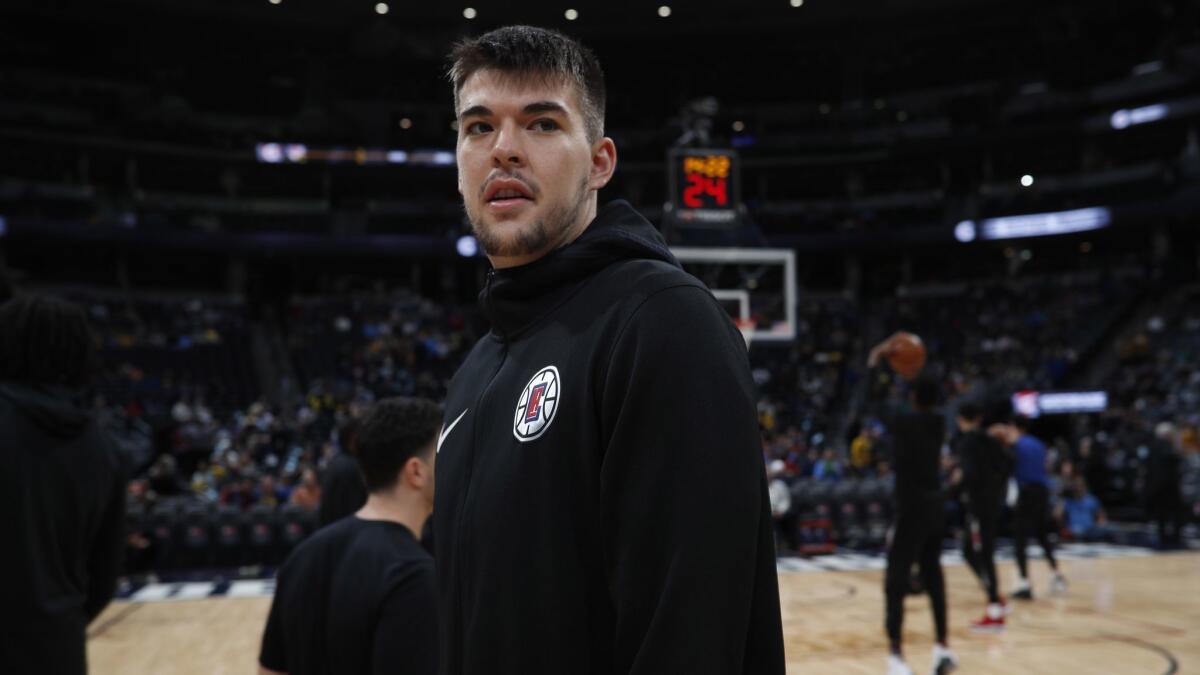 For more than two weeks, Clippers center Ivica Zubac watched his team's practices in Orlando, Fla., over Zoom and their scrimmages on television while he recovered from the coronavirus in California.
On Monday, he took part in person for the first time.
Zubac scored two points and grabbed six rebounds in 13 minutes of a 106-102 loss to Sacramento in the Clippers' third and final scrimmage ahead of the NBA restart, which begins Thursday against the Lakers.
Zubac said he tested positive in late June and didn't show symptoms but felt tired.
"Other than that I was good," he said on a videoconference after the scrimmage. "I was getting tested daily, and I was waiting to clear all the protocols to join the team in Orlando, but it was tough because I didn't have any — I couldn't get in a gym. I couldn't stay in shape. I mean, I did some stuff, but it's hard to replace the practices and these games. I did as much as I could, but I wish I was with the team from the start."
Zubac felt "a little winded" against the Kings but believed he would feel ready for the higher-intensity seeding games "in a few days."
At least 13 members of the Miami Marlins tested positive for COVID-19, yet baseball soldiers on. What would be the breaking point in MLB and other sports?
"All through COVID, Zub was one of the guys that worked out on all our Zoom workouts and he looked great," coach Doc Rivers said. "I don't care how much you work out, a basketball game, an NBA basketball game is different and so you get winded. But I thought he did what Zub does, he clogged up the paint, he rolled for us, he did a lot of good things."
The 7-footer's defense on Kings guard De'Aaron Fox's drive on Sacramento's first possession led Fox to hesitate enough to coax a shot-clock violation. Minutes later, a wide-open Kings layup off a back-door cut led Paul George and Zubac to discuss the miscommunication that allowed the defensive mistake.
Zubac wasn't the only new face at the scrimmage. Reserve guard Landry Shamet worked out with an assistant coach and watched from the second row. Shamet's arrival was delayed after recovering from the coronavirus, according to his posts on social media.
Shamet is expected to be available Thursday against the Lakers, Rivers said, but he was less sure about starting guard Patrick Beverley, who is back on the campus going through quarantine after leaving to tend to a family emergency.
George used his third scrimmage to continue his hot shooting. George scored 19 points, making five of his 10 shots, including four of seven three-pointers. In all scrimmages, he made 45% of his shots and 52% of his threes. His offense offset a second consecutive cold-shooting outing by Kawhi Leonard, the team's leading scorer.
Leonard followed a three-for-16 performance Saturday against Washington by making six of 22 attempts in 30 minutes Monday to finish with 17 points. He made 26% of his shots, and 22% of his three-pointers, during three scrimmages.
The NBA is ready to resume its season Thursday and a big unknown are the long-term health concerns if players get infected with COVID-19.
After their 15-man roster was down to 10 late last week, the Clippers are nearly at full strength. In addition to Zubac, Shamet and Beverley's arrivals, reserve guard Lou Williams also is back on campus, but is not expected to clear quarantine until Aug. 3.
Williams was at an Atlanta strip club Thursday and after the league looked into his activities during his time away, his quarantine was extended from the expected four days to 10.
"Lou obviously made a mistake," Rivers said, "but it wasn't intended to make a mistake and so we get over things pretty quickly.
"We know why we're here, Lou knows why we're here, and so we move on. But I didn't look at it as a suspension or anything like that. I just looked at it as they know he was in public, and so that's the protocol. That's about it."
Williams criticized ESPN commentator Kendrick Perkins after the former NBA center took issue with Williams' actions.
Perkins tweeted that it was "disturbing when a Rookie in Zion Williamson can act more Mature than NBA vet Lou Williams!!!" Like Williams, New Orleans' Williamson left the campus because of a family matter.
Williams responded that "15 years in this business and the most dirt you have on my name is stopping to get hot wings during a pandemic. Perk. Shut up. And stop laughing and saying it's just tv when you run into me too."
"But I digress," Williams wrote in a second tweet. "I went home to see a man off to his final resting place that was a giant in my life. I don't want that to get lost in all this attention. So again, LONG LIVE THE GREAT PAUL WILLIAMS SR. back to my quarantine so I can join the guys soon. Peace."
Current and former Clippers, including Montrezl Harrell, Marcus Morris, Jerome Robinson and Sindarius Thornwell, tweeted their defense of Williams. Zubac, who first played with Williams during his rookie season with the Lakers, wasn't surprised.
"The fact that all the players are coming to the defense of him, that speaks everything about him," Zubac said.
Get our high school sports newsletter
Prep Rally is devoted to the SoCal high school sports experience, bringing you scores, stories and a behind-the-scenes look at what makes prep sports so popular.
You may occasionally receive promotional content from the Los Angeles Times.