Clippers fall to Knicks in final home game of regular season as playoff race tightens
Clippers coach Tyronn Lue's wish list entering the regular season's final week includes two bold-faced items: finish an injury-plagued season healthy, and earn the Western Conference's third playoff seed.
There was progress on the first front Sunday at Staples Center. A 106-100 loss to New York, meanwhile, made the Clippers' path to accomplishing the second goal more difficult.
For the first time since he returned from a foot injury May 1, Kawhi Leonard was cleared to play in 12-minute stretches, a development that allowed the All-Star to play the entire first and third quarters, as had been his norm. He played 36 minutes, scoring 29 points.
With Leonard's minutes limit lifted, Lue was allowed to play his desired rotations. When Leonard sat, All-Star Paul George returned to leading a bench unit that begins the second and fourth quarters, and he added 18 points. Using a tightened nine-man rotation that didn't include Luke Kennard or Terance Mann, Lue looked like he was providing a potential playoff preview.
Leonard appeared to hurt his ankle after tripping near the Clippers' bench following his first basket, and he still is nursing the left hand he hurt after falling hard out of bounds in last week's win against the Lakers. But he downplayed those as to be expected after nearly 70 games and said he'd been through "worse situations."
"Just gotta keep fighting through it," he said. "You know, put up shots, gotta get used to it and I'm not gonna be worried about it."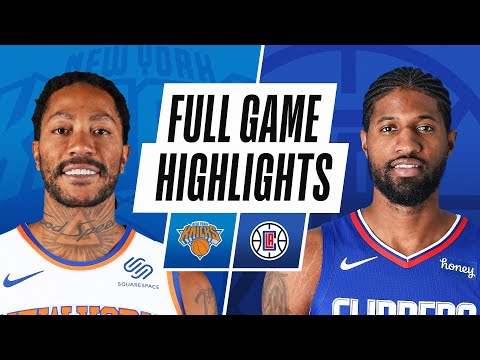 Highlights from the Clippers' 106-100 loss to the New York Knicks on May 9, 2021, at Staples Center.
On the bench, in a bucket hat and designer sweatshirt, Serge Ibaka watched it all. The center who hasn't played since March 14 will join the team on its four-game trip this week, the kind of travel he has avoided since injuring his back. Forward Nicolas Batum hoped Ibaka could return during the playoffs but said the team was deep enough to allow Ibaka to continue taking his time and "make sure he is going to be feeling fine, 100% to be with us and be successful with us."
That trip will begin with the Clippers having lost four of their last six games. Sunday's result was ensured by the midrange masterclass of Knicks reserve Derrick Rose, and a Clippers offense that rarely gave itself chances to beat one of the NBA's stingiest defenses.
By making his first six shots, all on jumpers or floaters in the midrange, Rose was on his way to a season-high-tying 25 points, and every basket was met by full-throated cheers in a Knicks-heavy crowd of 2,578. As fans filed out of the arena, the concourse became a cacophony of New York cheers.
"It was just one of those nights where he had everything going on all cylinders," Lue said of Rose. "The three-point shot, the pull-ups, the floaters, attacking and getting all the way to the basket, he had everything going."
After making just four of 14 shots through three quarters — an outlier performance amid a stellar season — Julius Randle made three jumpers within the fourth quarter's last three minutes to hold off the Clippers' last-gasp attempt to make up for lost possessions. Randle finished with 14 points.
The Clippers (45-23) began the game on a 10-0 run and added an 11-0 stretch that bridged the first and second quarters. Yet they never found rhythm offensively, with possessions marked by too much dribbling and not enough passing.
Scoreless for four minutes late in the third quarter, they missed open shots they have otherwise demoralized opponents by converting this season to fall behind by 10. Marcus Morris, one of the most accurate shooters all season, was the poster child by missing his first six shots and finishing with seven points, but Leonard and George combined to make 17 of 46 shots. George said he had been battling a cold andfelt fatigued playing a season-high 41 minutes.
Though New York allows the league's lowest field-goal percentage on defended shots, the Clippers impeded their own chances moreso on the possessions in which they didn't get a shot at all. Thirteen turnovers became 18 points for the Knicks. New York's "physicality and toughness kind of wore us down," Lue said.
"We was in the mud a little bit on the offensive end, it felt like, just moving too slow into picks, or just getting to that spacing on the floor, but overall you got to give the Knicks credit, they played a good game, played hard," Leonard said. "And with us, we just got to keep getting better, limit those turnovers and try to play with some type of pace."
The Clippers enter the week third in the West and still control their ability to finish with that seed, according to Playoffstatus, a site that tracks playoff probabilities, but their margin on fourth-place Denver, which holds the season tiebreaker, is one game.
"We got four games left to figure it out," said Batum, who scored 13 points. "We're going to be OK. We don't have to worry about it. The coaching staff tries to reset the rotations to get ready for the playoffs. So we just gotta get going, get it together, and we'll be all right."
Get our high school sports newsletter
Prep Rally is devoted to the SoCal high school sports experience, bringing you scores, stories and a behind-the-scenes look at what makes prep sports so popular.
You may occasionally receive promotional content from the Los Angeles Times.