Dodgers hire Andrew Friedman to head baseball operations department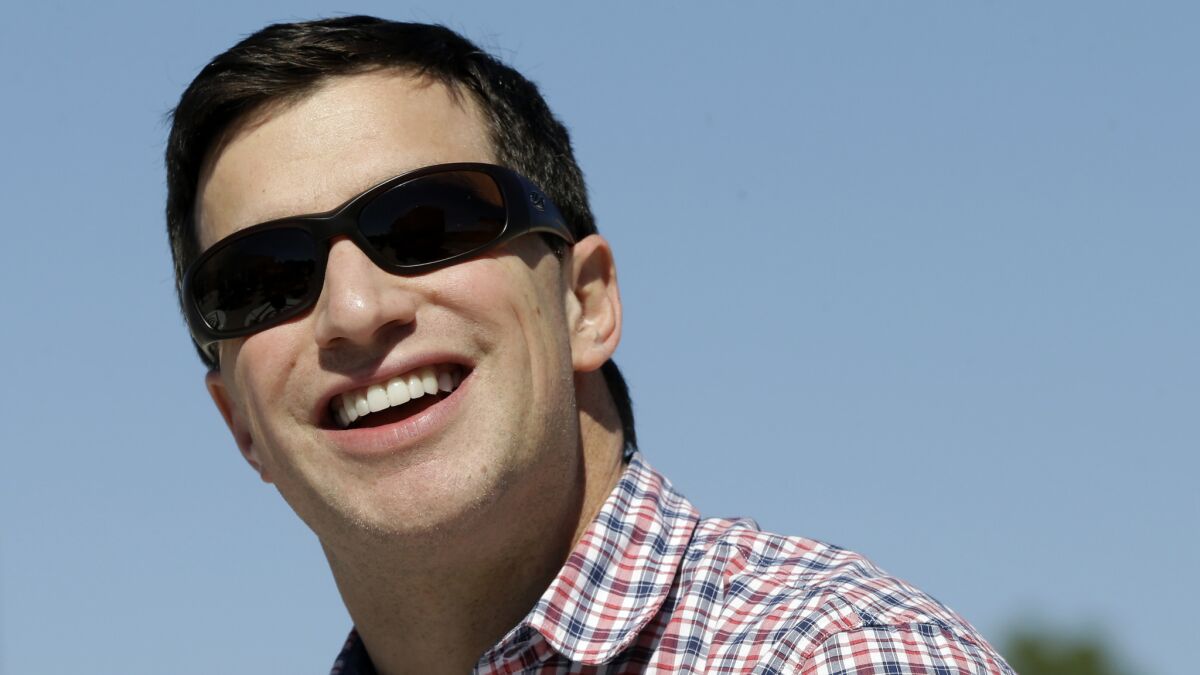 Andrew Friedman, who led the low-budget Tampa Bay Rays to four postseason berths, has been hired by the Dodgers to be their president of baseball operations.
Ned Colletti, the Dodgers' general manager for the last nine seasons, will remain with the franchise but in a new capacity. Colletti will serve as a special assistant to Stan Kasten, the team president.
Friedman, 37, figures to lead the search for a new general manager.
Friedman has a background in finance. Before entering the baseball world, he was an analyst at Bear Stearns and an associate at MidMark Capital.
Friedman joined the Rays in 2004, initially as the director of baseball development.
In 2005, at the age of 28, he was named the team's general manager.
The Rays reached the World Series in 2008. They won their second division title in 2010 and returned to the playoffs in 2011 and 2013 as the American League wild card.
Friedman's arrival marks the end of Colletti's reign as general manager, which included five playoff appearances but also the failed high-priced signings of players such as Jason Schmidt, Juan Pierre and Andruw Jones.
That penchant for expensive blunders is ultimately what cost Colletti his position, as he spent more than $30 million constructing a bullpen that was widely viewed as responsible for the Dodgers' first-round playoff elimination this year.
Colletti signed Brandon League to a three-year, $22.5-million deal after the 2012 season. When League pitched his way out of a late-inning role, Colletti essentially doubled down the next winter by guaranteeing Brian Wilson $18.5 million over two years.
Colletti was prevented by ownership from making any midseason adjustments to the bullpen, people familiar with the situation said. Top prospects Corey Seager, Julio Urias and Joc Pederson were labeled as untouchable by President Stan Kasten. So were some mid-tier prospects, including Zach Lee, a former first-round pick whose development has stalled.
The Dodgers were eliminated by the St. Louis Cardinals in a National League division series. The bullpen figured prominently, but never positively, in each of the series' four games.
The defeat to the Cardinals prevented the Dodgers from reaching their fourth NL Championship Series under Colletti. They were there in 2008, 2009 and 2013, each time falling two wins short of playing in the World Series.
The NLCS appearances were among the highlights of Colletti's tenure, during which the Dodgers won 783 regular-season games. That was the most wins by any NL general manager over that nine-year period. Walt Jocketty was second-most with 746 victories.
Get our Dodgers Dugout newsletter for insights, news and much more.
You may occasionally receive promotional content from the Los Angeles Times.