Dodgers analysis: Zack Greinke's exit intensifies pressure on the front office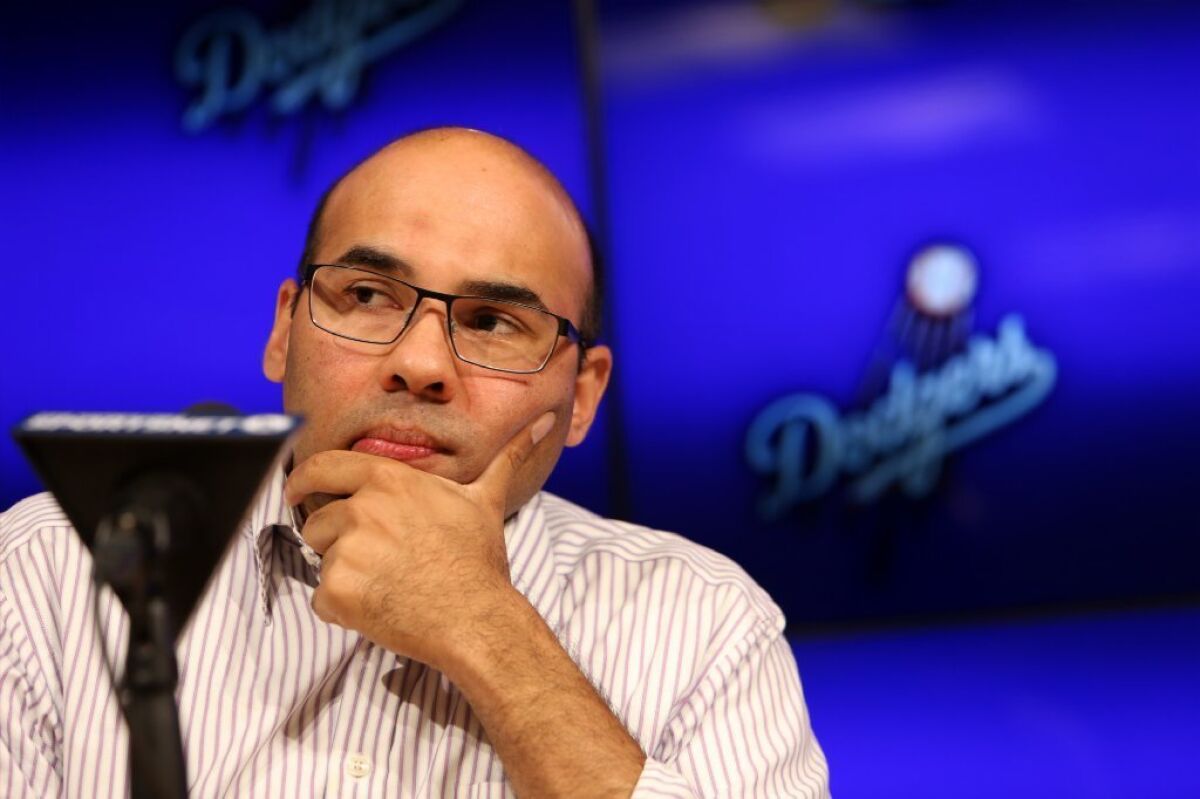 Now, now, stop that. Very unbecoming. Tears never solved anything in baseball. Think of Tom Hanks or Don Drysdale or just about anybody but Zack Greinke.
That would be Zack Greinke, Arizona Diamondback.
That's right, in the year 2015 the Dodgers were just outbid by the Diamondbacks. And only by about $50 million. This one will take a while to digest, if ever.
The Dodgers' front-office team of Andrew Friedman and Farhan Zaidi decided to go all practical on Greinke. He is, after all, 32 years old. Five years was apparently deemed their limit. They were willing to match the average annual salary of Clayton Kershaw and David Price at $31 million. Seemed logical to them.
But five times $31 million comes out to $155 million and Greinke reportedly received $206.5 million over six years Friday from the Diamondbacks. That comes out to a record average annual salary of $34.4 million. Probably more than a million a start.
So the practical Dodgers -- the presumed richest team in baseball -- were outbid by a team that plays in the middle of the desert, where the average summer temperature is like 138 degrees. But the ballpark does have a pool.
Greinke must have been impressed by those new uniforms the Diamondbacks announced Friday or think they have one super-nifty farm system. Hey, it could have been worse. He could have signed with the evil San Francisco Giants.
Now the Dodgers are in what you might call a bit of a pickle, and not the kind you see on the base paths. The kind that can take down management.
They lost what co-owner Magic Johnson called "our No.1 priority" way back on Tuesday. By Friday, the Dodgers were desperately looking for a new priority.
More than ever, the pressure shifts to Friedman and Zaidi. They were just outbid by the Diamondbacks. I keep thinking if I write that enough it will truly sink in.
But right now the Dodgers have a rotation of Kershaw and couple of guys. They look light years away from winning another division title, let alone getting over that little 27-year World Series championship hump.
With Greinke and Price off the market, the Dodgers are scrounging around the second- and third-tier bin of starting pitchers. And they'd best get at least two impressive starters or the tears could last all through the summer.
Johnny Cueto is out there, now the best free-agent pitcher. He reportedly turned down a $120 million over six years from the Diamondbacks last week, and now is looking pretty smart for it. Mike Leake, Jeff Samardzija, Kenta Maeda, Chad Billingsley?
Someone is likely to get seriously overpaid, with the Dodgers unable to let any more quality pitching slip through their mittens.
The Dodgers released a statement attributed to Friedman saying, "We made a very strong offer to retain Zack, but clearly he found a deal that fit better for him and his family." Guess it's safe to say he did.
The Dodgers are in recovery mode now, not a place they're used to hanging out. Certainly not since Guggenheim took over and started throwing money around.
All that wealth did them little good with Greinke. All that record $300-million payroll last season got them was two fewer wins than the previous season. All it has them now is a team without Greinke and a whole new world of pressure.
Follow Steve Dilbeck on Twitter @SteveDilbeck
MORE DODGERS NEWS
Dodgers end their one-year affair with Juan Nicasio
Dodgers have roster room for another busy winter meetings session
Tim Wallach, Lorenzo Bundy join Barry Bonds on Don Mattingly's Marlins staff
Get our Dodgers Dugout newsletter for insights, news and much more.
You may occasionally receive promotional content from the Los Angeles Times.