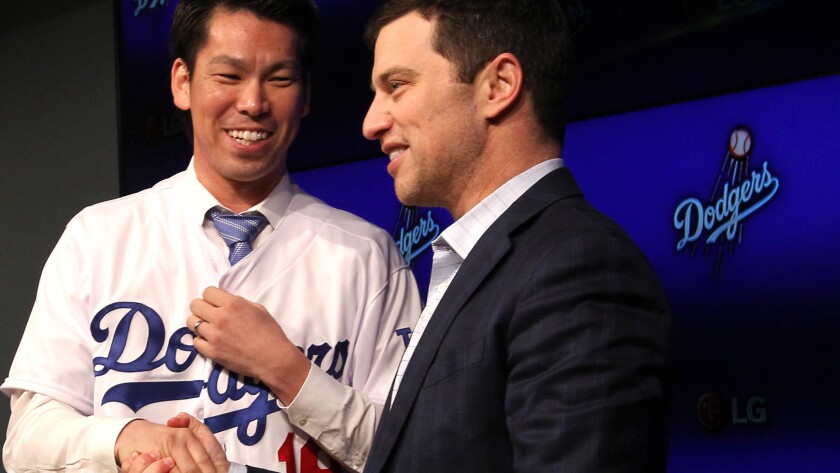 Know why I already like Kenta Maeda even though I've never seen him throw a single pitch in person?
He's betting on himself.
He's so confident he can make the transition from the Japanese leagues to the majors, he signed an eight-year contract guaranteed for only $25 million. It's heavily laden with incentives, reportedly as much as $12 million a year.
Join the conversation on Facebook >>
Maeda, 27, could come out of this with a contract worth over $100 million, or one that averages $3.125 million per year.
That's a fairly safe play by the Dodgers and a seemingly risky gamble by Maeda. Athletes just don't do that. Contracts are typically based more on past accomplishments than on future results.
But Maeda is willing to take a low guarantee, believing the results will reward him handsomely down the line. What a concept. All this despite some apparent concern that popped up over his elbow during his physical examine, or at least, because of it.
"Despite the fact that there were some irregularities found in the physical, the Dodgers made a decision to a long-term commitment to me, and that was really meaningful," Maeda said through an interpreter at a Thursday news conference to announce his signing.
Maeda said he was unconcerned about potential injury, and his contract backed that up.
See the most-read stories in Sports this hour >>
"I'm not worried about the season at all," he said. "I am confident I'll be able to pitch.
"I feel no uncertainty. Zero."
Maeda said he expects to be healthy and hopes to pitch 200 innings. Team President of Baseball Operations Andrew Friedman said the incentives max out at approximately 30 games started and 200 innings.
What a thing. Just don't look for it to become a trend.
MORE DODGERS NEWS
In desperate search of that Dodgers' off-season buzz
Mike Piazza has made it hard for Dodgers fans to share his happiness
Scott Kazmir, a flameout as an Angel in 2011, resurfaces as a remade pitcher with Dodgers
---