Kirk Gibson on 'magical' Dodgers and his legendary home run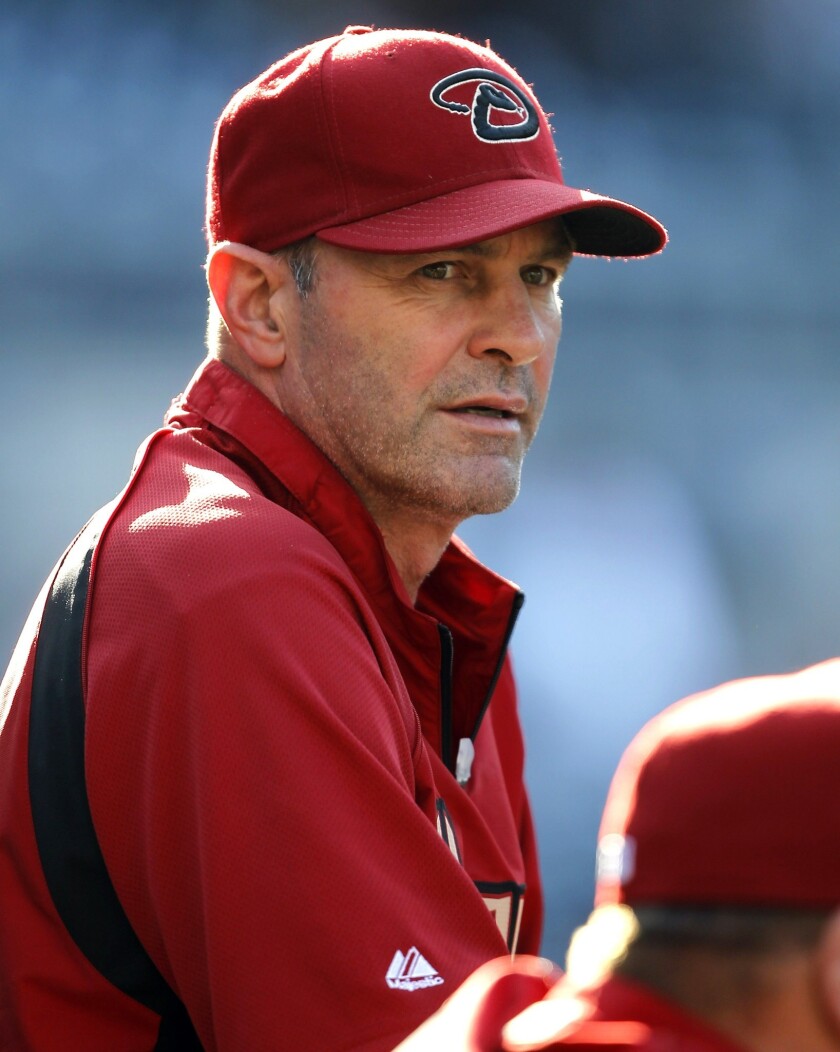 Was going to do all that wizardry that goes into the crafting of fine stories on Kirk Gibson's nearly 20-minute interview on his historic World Series home run.
But realizing most followers of the team can never get enough of that 1988 moment, here is most of the nearly 20-minute interview presented pretty much unedited:
On walking into Dodger Stadium and seeing video of his game-winning home run in Game 1 of the 1988 World Series: "When I come here, I still walk into the stadium, I immediately look up there in right field at the seat where I think the ball landed, that I've named seat 88.
"I enjoy watching it. It's good affirmation for me and my life. I remember how hard it was and how lucky I was to have done it. There's really no reason how I accomplished it, given the situation of who I was up against and the state of my physical being. My mentality was good and I can always say it's evidence to people who think they can't do it, to give them a reason that they could, because that's really what I went on, and some way, somehow, the ball went out of the ballpark and we won the World Series."
On the motivation of TV camera panning the dugout and Dodgers broadcaster Vin Scully saying Gibson was nowhere to be found: "I don't think it was a motivating factor, it was just we were kind of in that point in the game. The way the game was unfolding, we were getting down to it and down to the last inning. I knew who we had on the bench and when Vin said that, I just kind of stood up and said, `My [rear end].' I went and got dressed. That's not to say I wouldn't have got dressed if he didn't say it, but he did, and was vocal to ever was around me at that moment. A few moments later, I had the opportunity."
On whether, with two bad legs, he expected to have any chance to play in the Series: "Actually I hurt it in Game 4, or was it Game 5 in New York [National League Championship Series]? We immediately got an injection and then I came back. I think I sat out Game 6 and then played in Game 7, and that's when I got on first base and tried to break up the double play down there, but because of my hamstring I kind of went into second funky and twisted my knee on the bag. That added to the discomfort.
"That night I went to my home in Santa Monica and I got in bed and put pillows under each of my legs and just kind of propped them up with elevation. I just thought I'd figure it out. At that time you always think you're invincible and I'll figure out a way to do it. I slept and got up about five in the morning and immediately got out of bed and said, `Yeah, this doesn't feel bad.' Then I jogged across my living room floor and it grabbed me and I said, `Oh, [crud]. This isn't good.' I got to the stadium and told them I didn't think I could play. I'd played in Game 7 of the playoffs but thought, `Boy, this is an ugly feeling.' So they gave me some more ejections in both injuries, and then the game unfolded. And the rest is history."
On whether he would have been mentally ready for that moment three or four years earlier: "It's hard to say, I just know when the opportunity came up, I thought mentally that I could do it. It was more like the opportunity and the stage when it happened. The other part was just my loyalty to my teammates and the fans.
"We had something really magical going here in '88. I just like knew. It was like my calling. Like someone told me, `Come on, let's go. It's time for you to do your thing.' I believed in it. I remember hitting a little dribbler down the line and it wasn't pretty. Then Mike Davis started to steal, and when he finally got to second base I remember within my mind thinking, `Just dink it over the shortstop, drive him in and tie it up.' It's really all I was thinking at the time.
"Mentality-wise, it was a great place to be. All conditions considered, it was just an awesome place to be. Believe me, if I had the opportunity again, with all the odds against me, in a tough situation, I would take it and enjoy it again."
On how it changed his life: "I don't know. I did do it. I can't say how it would have been. It has given me a lot of opportunities. I think it's changed the way people look at me in certain situations. It's certainly something I use to help people understand that they can accomplish things that maybe they don't believe they can. It's a good story. It doesn't make sense, to be honest with you."
On what he felt rounding the bases and giving his famous double-fist pump: "The feeling was awesome. I didn't know what to do. There are so many things that go through your mind in a short period of time. I was with the Tigers my whole career, I went through collusion and stayed there. When I came here, I was one of the first free agents to sign after that collusion class of players was granted free agency. When I left Detroit, a lot was said about me, really attacking me and my character and things about my family. I remember my parents, my dad, he would defend me of course, maybe even when he shouldn't have. Any father or mother would do that, and I used to tell my parents, `Don't worry about it. We'll have our day.' And that's the most vivid memory as I was running around the bases. They had to take that [crud] for so long. It was like we made our statement. I told them, `I'm going to do it right. I'm going to grow up. We'll have our day. We'll have our moment.' That was certainly one.
"That and the fans and the environment. I never thought about pumping fists. I don't know why I did it. It was just an act of emotion. I'd like to be pumping that fist again for a good reason, for somebody on my team."
On instructing ball boy Mitch Poole to tell Tom Lasorda he could hit: "I remember Tommy yelling at him that he was managing a baseball game. But then he comes waddling up there. And I said, `Hit Davis in the eighth spot and I'll hit for the pitcher.' And he just said, `Stay up here.' Which I did for part of the time, but then I came down and I just had to get out there in the environment. I told myself when I stepped out on the field that the ovation and environment would be outstanding and I wouldn't hurt anymore. And that was true. To this day I can remember every single bit of it, from the time I stepped out of the dugout, to running the bases, to what was going on around me.
"I have the tapes of the radio calls and the TV calls, and from time to time I pop them in. It's a great affirmation for me."
On the comparison between that home run and the two he hit for Tigers in Game 5 to win 1984 World Series: "Different moments. The one here was just more like a movie. They did the movie `The Natural' and it was very similar. I remember the next day against Oakland they kind of linked me into that scene there. It was pretty cool."
On the Dodgers' collection on players: "I don't think we had any superstars. We were a team of individuals that collectively were together, determined and supporting each other. It was any guy on any day. I had a decent year. Orel [Hershiser] had a great year with the 59-plus innings of scoreless ball. When I got hurt, what Mickey Hatcher did in the playoffs. Saxy [Steve Sax], [Mike] Scioscia was a rock behind the plate, Mike Marshall, our bullpen. I think it was Tim Leary who got a base hit in an extra-inning game. The contributions go on and on. And that's what you need."
On visualizing his moment: "You try to create and predetermine a moment in your head. For me that was like a check-off. I'll walk up there, the crowd, [Dennis] Eckersley, the batter's box, how they're going to be defending you, what you're going to see, rounding the bases. You create these moments in your head. I mean, it's much the same as when you're a little kid and you played Mickey Mantle, or whoever it was, hitting the game-winning home run. The reality of it is, you play through a 100 of those moments and they never come true. But that one did."
On when he first noticed the brake lights of cars leaving the parking lot during his home run: "I noticed that the first time I watched the video of it. It's pretty distinct. They're all listening on the radio, that's the cool thing about it. All those people putting their brake lights on. I just wondered what they were saying."
On whether there's anything as a manager that could replicate that moment: "Something tells me I will be part of some moment again. I just feel it. And I'm motivated to go after it and to make sure guys are prepared and confident when we get to that situation."
---
Get our high school sports newsletter
Prep Rally is devoted to the SoCal high school sports experience, bringing you scores, stories and a behind-the-scenes look at what makes prep sports so popular.
You may occasionally receive promotional content from the Los Angeles Times.