A look at what the Dodgers' postseason roster might look like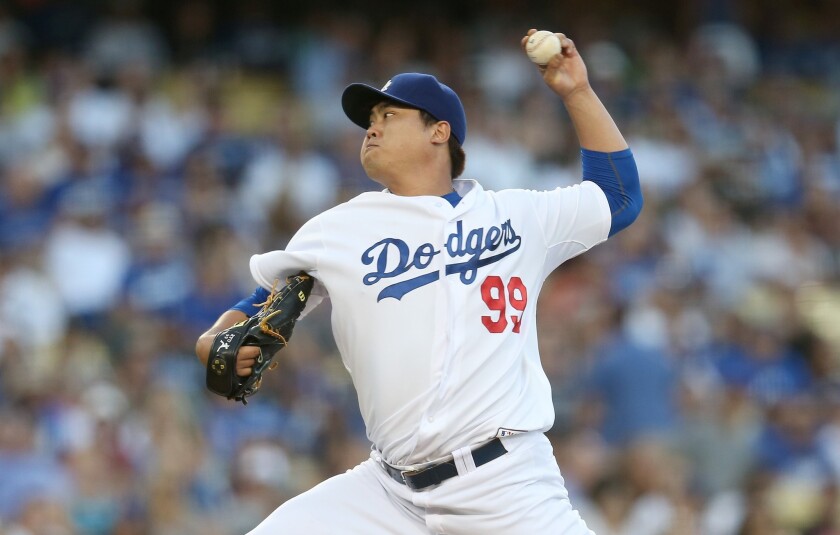 And now, on to other things. Besides the post-celebration laundry.
As the playoff schedule so thoughtfully provided, the Dodgers are off today, giving them a full day to drink grandpa's secret hangover concoction and begin to focus on the immediate future.
They play three final games this weekend against the Rockies, games that will be meaningless should the Nationals win their second game of a doubleheader today against the Mets, or either of two more they'll play Friday against the Marlins, to secure homefield throughout the National League playoffs.
Mostly the Dodgers will be setting things up for the postseason and taking a careful look at their September roster to figure out which 25 to take into the division series.
Mostly there are obvious choices, but they could go a couple different ways with a few spots, particularly that unreliable bullpen. Here's one guess at how it will look, with apologies to Mike Petriello, who shared the exact same 25:
The lineup (eight): This has become set, with A.J. Ellis (catcher), Adrian Gonzalez (first), Dee Gordon (second), Juan Uribe (third), Hanley Ramirez (shortstop), Carl Crawford (left), Yasiel Puig (center) and Matt Kemp (right). Against a left-hander, Manager Don Mattingly could start Scott Van Slyke in left and Justin Turner at second, but otherwise, this is the group you can expect to see every postseason night for the Dodgers.
The bench (five): Van Slyke (outfield), Turner (infield), Drew Butera (catcher), Andre Ethier (outfield), Miguel Rojas (shortstop).
The only real question here is Rojas, who can field but couldn't hit if he fell out of Tom Lasorda's boat. Still, there's no way the Dodgers are going to enter the postseason without a defensive back-up for Ramirez. I suppose they could use Turner at shortstop and add Darwin Barney, but shortstop is neither players' natural position. And throughout September, Mattingly has consistently replaced Ramirez late in games that the Dodgers led with Rojas, so he seems to be his guy.
At some point there was actual discussion about phenom Joc Pederson moving ahead of Ethier in the pecking order, but he has three hits in 21 at-bats and doesn't yet look prime-time ready. And Ethier has had good at-bats in his new role coming off the bench.
The rotation (four): Clayton Kershaw, Zack Greinke, Hyun-Jin Ryu, Dan Haren.
This is the "iffy" part of the roster, because it assumes Ryu will be healthy and able to start. The Dodgers are also assuming this, too, even though he's not expected to pitch in these three final games to test his sore shoulder.
If Ryu can't go, then the Dodgers would have to go to Roberto Hernandez, an outcome you best not consider. This also requires that you believe in Haren, and at this point, he's given you every reason to be on board.
The other option is to go with three starters, but a three-man rotation is no longer in vogue with managers.
The bullpen (eight): Kenley Jansen, J.P. Howell, Brian Wilson, Brandon League, Chris Perez, Paco Rodriguez, Jamey Wright, Pedro Baez.
Well, at least the first two are obvious. Wilson still keeps being given the eighth inning and has World Series experience, so even if you find his appearances maddening, he's going to be on the roster. Ditto for League.
The rest could be moved around. The Dodgers need someone to potentially eat up innings should Ryu only go five, so Wright seems a lock. Unless you long for Hernandez or Carlos Frias, both possible, but I'd say unlikely.
The Dodgers seem somewhat infatuated with Baez, who got his share of late innings in September. I'd rather they leave him off and carried another position player. Baez is still very green, mostly throws fastballs and his velocity has diminished some since he first arrived in August. Still, expect the Dodgers will keep him.
That leaves Perez and Rodriguez, two relievers who have struggled some but returned in September to not allow a run. Rodriguez would give the Dodgers a second left-hander in the bullpen, always preferred. And he was up in the eighth inning during Wednesday's clincher, so he appears to have won back the team's confidence.
That leaves Perez, which is tough. He was a disappointment for most of the season, but since returning this month he's yet to allow a run in seven appearances.
I'm not convinced he would be of much use in the postseason and would rather add Barney to the bench, but suspect the Dodgers will lean toward Perez.
Much of this could change should they advance to the National League Championship Series, as it did last year, but for now this is my best guess. And you think …
---
Get our high school sports newsletter
Prep Rally is devoted to the SoCal high school sports experience, bringing you scores, stories and a behind-the-scenes look at what makes prep sports so popular.
You may occasionally receive promotional content from the Los Angeles Times.