Vin Scully says next year is probably his last as voice of the Dodgers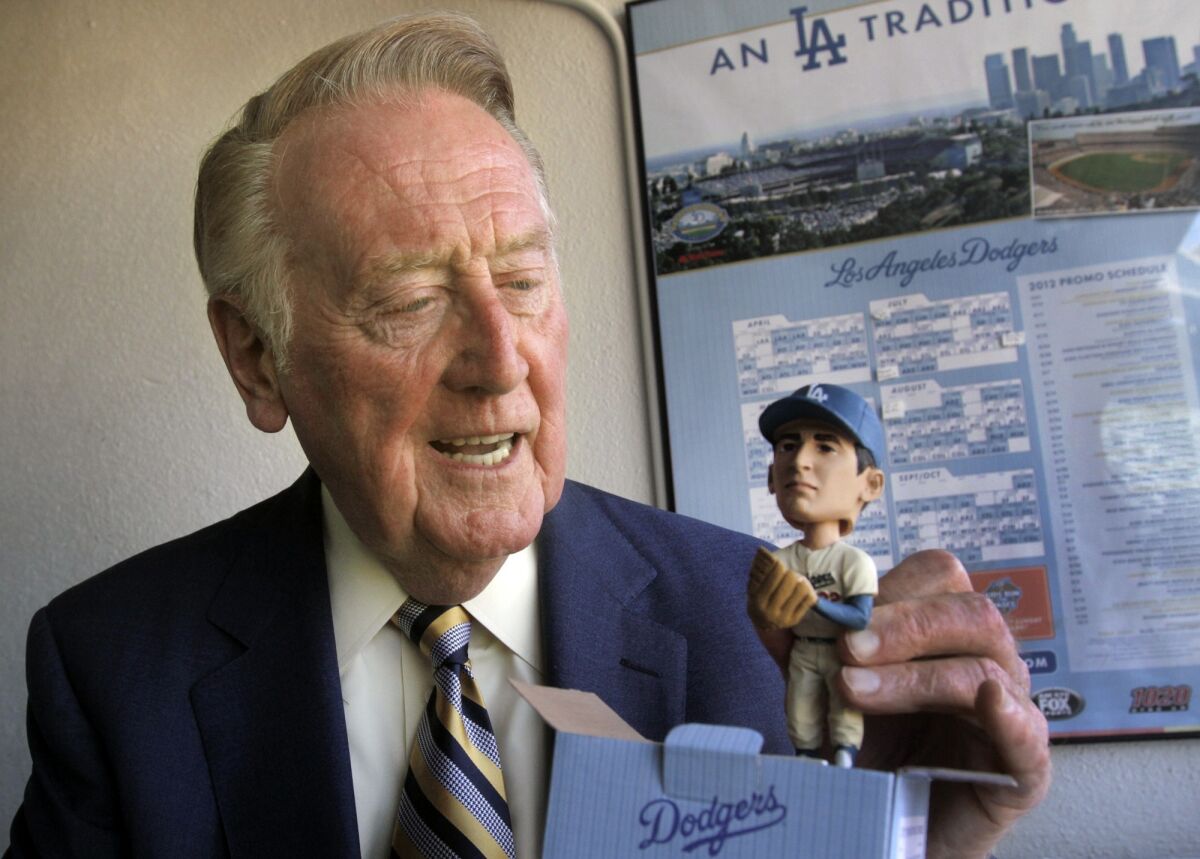 A sweet moment with Vin Scully at his news conference Saturday to discuss returning to broadcast the Dodgers next year, suddenly took a dramatic turn to unwanted melancholy.
It was a turn everyone knew would come one day. But still, hearing it from Scully took the air out of the room:
Scully expects next year will be his last as the Dodgers' broadcaster.
"I would say realistically -- and I don't want any headlines -- but I would say next year would be the last one," Scully said. "How much longer can you go fooling people? I would be saying, `Dear God, if you give me next year, I'll hang it up.' "
Next year will be Scully's 67th consecutive year broadcasting the Dodgers. He came with the team from Brooklyn, and to all of Los Angeles, for generations, he was the voice of the Dodgers. More than that, he was the Dodgers. He became the most beloved man in Los Angeles history.
But Scully will turn 88 in November, and though he seems ageless to all those who listen to him with a daily appreciation, he is aware of time. And the more Scully talked about next year, the more definite it sounded like it would be his last.
"I do feel in my bones that will be enough, for sure," he said. "I'm sure the people say that will be enough too."
Scully has cut back all travel, save for the Dodgers' games in San Francisco, and he may cut back even a bit more next season. His final season. That will take time to digest.
He took longer this summer to announce he would come back for another year, admitting he gave it more thought that ever. He talked of how much he'd miss the people who work at Dodger Stadium, the media -- "friends" he called them, and he meant it too.
He said people kept telling him to return next season, and not just those who know him only from broadcasting, but people close to him and even his personal doctor -- who should be everybody's new best friend.
"My doctor said to me, `Do you enjoy doing what you're doing?' I said, `I love it.' `Do you still do it reasonably well?' `I love it.' `Then why would you give it up?' I said, `Well, because I know I'm coming …' `No,' he said. `You retire and a year from now you'll be an old man.' And that kind of scared me a little bit."
So he'll return for one last swan song, though he cringes at the thought of any grand farewell, and is still conscious of his doctor's warning.
"I will worry about it, but I just think, hey, enough is enough," he said. "I would say without a doubt, next year. What's that's old line? `Talk about next year and make the devil laugh.' I'm very wary of that. We'd better be like a ballplayer and just go day-to-day."
There aren't many heroes you get to meet in life who live up to seemingly unrealistic expectations. But Scully is exactly the man you would expect him to me -- impervious to his stature, completely down to Earth, caring, humorous, modest, giving.
And now he gets to go out on his terms. And his unexpected announcement will put enormous pressure on the Dodgers to finally solve their TV stalemate, so he could very likely provide one more gift to Los Angeles.
Scully quoted Dylan Thomas' iconic poem, perfect for his moment.
"He wrote, `Do not go gentle into that good night. Rage, rage against the dying of the light.' I guess in a way, that's what I'm doing. I'm raging against the dying of my career, which has to be around the corner now. But at least for the God-given time I have left, I'll be raging."
ALSO:
The 20 greatest Dodgers of all time, No. 3: Vin Scully
Dodgers' Vin Scully loses one golden ring in holiday loop around Costco
Here's a Dodgers' horse story even Vin Scully couldn't make up
Get our Dodgers Dugout newsletter for insights, news and much more.
You may occasionally receive promotional content from the Los Angeles Times.