Hanley Ramirez doesn't blame injury for error during Kershaw's gem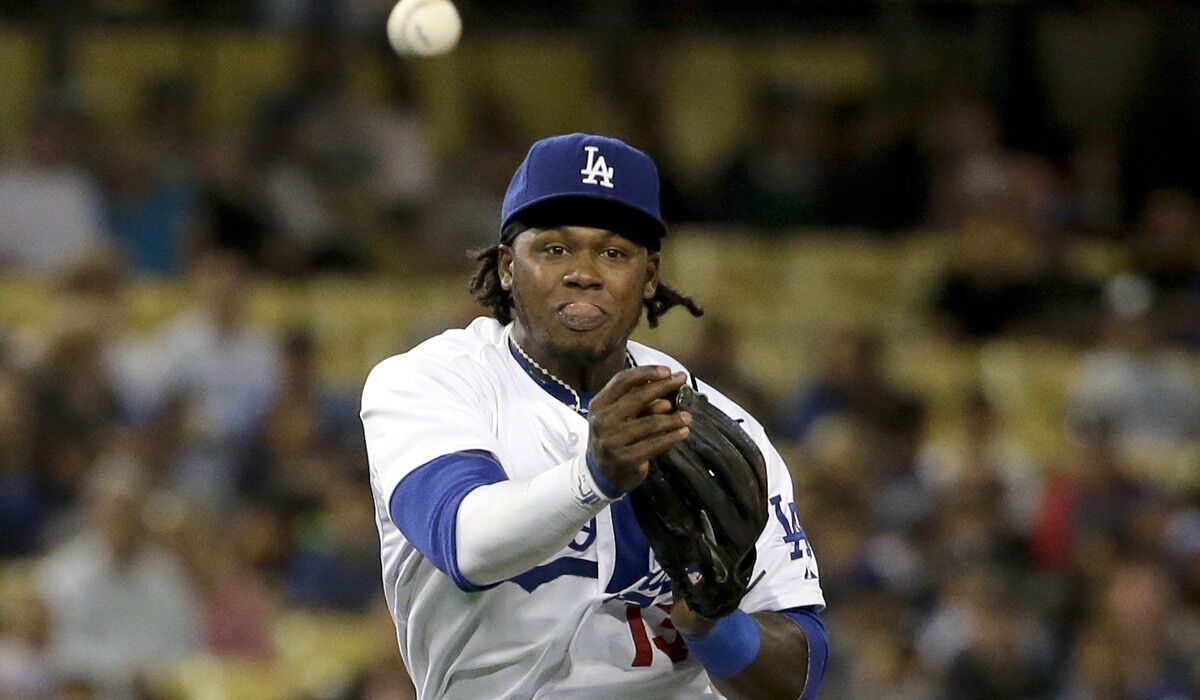 There was one blip in Clayton Kershaw's gem, the one thing he couldn't control.
In the seventh inning of Kershaw's eventual no-hitter, Rockies' leadoff hitter Corey Dickerson slapped a ball toward shortstop Hanley Ramirez.
The ball bounced off the ground near the plate, then again near the mound, picking up speed along the way. Before the ball hit the ground a third time, Ramirez scooped the ball, tried collecting his momentum, and fired the ball to first base on one foot.
The shortstop was "50-50" on playing on Wednesday, according to Dodgers Manager Don Mattingly, because of a bruised right ring finger he sustained in Tuesday's game. But none of that mattered now, as it was just Ramirez and the ball keeping the perfect game alive.
The throw was wide of first baseman Adrian Gonzalez, who couldn't reach the ball, and Dickerson scampered around to second base on the error.
Just like that, Kershaw's perfect game was over.
After the play, Kershaw looked over to Ramirez and shrugged his shoulders, as if to tell him not to worry. The left-hander stranded Dickerson and no other Rockies batter reached base.
"It wasn't on purpose," Kershaw said after the game. "It was a pretty tough play. Under normal circumstances, that's pretty close to a hit."
After the game, Ramirez said that the play didn't have anything to do with his injury, and that he felt fine in the field on Wednesday.
"Tough play, you know?" he said. "You just have to catch the ball and throw it. In that situation you would rather have the error than just let it go."
Other Dodgers in the clubhouse felt the same way.
"You have to try and make the play right there, and from what it looked like, that's a do-or-die play for Hanley, and he did everything he could," catcher A.J. Ellis said. "I think a great throw and a great play at first probably gets him out. It was a bang-bang play, Dickerson runs well, and Hanley did everything he could."
Carlos Truinfel was a defensive replacement for Ramirez in the top of the eighth inning, but after the game, Mattingly said that he didn't think about making the switch sooner. Ramirez had made a couple of good plays in the field before the error, and Mattingly said that the focus was still on winning the game. He believed Ramirez, his star shortstop and No. 3 hitter, gave him the best chance to do that.
"We considered it, but at that point you're still … you're in a game you feel good about, but anything can still happen at that point," Mattingly said. "So we were going to wait another inning … I thought he made a nice play on that ball, honestly. He made a nice play earlier coming in on a ball by (Drew) Stubbs, and we barely get Stubbs. I thought Hanley moved good tonight. That was a tough play. I haven't seen the replay but it looked like the throw wasn't too far off."
As for Kershaw's mind-set, it didn't seem to be affected by the error. He struck out the next Rockies batter, right fielder Brandon Barnes, then got star shortstop Troy Tulowitzki to ground out to third base. He finished the inning by striking out catcher Wilin Rosario.
"The great thing about Clayton is that he's really focused on winning the game," Ellis said. "At that point in the seventh inning, it's still about winning the game.
"Honestly, I haven't talked to him about it, but I don't know if he started thinking no-hitter until maybe the ninth inning even, because his focus is to win. That's what is great about him. It keeps him consistent and keeps him the person he is and the teammate he is."
Get our Dodgers Dugout newsletter for insights, news and much more.
You may occasionally receive promotional content from the Los Angeles Times.