Brad Miller opts out of contract after learning he wouldn't make Dodgers' roster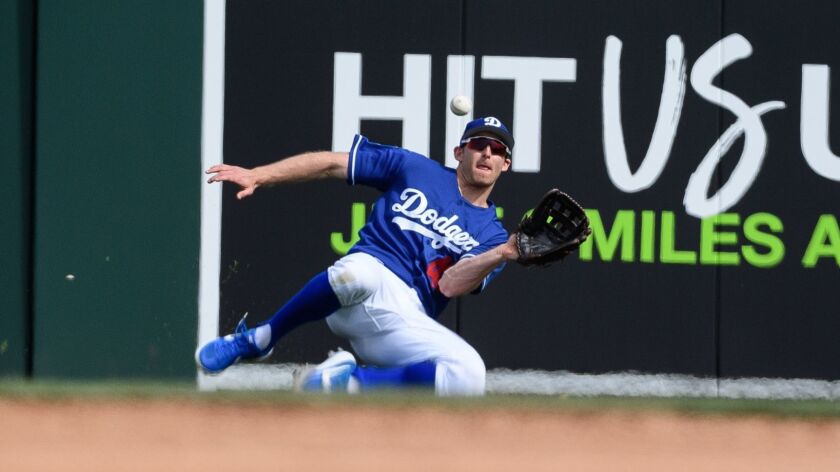 Reporting from PHOENIX —
Brad Miller did just about all he could to earn a spot on the Dodgers' opening day roster since signing with the club Feb. 28. He produced at the plate. He demonstrated defensive versatility. He seamlessly adjusted to his new surroundings.
And it didn't matter. Hours after Dodgers manager Dave Roberts reiterated Miller's chances of making the roster were slim, Miller opted out of his minor-league contract on Thursday and became a free agent. Outfielder Alex Verdugo will occupy the final spot on the bench. Miller will attempt to find a big league job elsewhere.
"Things obviously in this world, they change, and I expect Brad to continue to make an impression and be the professional that he is," Roberts said. "The roster is not set until it's set, though."
The Dodgers could've guaranteed Miller's presence in the organization by sending the 22-year-old Verdugo back to Triple-A Oklahoma City. But Verdugo has nothing left to prove in the minors. The outfielder batted .321 with an .842 on-base-plus-slugging percentage for Oklahoma City over the last two seasons, cementing himself as a legitimate prospect. They believe he can help the club now. Further, Roberts said, there is a "psyche component" the Dodgers must weigh in handling Verdugo, whose make-up has generated questions. Basically, they worry shipping him to Oklahoma again after another successful season could be detrimental.
"Things obviously in this world, they change, and I expect Brad to continue to make an impression and be the professional that he is," Dodgers manager Dave Roberts said. "The roster is not set until it's set, though."
Miller, 29, had experience on his side — he has batted .249 with 75 home runs in 680 major league games since 2013 — and a 30-home-run season with the Tampa Bay Rays in 2016 on his résumé. He's struggled the past two seasons -- but he said he is confident the hip surgery he had in August will unleash better results wherever he gets the opportunity. The Dodgers gave him one. This spring, after going 2 for 3 Thursday against the Milwaukee Brewers, he went 10 for 26 with two walks in 12 games. It wasn't enough.
"I got to perform," Miller said earlier this week. "And that's how it is obviously on a minor league contract. There is some uncertainty but being a professional is going out there and doing the same thing regardless. I want to make this club. That's why I came here. That motive hasn't changed and it's not my decision to make."
Hill or Ryu to get opening day nod
The Dodgers have not officially named their opening-day starter, but Roberts confirmed it will be either Rich Hill or Hyun-Jin Ryu.
"We're just going to dig into matchups and things like that," Roberts said. "So that's probably the last hurdle for us to make that final decision. And there's still some ways to maneuver those guys if we need to."
Hill will next pitch Saturday in the Dodgers' Cactus League finale. Ryu allowed four runs (three earned) in five innings Thursday.
Catching duties to be split 60-40
Roberts said the plan is for Austin Barnes to start about three of every five games this season, with Russell Martin assuming the other two. Roberts said various variables, such as day games after night games, will factor into the split, but indicated the catchers could be tied to specific pitchers.
"I think there is a deeper layer where you can dig in," Roberts said. "And we've thought about that. But I think with the day-nights, I don't want to tie ourselves too much to that. But we're digging into stuff like that for sure. Their strengths with receiving versus a pitcher's characteristics, absolutely."
Both catchers are looking to rebound after forgettable 2018 seasons. Barnes batted .205 with a .619 OPS in 100 games, losing playing time to Yasmani Grandal until the postseason, when Grandal's dismal play became impossible to ignore. The 36-year-old Martin, meanwhile, batted .194 with a .663 OPS in 100 games for the Toronto Blue Jays before the Blue Jays had younger catchers play in September.
Pederson exits with back spasm
Outfielder Joc Pederson exited Thursday's loss to the Milwaukee Brewers with a back spasm. He said the back flared up as he ran to first base. Both he and Roberts said he will be back in the Dodgers' lineup Friday.
Sign up for our Dodgers newsletter »
Twitter: @jorgecastillo
---
Get our Dodgers Dugout newsletter for insights, news and much more.
You may occasionally receive promotional content from the Los Angeles Times.