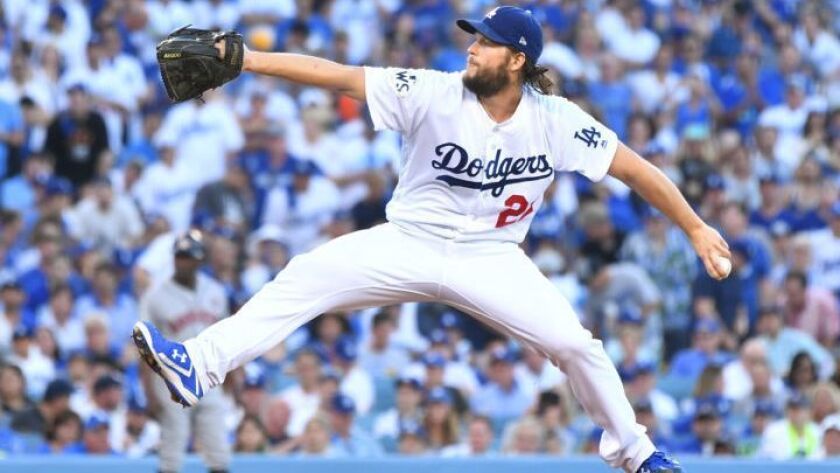 Wednesday was supposed to mark the beginning of a busy Dodgers offseason. Clayton Kershaw had until midnight Eastern time — three days after Sunday's season-ending loss to the Boston Red Sox in the World Series — to decide whether to opt out of his contract. The Dodgers had the same deadline to decide whether to exercise David Freese's $6-million team option for the 2019 season. Neither happened.
Instead, both deadlines were extended to Friday at 1 p.m., the club announced Wednesday night.
Kershaw has two years and $65 million remaining on the seven-year, $215-million deal he signed in January 2014. Pushing the deadline back signals the two sides will attempt to finalize a contract that would keep Kershaw, 30, in Los Angeles beyond the next two seasons. An extension on top of the two years remaining is a possibility.
Although Kershaw had carefully avoided disclosing anything publicly that would indicate his intentions, Andrew Friedman, the Dodgers' president of baseball operations, said after Sunday's loss that Kershaw had expressed his desire to stay.
"He says he wants to be a Dodger," Friedman said. "We want him to be a Dodger. That's all I really know at this point."
Freese, meanwhile, enjoyed a successful two-month stint in Los Angeles. The Dodgers acquired the 35-year-old infielder from the Pittsburgh Pirates at the waiver trade deadline on Aug. 31 to strengthen their lineup against left-handed pitching. He thrived in Los Angeles. Playing primarily first base, Freese batted .385 with a 1.130 on-base-plus-slugging percentage in 19 regular-season games upon arriving. The 2011 World Series MVP then batted .364 with a 1.196 OPS and two leadoff home runs in the playoffs. Off the field, he was a respected clubhouse presence.
While Freese became a valued asset over two months, Kershaw has spent the past decade cementing his place among Dodger greats.
A three-time Cy Young Award winner and the 2014 National League MVP, Kershaw is considered the finest pitcher of his generation and a future Hall of Famer despite a spotty postseason history. His 2.39 career regular-season ERA is the lowest by a starting pitcher in the live ball era (1920-present). He is a seven-time All-Star and has led the National League in ERA five times and strikeouts three times. Since breaking into the majors at 20 in 2008, his 61.6 Fangraphs WAR is tops among starting pitchers.
But Kershaw's career remains stained by his playoff performances. He owns a 4.32 ERA in 152 career postseason innings — a considerable sample size across eight years — and he was inconsistent again this October. He delivered two brilliant starts and a perfect inning of relief to close out Game 7 of the NL Championship Series against the Milwaukee Brewers, but gave up 14 runs (13 earned) across 14 innings in his three other outings.
Kershaw has spent time on the disabled list each of the past three seasons with back trouble, and biceps tendinitis also sidelined him for most of May. His velocity has diminished, slimming his margin for error.
He has made it work with wiliness and a makeover. He relies on his slider more than ever — he threw it a career-high 41.9% of the time in 2018 — and uses his fastball less. He tag-teams the pitches to attack both sides of the plate, though the similar velocities periodically presented issues this season. His famed 12-to-6 curveball, when effective, provides a crucial vertical component and velocity difference. He struck out 8.6 batters per nine innings — his lowest strikeout rate since his rookie year — but his 2.73 ERA this season was eighth among starting pitchers with at least 150 innings.
Kershaw's final outing, in Game 5 of the World Series on Sunday, was emblematic of the new phase. He recovered from surrendering a two-run home run in the first inning, holding Boston scoreless over the next four innings, until giving up solo home runs to Mookie Betts and J.D. Martinez — two top American League MVP candidates — in the sixth and seventh innings. He battled through a dangerous Red Sox lineup without overpowering it but paid dearly for mistakes.
His value, however, in Los Angeles transcends on-field performance. He is synonymous with the Dodgers' run of eight postseason appearances in 11 seasons, and is a beloved figure who has represented the organization with professionalism and a relentless work ethic. He is the franchise's best pitcher since Sandy Koufax. He almost certainly will be inducted into the Hall of Fame as a Dodger. And the deadline delay suggests his time in Los Angeles isn't over.
Twitter: @jorgecastillo
---