Cody Bellinger powers merciless Dodgers to blowout win over Phillies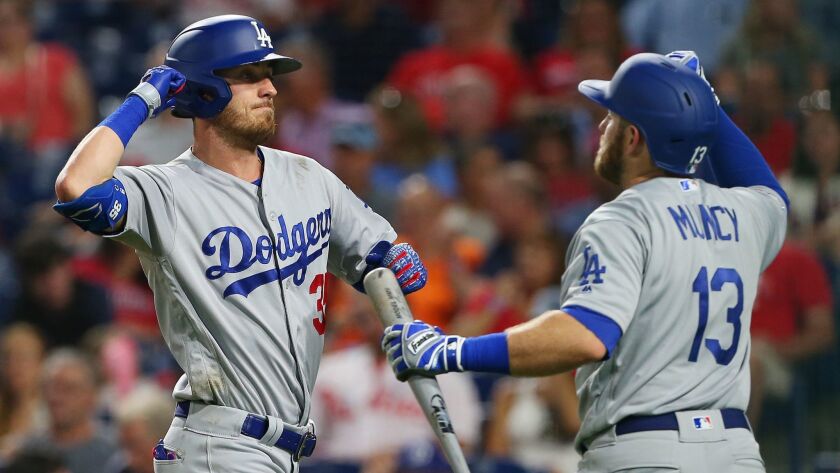 PHILADELPHIA —
The Dodgers' merciless and methodical one-inning destruction Monday of the Philadelphia Phillies, a club that appeared poised to challenge them for National League supremacy for a fleeting period before the calendar turned to summer, began with a single off Alex Verdugo's bat. It ended, after six Dodgers runs and a few Phillies breakdowns, with boos filling Citizens Bank Park when the home team initially didn't realize it had finally secured three outs.
It was a thorough tactical dismantling. It was unrelenting and humiliating. It was just the fourth inning, and the game was decided then and there. But the Dodgers, not looking like a club that touched down after 4 a.m., kept coming and coming on their way to a 16-2 shellacking.
Cody Bellinger tacked on two solo home runs to jump atop baseball's leaderboard with 33. Max Muncy went back-to-back with Bellinger in the seventh inning for his 24th homer. The Dodgers added five runs in the eighth inning, which featured right-hander Yacksel Rios getting ejected for plunking Justin Turner with a slider after giving up a two-run home run to Verdugo. It ended with Roman Quinn, an outfielder, on the mound.
All eight Dodgers starting position players recorded a hit, tallied an RBI and scored a run.
"That's just stuff that, for me, epitomizes our club," Dodgers manager Dave Roberts said.
Dave Roberts raised his arms to applaud the clinic unfolding before him.
The Dodgers (63-33) checked into their hotel in Philadelphia in the wee hours Monday morning, hours late after needing 5 hours 40 minutes to beat the Boston Red Sox in 12 innings Sunday night into Monday morning. Players were encouraged to sleep in. Batting practice was canceled. The fatigue was real.
"I mean," Bellinger said, "I drank two Red Bulls and took a lot of Advil, so I was feeling all right."
The circumstances were not ideal, but Roberts insisted his club would not succumb to them.
"We were in a grind of a series, we got in late last night, [and] it will have no effect on how we come out and play tonight as far as our energy and focus," Roberts said before the game. "And that's a credit to our guys in the clubhouse."
For three innings, however, the Dodgers played like a weary bunch. Their only baserunner was Kershaw, who reached on an error, and Zach Eflin was through the three innings on 40 pitches. On the other side, Kershaw, who flew to Philadelphia ahead of the team Sunday, entered the night leading the majors in fewest pitches per inning (14.6), but he did not cruise through his first three innings.
He allowed a single, issued two walks and threw two wild pitches before wiggling out of a bases-loaded jam in the first. After a clean second inning, Scott Kingery whacked a fastball over the plate for a leadoff home run in the third. The Phillies loaded the bases again in the inning on Bryce Harper's double, Austin Barnes' catcher's interference and an error by Corey Seager. But Kershaw escaped without surrendering another run on his 61st pitch.
Sign up for our Dodgers newsletter »
He would throw 40 pitches over the next three innings and limited the Phillies to one run over six. He has logged at least six innings in each of his 16 starts this season and a quality outing in 13 of them.
"He just competes," Barnes said, "I think, flat-out, more than anybody I've ever seen."
Kershaw (8-2) exited with an eight-run lead fueled by the Dodgers' blitz against Eflin (7-9) in the fourth. Turner doubled Verdugo home to put the Dodgers on the board. Later in the inning, after the Dodgers scored two more runs, Barnes, mired in a monthlong slump, was instructed to execute a safety squeeze. He succeeded, laying a bunt down to Eflin. It was a routine play, but the Phillies (48-46) left first base uncovered. Barnes reached as Seager scored the Dodgers' fourth run.
To conclude the demolition, the Dodgers dusted off a Little League special. With runners on the corners and Verdugo in the batter's box for the second time in the inning, Pederson dashed for second base, but not to steal it. He braked halfway down the line, just far enough to induce a throw from catcher J.T. Realmuto, which prompted Barnes to race home from third base. He beat second baseman Jean Segura's throw home to complete the trickery and give Los Angeles a five-run edge.
"It was kind of like spring training, what we do in the back fields," Barnes said.
Jeers rained within moments as the Phillies, after some confusion, trotted off the field. More Dodgers runs streamed in as the crowd thinned out, ceding the turf to a boisterous section of Dodgers fans in the second deck overlooking the right-field wall. The visitors, light on sleep, dominated in every which way.
Twitter: @jorgecastillo

---
Get our Dodgers Dugout newsletter for insights, news and much more.
You may occasionally receive promotional content from the Los Angeles Times.