Cody Bellinger's power has been redefined with swing adjustments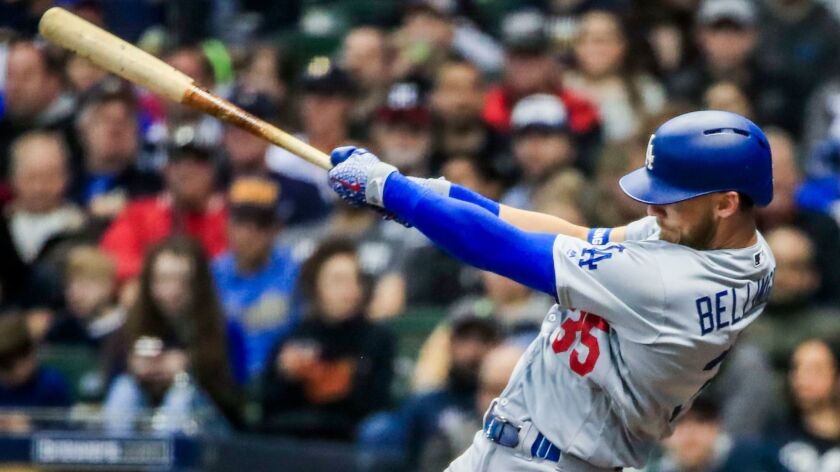 Reporting from milwaukee —
Early in the afternoon Thursday, before each man homered for the 10th time this season in a 3-1 Dodgers victory, Cody Bellinger fell into conversation with Milwaukee Brewers outfielder Christian Yelich. A year ago, Yelich ran away with the National League MVP on the strength of a torrid second half. This season, Bellinger appears the early favorite to claim Yelich's crown.
An MVP campaign is not waged in April. But Bellinger has laid the base for a sterling third season in the majors, correcting mechanical flaws that dogged him in 2018 and tormenting opposing pitchers. His sixth-inning blast off Milwaukee reliever Matt Albers opened the door for a three-run inning and allowed him to finish the evening with a .919 slugging percentage.
"At this point, I expect it," outfielder Alex Verdugo said. "If he doesn't do it, it's a letdown. It's one of those things, it's extremely fun to watch. The kid's hot, so watch out."
The homer left Bellinger tied with Yelich and Oakland Athletics designated hitter Khris Davis for the major league lead. Bellinger became the third Dodger to reach double digits for home runs in the first 21 games of a season, joining Matt Kemp (2012) and Roy Campanella (1953). He has reached base in 19 of the 20 games in which he has appeared. He scarcely resembles the hitter who stumbled at the outset of last season and struggled to maintain momentum.
Bellinger was unaware of when he hit his 10th home run in 2018. Informed that it was on June 6, he shrugged. "Hmm," he said. "That's humbling."
For Bellinger, the 2018 season cannot be considered a failure. He hit 25 home runs and posted an .814 on-base plus slugging percentage while playing quality defense at first base and in the outfield. He was the second most valuable player on the roster, according to Baseball-Reference's version of wins above replacement. But he still regressed from his rookie of the year performance in 2017 and looked lost during the postseason.
Bellinger has led the Dodgers offense through the first three weeks of April. Manager Dave Roberts credited the team's hitting coaches, which includes Robert Van Scoyoc, Brant Brown and Aaron Bates, for correcting glitches in Bellinger's approach. Bellinger mentioned receiving aid from Van Scoyoc and Brown with video. He enters his at-bats with a clarity which eluded him in the past.
The difference between 2018 and 2019 is "understanding what I want to do," Bellinger said. "And knowing why I feel good, and knowing why I don't feel good. Just going into the cage and trying to find it and every day, and trying to stay locked in."
Bellinger demonstrated a measure of tenacity in his first at-bat, against Brewers starter Kyle Davies. The two dueled for nine pitches. Bellinger fouled off four of them. He missed a belt-high fastball, but spoiled two-seamers and cutters that might have ended the at-bat if Bellinger had let them nip the outer edge of the plate. He chopped a single into right field on a low changeup.
Bellinger did not spend much time on base. He got himself picked off trying to steal second, barreling into an out when Davies stepped off the mound and fired to first base. Bellinger shook his head and trotted to his dugout.
Four innings later, Bellinger stepped in against Albers. Bellinger maintained his patience. He ran the count full by taking a 93-mph fastball inside. Albers decided to challenge Bellinger on the next pitch; he would regret his choice of an elevated fastball. The exit velocity on the homer was 110.6 mph.
The sequence might have looked different last season, Roberts conceded. Unsteady in the batter's box, Bellinger often failed to pull the trigger on belt-high fastball. He relied on his athleticism to remain competitive, but had issues synching up his swing.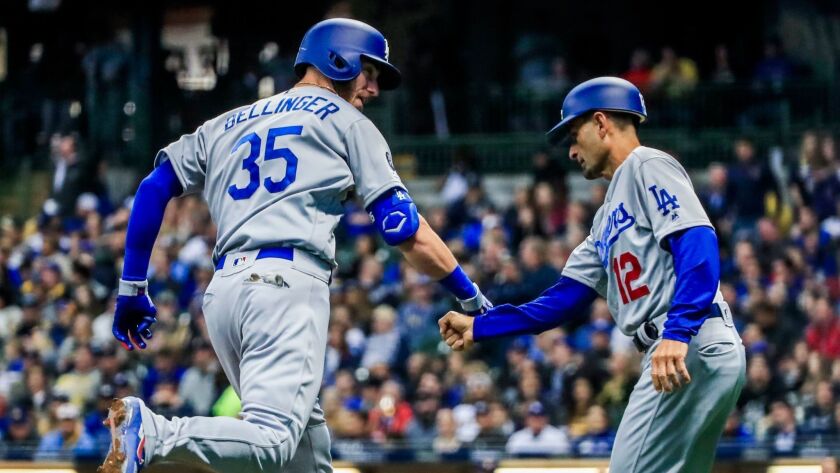 To correct the problem, the hitting coaches helped straighten Bellinger's posture and keep his upper body square, Roberts explained. The tweak allowed Bellinger to shorten his swing for inside pitches.
"The entire night, they were working him away, the changeup away," Roberts said. "And they tried to crowd him on that 3-2 pitch. He put a really good swing on it. The ball stayed true. And it's counter-intuitive, when you're not trying to pull the baseball, you can pull it a lot easier.
"Approach. Mechanics. He and the hitting guys have done a fantastic job."
Max Muncy followed a similar strategy two at-bats later. After a single by outfielder A.J. Pollock, Muncy crushed a sinker from Albers that split the plate. It was Muncy's fifth home run of the season.
Thursday marked the one-year anniversary of Muncy's first homer as a Dodger. Called up on April 17, 2018, Muncy finished the season with 35, 10 more than Bellinger. It might be difficult for Muncy to lead the team this season. Bellinger may not give him a chance. He'll have three more games this weekend to share the stage with Yelich, too.
"He's a great dude, on and off the field," Bellinger said. "It's going to be fun, competing against him all year."
Sign up for our daily sports newsletter »
Twitter: @McCulloughTimes
---
Get our high school sports newsletter
Prep Rally is devoted to the SoCal high school sports experience, bringing you scores, stories and a behind-the-scenes look at what makes prep sports so popular.
You may occasionally receive promotional content from the Los Angeles Times.