Can Adrian Gonzalez keep up steady production in his next season, at age 34?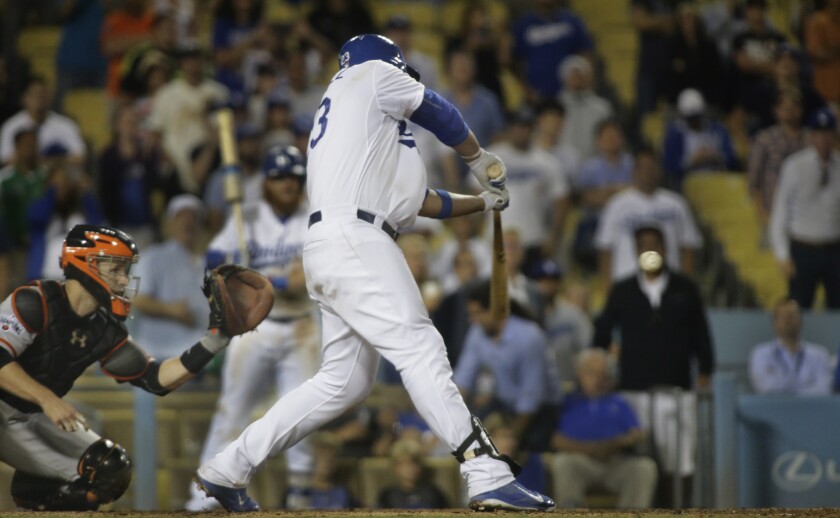 What's reasonable here, what's actually fair?
Adrian Gonzalez has been a rock for the Dodgers ever since he was acquired in that stunning trade with the Red Sox in 2012. Consistent at the plate, on the field, in the clubhouse.
He's hit third or fourth in the lineup, and in his three full seasons with the Dodgers, has averaged .281 at the plate with 26 home runs, 35 doubles and 102 RBI. The Dodgers depend on him for that kind of production, and he's continually delivered.
But he will turn 34 one month into the coming season and it is only reasonable, if not prudent, to wonder how long the left-handed hitter can keep up this kind of steady production. At some point, the years and the at-bats begin to take their toll and results wane. Sometimes it happens slowly, sometimes seemingly in an instant. Gonzalez is such an integral piece to the Dodgers' lineup, they can scarcely afford some dramatic drop-off from their steady first baseman.
Gonzalez is not an athlete who thinks he's immune to time, determined to plug along at 34 the same way he did 10 years earlier.
"I'm a realist," Gonzalez told The Times' Dylan Hernandez this off-season. "I'm not a guy who's trying to be something I'm not. I know what I need to do to be the best I can be. A lot of people, they hit a wall and they don't know how to get over it because they say, 'This is what I've done my whole life.' That's why a lot people get to a certain age and can't play anymore. They only know one way. I can adjust."
Which is a reason he has taken up boxing as a major training device in the off-season. Last year he put up a .275/.350/.480 slash line – a drop-off from his career .290/.363/.497, but nothing dramatic, nothing the Dodgers cannot happily live with.
The Dodgers' best first-base prospect may be Cody Bellinger, 20, who spent last season at Class A Rancho Cucamonga (.264/.336/.538). He could be two or three years from joining the major leagues.
The Dodgers not only need Gonzalez to continue his stable production in 2016, but for several seasons to come.
And could happen, of course. David Ortiz hit 37 home runs last season for the Red Sox at age 39. It's just impossible to predict who will keep producing in the later years for their careers and who will crash and burn.
The Dodgers are going to be older at seven of their eight starting positions next season, so it's not like this concern is specific to Gonzalez. But Gonzalez is in the heart of the lineup, their most significant bat.
When the decline arrives, they have to hope it's gradual. Their immediate future could depend upon it.
---
Get our high school sports newsletter
Prep Rally is devoted to the SoCal high school sports experience, bringing you scores, stories and a behind-the-scenes look at what makes prep sports so popular.
You may occasionally receive promotional content from the Los Angeles Times.