Clint Robinson's first hit in the majors is big for the Dodgers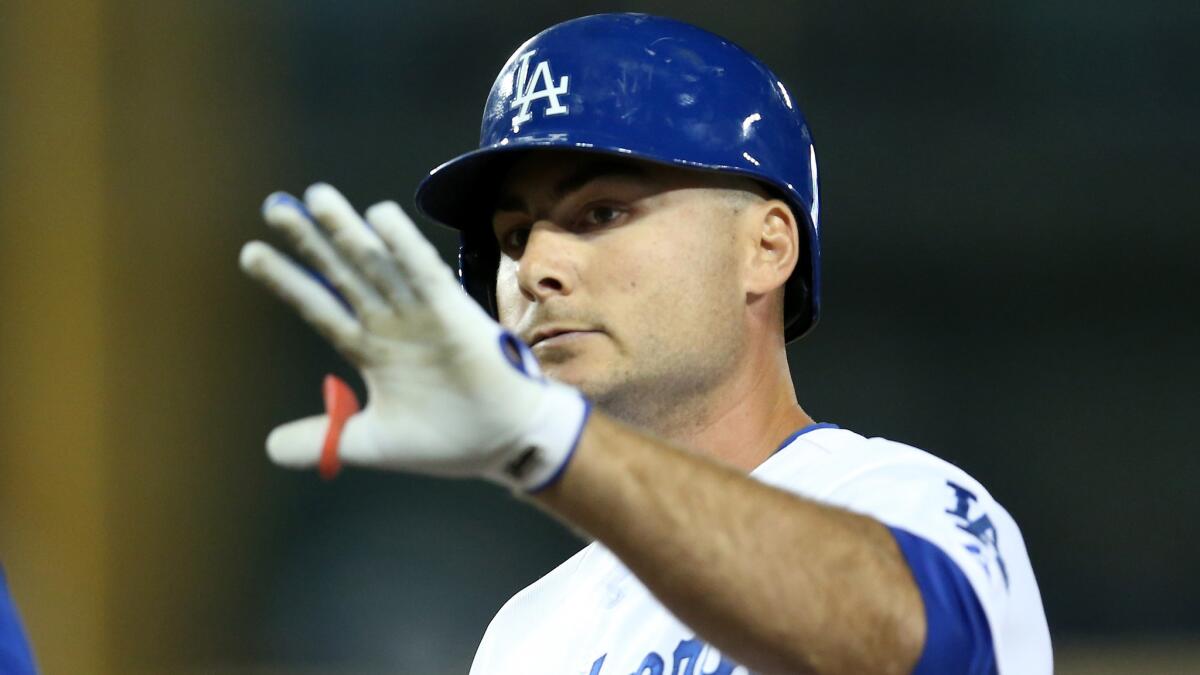 The Dodgers waited more than two months for what happened Monday night. Clint Robinson waited a lifetime.
The most expensive team in baseball moved into sole possession of first place in the National League West, as Robinson's first career hit drove in the run in the Dodgers' 1-0 victory over the Cleveland Indians at Dodger Stadium.
The Dodgers, who trailed the San Francisco Giants by 91/2 games only 22 days earlier, lead their division by half a game. The last time the Dodgers were alone at the top of the NL West was April 24.
But the two months Manager Don Mattingly's team spent chasing the Giants was nothing compared to how long Robinson waited for to live a dream.
"Twenty-nine years and counting," Robinson said. "I have so many emotions right now, it's kind of hard to even put words together."
Robinson is from Dothan, Ala., which is known more for producing peanuts than baseball players. He attended nearby Troy University, out of which he was selected by the Kansas City Royals in the 25th round of the 2007 draft.
He has spent the majority of time since then bouncing around minor league outposts such as Idaho Falls and Northwest Arkansas.
He reached the major leagues two years ago with the Royals, at 27. He had only four at-bats, all as a pinch-hitter. He struck out twice.
"It was a lot faster than it is now," Robinson said. "I look back on that and it's a blur."
Robinson said he never considered walking away from the game.
"Everybody wants to talk about being 29 years old and being in the minor leagues for eight years, but I really enjoy my job," he said. "I still get paid to come to the ballpark every day and play baseball. Everybody says it's a grind in the minor leagues, but it's still something I love to do."
Robinson signed a minor league contract with the Dodgers over the off-season and played well in spring training, batting .308. At the time, Mattingly said Robinson's left-handed swing reminded him of former American League batting champion John Olerud's.
Until Robinson was called up to the major leagues Wednesday, he was in Albuquerque with the Dodgers' triple-A affiliate.
None of his first three plate appearances with the Dodgers resulted in hits, though he drew a walk and scored a run Saturday in the team's victory over the St. Louis Cardinals.
Robinson's moment came as the Dodgers were locked in a scoreless tie with the Indians. With men at the corners, Robinson was called to pinch-hit for Dan Haren, who pitched seven innings and gave up only one infield hit.
Robinson slapped Indians starter Corey Kluber's full-count offering into center field.
"Man, that feels good," Robinson said he told himself as he reached first base.
While Robinson was understandably excited, and his teammates excited for him, the Dodgers downplayed the significance of their ascent to the top of their division.
"There's still a lot of work to be done," Adrian Gonzalez said. "The Giants aren't going to give up."
Seventy-seven games remain in the regular season.
"Obviously, we're happy with the way things are going right now, the way we're playing and the fact we've been able to make up a pretty good deficit," Mattingly said. "But, still, it's still June, right? We have a lot of baseball to be played, a lot of things can happen, so I think it's good that we kind of stay level. I preach that if we go bad or have struggles, that we can't panic, that we have to turn the page, keep moving on and get ready to play the next day. Really, it's no different when you're going good."
Get our Dodgers Dugout newsletter for insights, news and much more.
You may occasionally receive promotional content from the Los Angeles Times.