Daily dose of drama for Dodgers, and Matt Kemp, is loss to St. Louis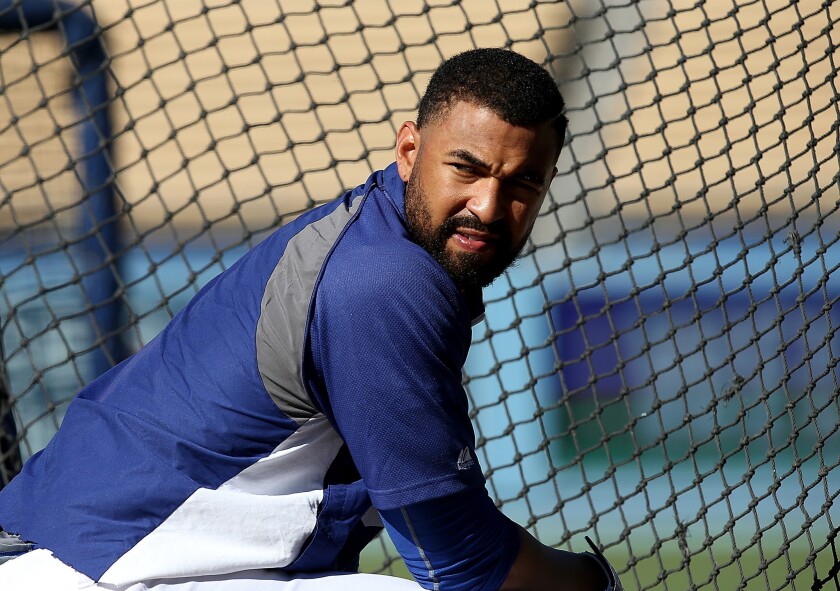 REPORTING FROM ST. LOUIS —
Matt Kemp knows he isn't in control of his future. He knows he can't block or force a trade.
But Kemp was clear Friday about what he wanted.
"I want to play every day, if it's with the Dodgers, if it's with somebody else," he said. "I love playing baseball, man. It's what I love to do. I'm not here to sit and watch."
He also said he doesn't envision himself remaining in left field, which is where he started for the 42nd time this season in a 3-2 loss to the St. Louis Cardinals at Busch Stadium.
"I'm a center fielder," he said.
Kemp said he hasn't asked to be traded before the July 31 nonwaiver trade deadline and remains committed to helping the Dodgers win. However, he sounded less resistant to the idea of playing elsewhere than he has in the past.
"Because I have no control over anything that happens," he said.
Kemp's statements were similar to ones made the previous day to FoxSports.com by his agent, former All-Star pitcher Dave Stewart.
Asked if he wanted to remain with the Dodgers for the remainder of his career, Kemp said, "I want to be here as long as they want me here. It's not my decision."
He's right: His contract doesn't include a no-trade provision.
But his inability to block a trade doesn't mean the Dodgers will, or can, deal him.
Kemp will earn $21 million next season and $21.5 million in each of the four seasons after that. That's a considerable price for a .266 hitter with diminished range on defense.
Kemp acknowledged he hasn't played well this season. He talked about wanting to cut down on his strikeouts. He also said he had to improve his defense, which ranks among the worst in the league, according to advanced metrics.
"I probably haven't played defense as good as I've wanted to," he said. "Of course not. We all see that. I've made a lot of errors this year, stupid errors I probably could have cut down on and maybe flagged some balls I probably could have flagged."
But Kemp said he is certain he can once again be the player he was in 2011, when he was a triple-crown contender and was runner-up in the most-valuable-player voting.
Kemp underwent a major shoulder operation at the end of the 2012 season. He was limited to 73 games last year, after which he had another shoulder surgery and a major procedure on his ankle.
Kemp said he is still in the process of building himself back up. In the off-seasons leading up to his best seasons, Kemp's training regimen included workouts on the track, something he couldn't to do this past winter because he was recovering from the ankle surgery.
"That was one of the things that helped me be successful," he said. "Baseball's easy. It's the training, getting your body ready for that 162 games, is what's hard."
Kemp said the team's five-man rotation in the outfield presented another challenge, especially earlier in the season. Kemp wasn't in the lineup for 19 of the 98 games the Dodgers have played.
"It's difficult to not know if you're going to play, when you're going to play, rotating in and out," he said. "Sometimes you can't get in a groove. We have five really good outfielders. We all want to play every day. It's a tough situation."
For now, Kemp is the Dodgers' primary left fielder, with Yasiel Puig in right, and Andre Ethier and Scott Van Slyke sharing time in center. But with Carl Crawford returning from the disabled list last week, Kemp knows he could be back on the bench if he slumps.
"That's just tough," Kemp said. "We've already all been through that. I think we all got past that part, where if you don't hit, you don't play. I went through that when I was younger."
Kemp emphasized he isn't making any demands of the Dodgers.
"I can't give any ultimatums," he said. "It's not like I can go in there and say, 'I want to play center field, if I don't . . .' I don't have any choice. It's up to them. I just look at the lineup every day and try to help my team any way that I can.
"I don't want to blow this out of proportion. It's not like, 'I'm going to play center field or not going to play.' It's not the case."
Regardless of how his situation plays out, Kemp said he wouldn't turn into a disruptive force in the clubhouse.
"I support my teammates, man," he said. "I've been with a lot of these guys for a long, long time. I'm friends with these guys. What happens to me, I would never take out on my teammates. I want to see us do good, I want to see us win. I just want to be able to help contribute to that."
Manager Don Mattingly didn't see the crowded outfield turning into a problem. With the Dodgers in the middle of a pennant race, he Mattingly said, "It's about team now."
Follow Dylan Hernandez on Twitter @dylanohernandez
---
Get our Dodgers Dugout newsletter for insights, news and much more.
You may occasionally receive promotional content from the Los Angeles Times.