Matt Kemp enjoys playing right field in Dodgers' 5-2 victory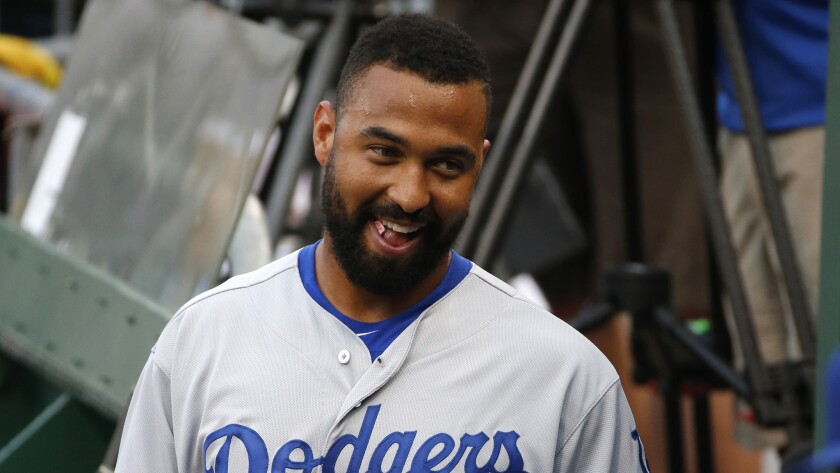 Reporting from Pittsburgh —
Matt Kemp bounced into the clubhouse with a smile Monday night.
"You see that?" he said.
With Yasiel Puig out of the lineup because of a bruised left hand, Kemp played right field in the Dodgers' 5-2 victory over the Pittsburgh Pirates at PNC Park.
"It felt natural," Kemp said.
It looked natural, too, as Kemp broke for the ball better than when playing left field or center field this season. He drove in the Dodgers' first run with a third-inning double to left field.
This was something of a surprise, considering he hadn't started in right field in five years or played there regularly in six. Until Monday, he hadn't taken any pregame fielding there this season.
"It's way easier than left," Kemp said.
Kemp was moved from center field to left nearly two months ago. Advanced metrics rate Kemp as a below-average defender at both positions.
Presumably, this change is temporary. Kemp is expected to be back in left field when Puig returns to the lineup, which could be soon. Puig and shortstop Hanley Ramirez underwent follow-up X-rays Monday that determined the were no fractured bones in their left hands. They were struck by pitches over the weekend in St. Louis.
With Puig sidelined a day earlier, Mattingly said he was reluctant to play Kemp in right field because he hadn't played there in a while.
Evidently, Mattingly changed his mind.
"It's really the combination of guys that I have," he said. "It changes what I do."
Added Mattingly: "Matt, all along, I think has been more reluctant in left than anywhere else. That's where he was most uncomfortable."
However, Mattingly said "It's not the perfect situation. … We don't really ask him to be perfect. We ask him to do his best, with the understanding that if it's not perfect, it's not necessarily his fault."
Mattingly said he was uncertain of how he would use Kemp if Puig is sidelined for longer than expected.
"I haven't thought about it too much," Mattingly said. "I haven't felt like it's going to get long. If it would get long, I'm not sure which direction we would go with that."
Kemp was diplomatic when asked before the game about playing right field.
"I'm just happy I'm in the lineup," he said.
But Kemp pointed out that right field was his natural position.
When he was drafted out of high school in 2003, it was as a right fielder. And right field was where Kemp established himself as an everyday major league player. He became a center fielder midway through the 2008 season only because Andruw Jones washed out.
Plus, Mattingly said, "I look at Matt as a great athlete and capable of playing in multiple spots."
But not center field, the position Kemp has said he would like to play on an everyday basis.
"Well, right now, you know, it is what it is right now," Mattingly said. "Let's just leave it at that."
Mattingly sounded irritated.
"I don't want to go into all this stuff," Mattingly said. "It's ridiculous."
With Kemp not considered as an option in center field, Mattingly started Andre Ethier there. Carl Crawford played in left.
"It was cool, man," Kemp said. "It felt good."
Twitter: @dylanohernandez
---
Get our high school sports newsletter
Prep Rally is devoted to the SoCal high school sports experience, bringing you scores, stories and a behind-the-scenes look at what makes prep sports so popular.
You may occasionally receive promotional content from the Los Angeles Times.