Dodgers put focus on rotation for playoff series with Mets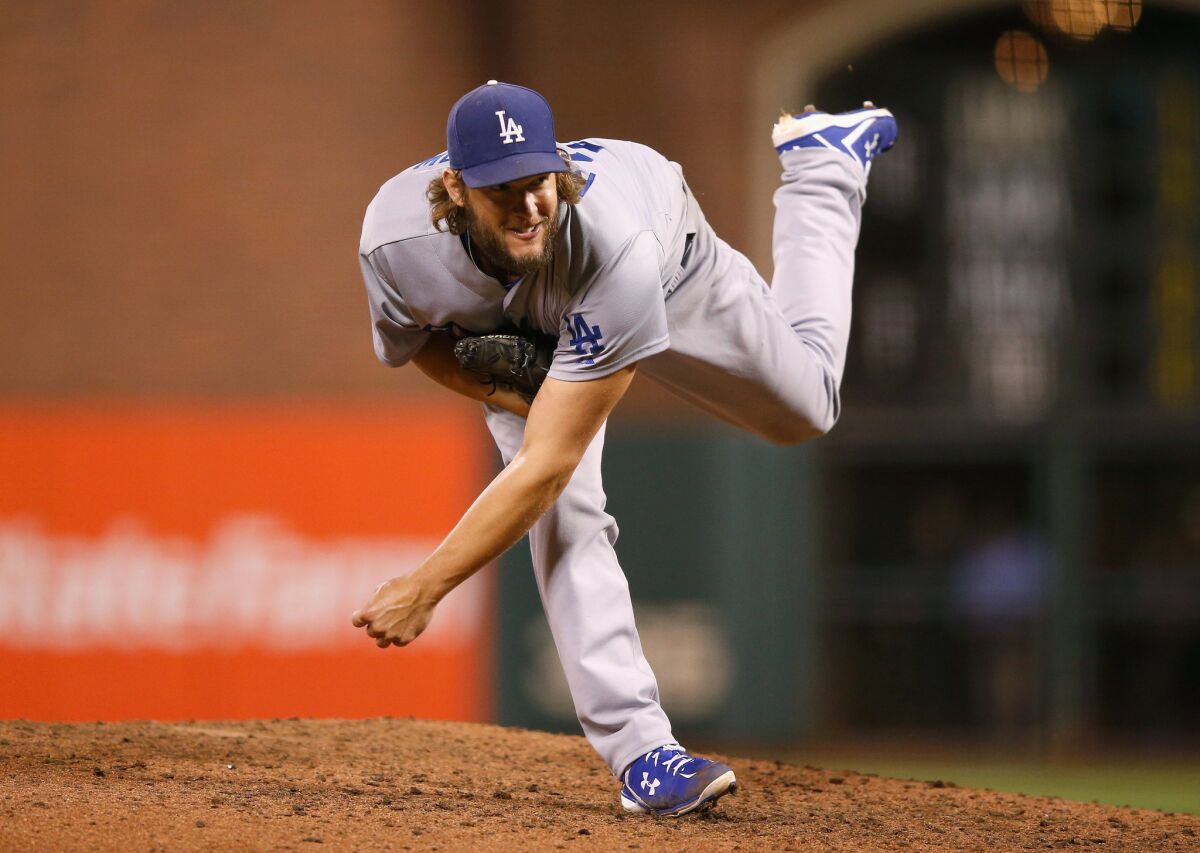 REPORTING FROM SAN FRANCISCO —
When Clayton Kershaw takes the mound Sunday in the Dodgers' regular-season finale, he will have a chance to become the first major league pitcher in more than a decade to strike out 300 batters in a season.
There will be one significant obstacle: A pitch count.
Now that the National League West championship is theirs, the Dodgers have started to prepare for their opening-round playoff series against the New York Mets.
Part of the plan is to limit Kershaw's workload.
"We'll back off of him for sure," Manager Don Mattingly said.
No such restrictions will be in place Saturday for Zack Greinke when he makes his final regular-season start. Greinke's last start was delayed because of a calf injury and made on nine days' rest.
"He looks like he wants a full start," Mattingly said.
Kershaw and Greinke are expected to start the first two games of an NL division series against the Mets that starts Oct. 9.
But Mattingly said no decisions have been made about the order in which they will pitch.
Starting the more physically resilient Kershaw in Game 1 would allow for him to pitch Game 4 on three days' rest. If Greinke starts Game 2, he could pitch Game 5 on normal rest.
By starting Greinke in the second game, the Dodgers could also avoid pitching the left-handed Kershaw and Brett Anderson in consecutive games.
The Dodgers will also be mindful of closer Kenley Jansen's workload leading up to their postseason opener.
Before Wednesday, Jansen had pitched in none of the last five games and only two of the last 11.
"The one thing we know about Kenley, you can't let him go too long [without pitching]," Mattingly said.
As someone who started pitching relatively recently — he is a converted catcher — Jansen is suspectible to breakdowns in his pitching delivery in the wake of long periods of inactivity.
Jansen said he wants to pitch as much as possible in the final days of the regular season.
"I want to close," Jansen said.
Mattingly said the Dodgers are likely to schedule Jansen to pitch on certain days, regardless of the score.
As for the position players, Mattingly said he intends to play his regular lineup as much as possible.
"We don't really plan on backing off, as far as throwing any lineup out there," Mattingly said. "We're going to play our guys."
Exceptions will be made for players recovering from injuries.
Second baseman Howie Kendrick, who continues to feel discomfort in his left hamstring, wasn't in the starting lineup Wednesday. Neither was Justin Turner, who recently experienced knee problems.
First baseman Adrian Gonzalez was limited to pinch-hitting, but said he is expecting to play the last four games of the regular season.
Although their first-round matchup is set, home-field advantage remains undecided.
"We're trying to get that home-field advantage," Jansen said. "We still have something to do."
To gain home-field advantage in the best-of-five series, the Dodgers would have to finish the regular season with a better record than the Mets.
If the two teams end up with identical records, the Mets would have home-field advantage by virtue of winning the season series against the Dodgers.
"Obviously, playing in front of your home crowd and playing at home is great," Gonzalez said. "But from a straight baseball perspective, when you go into extra innings and you score the run, the game's over."
Something else to consider: In the two previous postseasons with Mattingly as their manager, the Dodgers are 1-6 in road games.
"There you go," Mattingly said. "It's a good reason to be home."
Follow Dylan Hernandez on Twitter @dylanohernandez
Get our Dodgers Dugout newsletter for insights, news and much more.
You may occasionally receive promotional content from the Los Angeles Times.