Dodgers mailbag: Could Alex Wood win the Cy Young Award?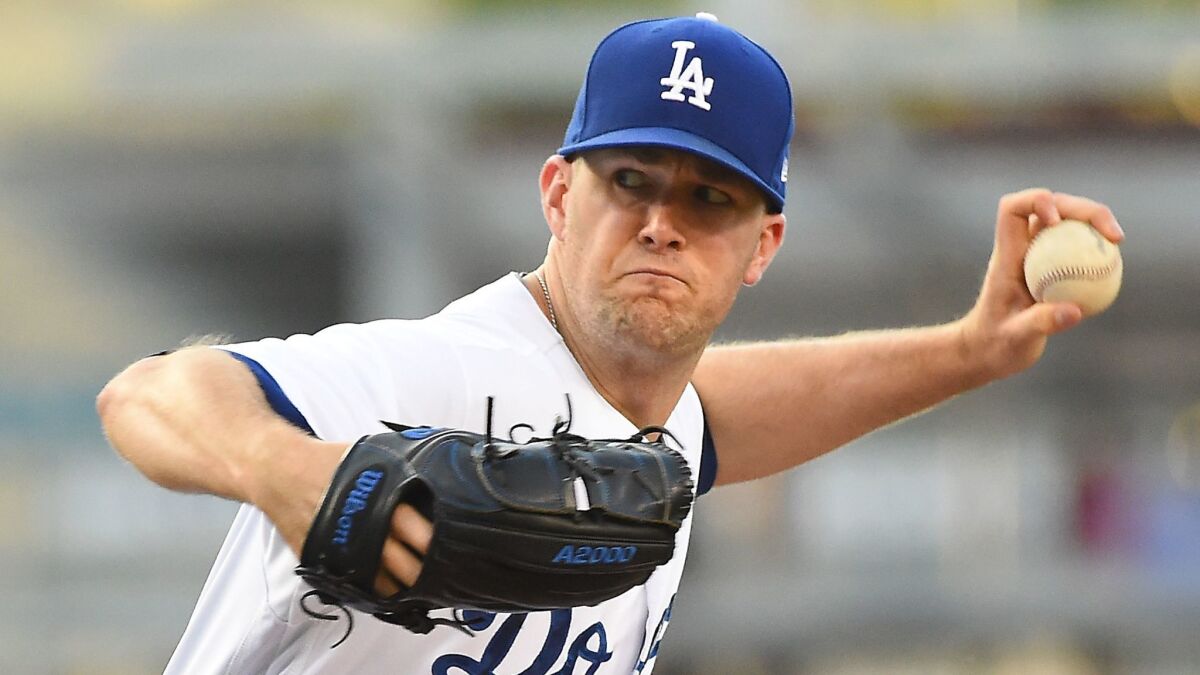 The Dodgers are 51-26. That translates to a 107-win pace, which is somewhat astounding. They trounced the Rockies this weekend to extend their winning streak to 10 games. They have won 16 of their last 17. They won a preposterous game on Sunday, surviving an alarming outing by Brandon McCarthy because Colorado self-immolated with wild pitches.
The Rockies had spent 67 days in first place in 2017. Now they reside in third place, beneath the Dodgers and the surging Diamondbacks. Arizona visits Dodger Stadium next week for what should be another entertaining series.
In the meantime, the Dodgers host their neighbors from Orange County this week in the start of the Freeway Series. Here are the pitching matchups for the first leg, on Monday and Tuesday at Dodger Stadium:
Monday: RHP Ricky Nolasco (2-9, 5.23 ERA) vs. LHP Rich Hill (4-3, 4.73 ERA)
Tuesday: RHP Jesse Chavez (5-7, 5.15 ERA) vs. RHP Kenta Maeda (5-3, 4.62 ERA)
As always, there is plenty to discuss. You can send me questions on Twitter @McCulloughTimes. Let's do this.
I assume so, but I can make no guarantees. Not after Sunday.
Alex Wood is the answer. Wood deserves a spot in the All-Star Game next month. His résumé is pristine, even after missing a couple weeks on the disabled list with a minor injury to his SC joint. Wood is unbeaten this season (8-0), with the lowest earned-run average (1.86) for any National League pitcher who has thrown at least 60 innings.
A more intriguing question is who would start Game 3 for the Dodgers. Will Brandon McCarthy bounce back from his bizarre loss of control Sunday? Will Rich Hill resemble the pitcher he was in 2016? Will the Dodgers make a play for Jose Quintana or Gerrit Cole or Chris Archer? Both Quintana and Cole have struggled this year, and the price for Archer would be exorbitant.
That is too strong, for my taste, but Alex Wood certainly merits consideration for a spot on the ballot. Heading into Sunday's games, Wood and Clayton Kershaw were tied for third among National League starting pitchers in FanGraphs' version of WAR. They trailed only Nationals ace Max Scherzer, who is the early favorite for the award.
The Times does not permit its writers to vote for awards, but when I used to vote, I placed an emphasis on innings for starting pitchers. If the numbers were close between two players, I would reward the guy who threw more often. That's a personal preference that isn't always reflected by other voters. But if Wood logs 180 innings with a sub-2.00 ERA, it'll be interesting to see how he fares against pitchers like Scherzer or Kershaw, who are closer to 220 innings or more.
Yes.
It would not be ideal, for example, if McCarthy's command issues from Sunday expand into more than a one-outing blip, or if Hill never recovers mastery of his curveball. It would not be ideal to use Kenta Maeda as a No. 3 starter. The jury remains out on the viability of Hyun-Jin Ryu, who has been slightly below average (98 ERA+) this season.
But it's certainly possible to win without elite starting pitcher in every playoff game. In my opinion — and in the opinion of plenty of people around baseball — starting pitching has never been less important, especially in playoff games. It still matters a great deal. But between the usage of bullpens in the postseason, the advent of data in scouting reports and the abundance of infield shifts, you can fake it with average starters and go pretty far.
The Indians did this last year. The Royals did it in 2014, though their starters were somewhat better when they won the World Series in 2015 (shout-out to Edinson Volquez). In 2014, San Francisco employed one great starting pitcher (Madison Bumgarner). It can be done.
That said, I do think the Dodgers will be in the market for starters. With a team this talented, it's worthwhile to push some trade chips into the middle. Determining which pitcher is worth the price will be interesting.
It's a good question. Adding the prototypical relief ace, specifically a left-handed relief ace, would offer a final piece to this team's roster puzzle. But Andrew Miller won't be on the market this summer. I'm not sure a pitcher worth sacrificing sizable assets for will be available.
The relievers who should be out there — David Robertson, Pat Neshek, Ryan Madson, Brad Hand, Tony Watson, Sean Doolittle (?) — all reside on a tier well below Miller.
I've been bearish on the Rockies from the beginning. All you need to do is glance at the fielding-independent ERAs of their starters and the walk rates of their relievers.
To wit, heading into Sunday:
Antonio Senzatela: 4.97 FIP
Tyler Chatwood: 5.10 FIP
Kyle Freeland: 4.70 FIP
Tyler Anderson: 5.01 FIP
German Marquez: 3.89 FIP
Greg Holland: 4.6 walks per nine
Scott Oberg: 3.8 walks per nine
Adam Ottavino: 5.5 walks per nine
Mike Dunn: 5.5 walks per nine
The starters don't miss bats often enough. The relievers walk too many batters. It's a bad formula, especially in this era in which every ballpark is a launching pad for homers, and even more so when your home park is Coors Field.
Cody Bellinger should make the team as an outfielder. Several first baseman have been more productive than him this season — Paul Goldschmidt, Joey Votto, Freddie Freeman, Ryan Zimmerman, plus Anthony Rizzo could sneak in with the fan vote — whereas the outfield crop is thinner. Either way, Bellinger belongs on the roster.
Chris Taylor has come back to Earth this month. He is hitting .225 in June after batting .322 in May. He still profiles as a useful player, capable of handling both the outfield and the infield. He has a role on the team, perhaps best as a guy coming off the bench, should the team acquire a more impressive offensive option for the outfield at the deadline.
Shut up and enjoy it. A home run is *literally* the best outcome a batter can produce.
The most likely answer is "Never."
It almost always depends on the length of the games.
It's difficult to project Samoa Joe getting a fall over Brock Lesnar, but according to the dirt sheets, the angle is getting over backstage, so maybe Joe takes one and loses the rematch. I don't see it, though. Lesnar will likely work with Braun Strowman at Summer Slam, and I don't think Joe can interfere with that.
That said, Joe-Lesnar should be awesome. Joe is the rare wrestler who looks like he belongs in the ring with Lesnar. He has enough MMA cred to seem legitimate, and he'll be willing to trade. It should be a fun, physical match.
Twitter: @McCulloughTimes
---
Get our Dodgers Dugout newsletter for insights, news and much more.
You may occasionally receive promotional content from the Los Angeles Times.