Inside the Dodgers' failed, frustrating bid for two-way sensation Shohei Ohtani
Reporting from Tempe, Ariz. —
One day in early December, as the years-long pursuit of a baseball enigma approached its conclusion, a trio of Dodgers converged on the offices of the Creative Artists Agency in Century City.
Clayton Kershaw took a flight in from Dallas on the day of his wedding anniversary. Justin Turner escaped the frenzy of planning his own wedding to join. Chris Taylor hopped an early-morning jet from Virginia Beach. The players huddled with members of their front office for a singular purpose: to convince Shohei Ohtani to become a Dodger.
The Dodgers had scouted Ohtani since his first year in high school in a rugged prefecture in northern Japan. Ohtani came to Los Angeles this winter as a 23-year-old phenom. He aimed to replicate a feat unseen since the days of Babe Ruth: He planned to hit and to pitch at baseball's highest level. And he sought in-person interviews with the seven clubs he deemed worthy of his services.
For about three hours, according to people who attended the meeting, Dodgers representatives tried to persuade Ohtani. They hyped the organization's past and future. They vouched for the comfort of Los Angeles. They searched for hints about his intentions, but the players found his answers inscrutable. It seemed like Ohtani had already made up his mind.
"I felt like it was a waste of my time," Turner said.
A few days later, Ohtani made his decision. He was coming to Southern California.
To be an Angel.
"Just a gigantic waste of time," Kershaw said.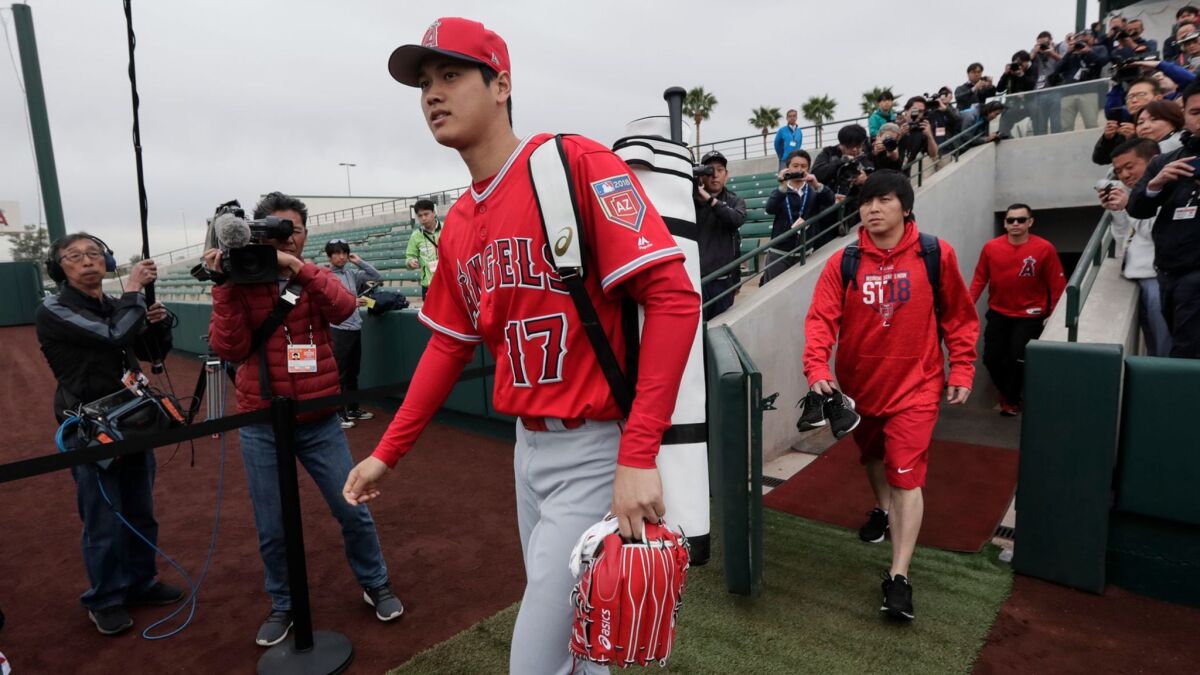 It would have been a lot of work, for one particular player, and a lot of sacrifices for other guys
— Dodgers manager Dave Roberts
The announcement did not surprise Kershaw. Ohtani had not played the field regularly since 2014. The Angels provided Ohtani a chance to be a designated hitter, a perk no National League team like the Dodgers could offer. Ohtani manned that position during a spring training game on Wednesday at Tempe Diablo Stadium, when he crossed paths with Kershaw for the first time since December.
Kershaw harbored no malice toward Ohtani, whom he called "a very respectful guy." He directed his antipathy toward Ohtani's agent, Nez Balelo, for the secretive process. Balelo insisted the suggestion Ohtani had made a decision before meeting with the Dodgers was "unfounded."
On the mound, Kershaw demonstrated the enormity of the task facing Ohtani. In the third inning, Kershaw snapped a gorgeous curveball in a two-strike count. Ohtani stared as it landed in the catcher's glove. The umpire pumped a fist and Ohtani could only grin in awe as he returned to his dugout.
Inside a suite in the stadium's second level, Dodgers president of baseball operations Andrew Friedman watched the at-bat. He lacked interest in rehashing his zeal for Ohtani. He maintained a diplomatic stance about the failed recruiting pitch. "The burden was on us to try to sell the National League," Friedman said. "We appreciated that it was an uphill battle, but it was well worth the effort."
For Ohtani, the learning curve this spring has been steep. He has one hit in 11 at-bats. He surrendered a home run in his first game as a pitcher and could not complete the second inning. His ability remains immense, if thus far unproven at the major league level.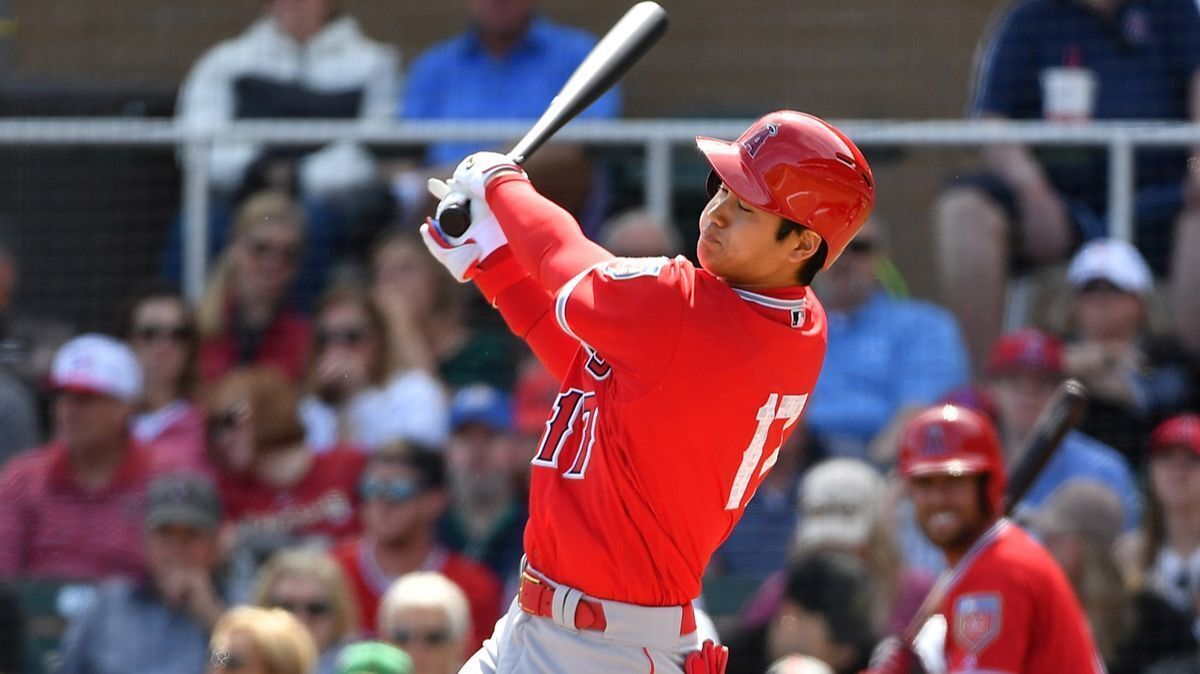 The Angels made a slew of adjustments to accommodate Ohtani. They will experiment with a six-man rotation to give him more time to rest between pitching appearances. They asked 38-year-old veteran Albert Pujols — who had been the club's DH — to start at first base on a regular basis for the first time since 2015. When Ohtani pitches, manager Mike Scioscia operates with fewer players on his bench.
Those compromises fly in the face of the Dodgers' governing principles. The organization rarely caters to individuals outside of Kershaw — who mostly asks to be left alone. Manager Dave Roberts juggles his batting order on a daily basis, shortens the outings of his starting pitchers and asks his bullpen to operate without concrete roles.
The Dodgers preach collectivism above all. Yet team officials felt Ohtani merited the adjustments.
"It would have been a lot of work, for one particular player, and a lot of sacrifices for other guys," Roberts said. "But when you look at the caliber of player — you don't do that for everyone. He's a special type of player."
The value of Ohtani sprung from more than his ability. Eager to test himself in the majors, Ohtani chose to leave Nippon Professional Baseball before he turned 25. Under Major League Baseball's collective bargaining agreement, Ohtani could sign only a rookie-level contract with a small signing bonus. The financial risk was minimal; the reward appeared uncapped.
Friedman pondered how to utilize Ohtani for several years, and in August traveled to Japan with a scouting contingent. The front office poured hundreds of hours into the pursuit and developing a plan to integrate Ohtani into their roster and their clubhouse. Team officials pondered his preferences and his habits. He was willing to forgo a potential nine-figure contract. If money wasn't a factor, what drove him?
On Dec. 1, Ohtani became available. A whirlwind ensued, as teams jockeyed for his services. Ohtani winnowed his suitors to seven teams: the Dodgers, Angels, Chicago Cubs, San Francisco Giants, San Diego Padres, Texas Rangers and Seattle Mariners. Outside of the Cubs, all six were West Coast teams. Only three were in the American League.
Given a short window to assemble a personalized presentation for Ohtani, the Dodgers scrambled to convene Kershaw, Turner and Taylor. Friedman denied the suggestion that the team invited Taylor so he could speak critically about the Mariners, another finalist. "Of course that's not what it is," Friedman said.
The burden was on us to try to sell the National League. We appreciated that it was an uphill battle, but it was well worth the effort.
— Dodgers president of baseball operations Andrew Friedman
The players joined a group that included Friedman, Roberts, general manager Farhan Zaidi, team president Stan Kasten and strength and conditioning coach Brandon McDaniel. Each man offered a different element of the pitch. Turner outlined his passion for the team's culture, but felt he could not forge a bond with Ohtani.
"He might as well have not been sitting there," Turner said, using an expletive for emphasis. "We might as well have been speaking to a window."
At one point, Turner recalled, Ohtani was asked for his true preference: Would he rather hit or pitch? "And he said, 'Whatever the manager says.' I was like 'Come on,'" Turner said.
Kershaw sensed a similar disconnect. He felt it was obvious Ohtani had no interest in returning to the outfield, the position he played in his teens. Kershaw blamed Balelo for not communicating this.
"It really just seemed like it was pre-determined that he wanted to DH," Kershaw said. "I'm kind of mad at his agent for making us waste all that time and effort. Fifteen teams should have been out of it, from the beginning. I know it's probably frustrating for everybody in the National League. A lot of guys spent a lot of time trying to figure out what makes him tick, and try to get him over here."
Ohtani declined to reveal how he felt about the Dodgers' presentation. Ohtani "can't talk about that process," according to his interpreter, Ippei Mizuhara. Balelo defended his client in a statement emailed to The Times.
"From the beginning, Shohei was fully committed to a fair process," Balelo said. "He asked teams for honest information and was honest with the teams. To suggest he would ask any club to meet with him without being open to playing for that club is unfounded and an insult to his personal ethics. In fact, the majority of the teams invited to make in-person presentations were National League clubs."
Roberts exited the meeting with a different impression than his players. He described Ohtani as "very engaged" in the presentation. But he had a similar conclusion. "I think it was already predetermined: He wanted to go to the American League," Roberts said.
Roberts shrugged. When it came to Ohtani, he felt, there was little the Dodgers could do.
"I still think we're the best team in baseball," Roberts said. "That's his decision. We wish him well. We've turned the page on him."
Twitter: @McCulloughTimes
Get our Dodgers Dugout newsletter for insights, news and much more.
You may occasionally receive promotional content from the Los Angeles Times.