Yasiel Puig homers twice, Walker Buehler goes eight innings in Dodgers' 3-0 defeat of the Cardinals
Reporting from St. Louis —
He had thrown four fastballs in a row, the last at 99 mph, as the night teetered in the balance. Walker Buehler slipped his slender fingers inside his glove as he searched for the grip of a curveball. The go-ahead run stood at the plate for the St. Louis Cardinals, and Buehler had no interest in allowing this would-be rally to proceed.
As the eighth inning of a 3-0 victory unfolded, Dodgers manager Dave Roberts stayed in his dugout. Rare are the occasions when Roberts permits a pitcher to face a batter for the fourth time. Buehler had never before reached the eighth inning as a professional, and he had never seen a hitter four times in a big league game. With Cardinals star Matt Carpenter at the plate, Roberts trusted Buehler, the 24-year-old rookie who has established himself as a right-handed complement to ace Clayton Kershaw.
"He wanted this moment," Roberts said.
Buehler did not deny his desire for the spotlight. "I would have been angry if I had come out," he said later, after he unleashed his inning-ending curveball to Carpenter. The pitch bounced in front of the plate, but Carpenter, jumpy after so many fastballs, swung through the pitch, stranding two runners and ending the threat.
It was the ninth strikeout of the game for Buehler (7-5, 2.88 ERA), who scattered two singles and two walks in the longest outing of his career.
He peppered both halves of the plate with fastballs while subduing hitters with curves and sliders. He left a tidy ninth inning for Kenley Jansen, who rebounded from a shaky outing on Thursday to notch his first save since Sept. 1.
The victory pulled the Dodgers (81-67) into a tie with St. Louis for the second wild-card spot, and within a half game of Colorado in the sprint for the National League West. Fourteen games remain in the regular season. The prospect of pitching in October titillated Buehler. He let an expletive slip in a postgame interview on the field, before tempering his language ever so slightly inside his clubhouse.
"It's a big game," Buehler said. "We're trying to make the frickin' playoffs. This is what baseball in September is about."
Buehler was, in the words of Justin Turner, "brilliant" on a night when his team required pristine pitching. After piling up 17 runs Wednesday and Thursday, the lineup was subdued Friday. They struggled to solve St. Louis rookie Jack Flaherty. Yasiel Puig provided the bulk of the offense, with a solo homer off Flaherty in the second inning and a second solo shot against reliever Tyler Webb in the ninth.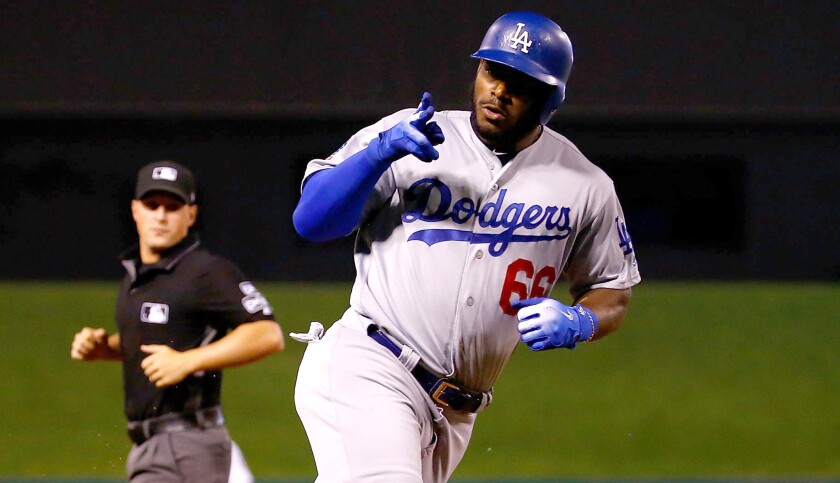 The first meant Buehler inherited a lead. He had dueled with Flaherty at Dodger Stadium on Aug. 22. Flaherty spun six hitless innings before giving up a solo home run. Buehler topped him with seven scoreless innings of three-hit baseball. The Dodgers still lost when Jansen surrendered two homers in the ninth. Flaherty, a Harvard-Westlake grad, left an impression on Roberts.
"This guy's got a good arm, and he's got a good head," Roberts said before the game. "It's going to be a fun game. Our guy is the same way."
Heading into Friday, the Dodgers identified Flaherty's reliance on fastballs and sliders. The scouting report suggested the hitters should hunt elevated fastballs. Puig feasted on a belt-high, 96-mph heater for first first homer. Puig saw nine pitches in the at-bat before he went deep.
"He has good numbers against us in his short career, but I was trying to do my best," Puig said through an interpreter, Jesus Quinonez. "He threw a fastball there, and I able to connect with it."
The lead belonged to Buehler. He sat down the first 13 batters he faced. He froze Carpenter with a 98-mph fastball to open the first inning. Second baseman Kolten Wong stared at a 99-mph fastball to end the second. Buehler blew away outfielder Harrison Bader with a 94-mph cutter an inning later.
In all, Buehler struck out five before St. Louis collected a hit. Cardinals shortstop Paul DeJong smacked a 93-mph cutter into center field for a one-out single in the fifth.
"He was just coming out firing," Roberts said. "Just domination."
Flaherty exited midway through the six, with eight strikeouts to his credit. Buehler used the bottom of the inning to match his counterpart, striking out pinch-hitter Patrick Wisdom with a 97-mph fastball, Carpenter with a 98-mph fastball and outfielder Yairo Munoz with a slider.
The Dodgers added a second run in slapstick fashion in the seventh when Cody Bellinger scored on a passed ball. Buehler finished the bottom of the frame with his pitch count at 81. The Cardinals flied out in all three at-bats, but Buehler still pumped his fastball between 96 and 97 mph.
The pitch was still lively when Buehler started the eighth. His command was less reliable. A leadoff walk incited something resembling a riot in the bullpen. Scott Alexander, Caleb Ferguson, Dylan Floro and Zac Rosscup moved around. Eventually Floro and Rosscup warmed on the two mounds.
Roberts declined to send any of the relievers to the mound. When Buehler walked pinch-hitter Jedd Gyorko, Carpenter came up. Roberts stayed put. The game resided in Buehler's hands.
As his pitch count passed the century mark for the fifth time in his pro career, Buehler maintained his velocity. He hit 99 mph on a 1-2 fastball that evened the count for Carpenter. It was time for the curveball. Carpenter had no chance.
Buehler stymied a slight smirk as he walked into the dugout. A thankful group of Dodgers awaited him. They had inched closer toward reaching the playoffs — expletives were welcome.
"This was probably the best pitching performance of the year," Roberts said. "Not just Walker. Across the board."
Twitter: @McCulloughTimes
---
Get our Dodgers Dugout newsletter for insights, news and much more.
You may occasionally receive promotional content from the Los Angeles Times.