It's Grandal and Barnes behind the plate again, and atop an impressive list of Dodgers catching talent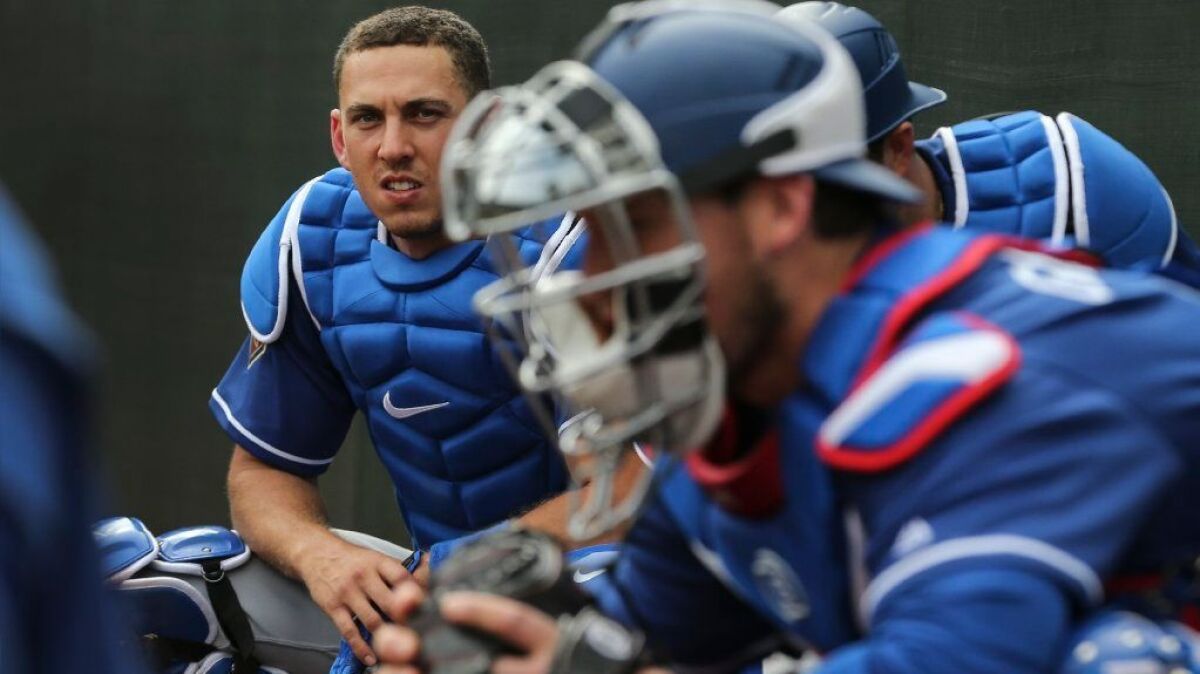 Austin Barnes pulled up a chair beside Yasmani Grandal's locker on Friday morning. They are united but divided, competitors aligned as a duo, and so they swapped strategy on receiving and framing and blocking. At one point, Grandal hopped up to pantomime a peg to second base. Barnes rose from his own seat to mimic his teammate.
The conversation lasted 15 minutes as teammates filtered through the clubhouse at Camelback Ranch. Then they dressed for a workout, moving one day closer to the start of the regular season, when the question might finally be answered: Who is the Dodgers' starting catcher?
"Yasmani obviously had more opportunities, more at-bats, more playing time [in 2017]— and I see that again," manager Dave Roberts said. "But Austin has earned the right to get opportunities."
The answer hints at the doctrine of adaptability that doubles as the organization's backbone. No franchise in baseball boasts a more impressive array of catching talent than these Dodgers. The arsenal extends from the lower minors, where prospects like Keibert Ruiz and Will Smith have earned raves, up to the majors. Grandal possesses a lengthy resume of success. Yet Barnes outplayed him late in 2017 and supplanted him during the team's run to the World Series last season.
As the team returns for 2018, Grandal appears positioned as the primary backstop, as a switch hitter expected to receive most of the starts against right-handed pitchers. Barnes will again start against left-handed pitchers. Roberts reserved the right to adjust the platoon when necessary, as he did late last season. Despite starting just twice in the playoffs, Grandal does not expect to spend this season on the bench.
"Well, there's only been one guy who's played 120 games," Grandal said. "So I don't know. I haven't really thought about it. I'm not worried about it."
The Dodgers possess enough depth to be creative. Barnes can play second base. The team could carry third catcher Kyle Farmer, as it did in September, to free up Barnes or Grandal for late-game pinch-hitting assignments. As a unit, the catchers ranked second in baseball last season in FanGraphs' version of wins above replacement.
The financial implications for each man are significant. Grandal, 29, will become a free agent after this season. Barnes, 28, is building a case for salary arbitration. Under team control until 2023, Barnes may still be a year away from becoming the starter. The inherent competition does not interfere with their regular-season duties, in which they huddle during pregame meetings with the coaching staff to build nightly plans of attack against opposing hitters.
"It's going to take both of us to get where we want to be," Barnes said. "I think that showed last year. Obviously Yaz wants to be out there and I want to be out there. We both have the mindset that our main focus is winning."
Neither Barnes nor Grandal is perfect. Grandal is prone to strikeouts. Barnes can struggle to hold runners. Yet each provides value as a hitter, and each is considered excellent as a receiver. Grandal ranked fourth in runs saved through pitch framing last season, according to Baseball Prospectus. Barnes ranked eighth.
"Both are elite at what they do behind the plate," president of baseball operations Andrew Friedman said. "It's something that no matter the day, no matter who we're playing, that's going to be a real strength and advantage for us this season."
After uneventful cameos in 2015 and 2016, Barnes "really made his mark last year as a major-league player," Roberts said. His role expanded as the season progressed. Barnes slugged .514 against left-handed pitchers, but his production against right-handed pitchers was even better: A .902 on-base-plus-slugging percentage, well above Grandal's .790 OPS against right-handers.
Grandal appeared on pace for a typical season in the first half. He hit 11 home runs and posted a .788 OPS. He bruised his thumb just before the All-Star break. His production dipped during the season's final months. Grandal batted .217 in the second half as Barnes surged.
As the playoffs approached, Roberts tipped his hand about the organization's preferences. Barnes saw more time against right-handed pitchers. He caught ace Clayton Kershaw more.
During this time, Grandal found himself compartmentalizing. His wife, Heather, was pregnant with their second child. Grandal made multiple trips to visit her in Arizona. She gave birth to a son, Yasmani Ryker Grandal, just before Game 1 against Houston.
The pregnancy occupied Grandal's thoughts for most of the postseason, he said. He tried to focus on aiding Barnes during his seven or eight hours at the field. Once he left, he devoted his energy toward his family. That tunnel vision extended into the offseason. "To tell you the truth, I didn't even know we had gotten [Matt] Kemp until a month ago," Grandal said.
While Barnes worked out at Dodger Stadium over the winter, Grandal prepared in Arizona. He tinkered with his swing by studying data of his launch angle. He attempted to clean up the mechanical glitches which hampered him in the second half of 2017. He expected to play often in the coming season. And he expected to produce.
"The way I see it is I'm hitting free agency next year," Grandal said. "I've got to be concentrated to help this team do the best that they can do, so that next year 29 other teams would love to have me on their team — or, if I end up signing back here."
Follow Andy McCullough on Twitter @McCulloughTimes
---
Get our Dodgers Dugout newsletter for insights, news and much more.
You may occasionally receive promotional content from the Los Angeles Times.