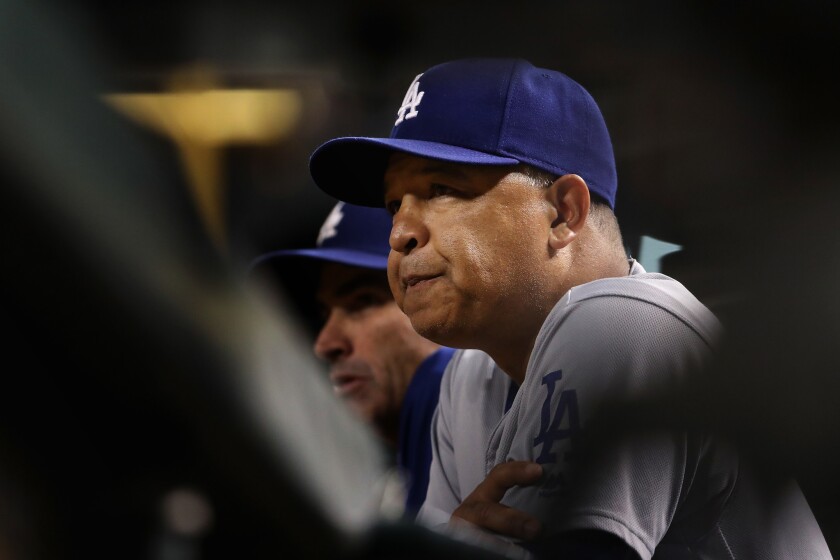 The invitation to join the most effective bullpen in baseball — a group that led the major leagues in innings and strikeouts while posting the lowest collective earned-run average — came without much specificity.
On a day in September, Dodgers rookie Ross Stripling listened to instructions from bullpen coach Josh Bard. Stripling had spent most of his first season as a starter, but the team determined he could better serve in the playoffs as a reliever. Bard told him to be ready for anything — a one-batter cameo, a one-inning stint, a multiple-inning marathon.
Unsure how to approach the uncertainty, Stripling sought advice from veteran Joe Blanton, an expert on the free-flowing composition of the team's bullpen and the decision-making of Manager Dave Roberts.
"I've never done this," Stripling said. "I need some help."
Blanton told him, "Just don't give in," meaning, in essence, worry about getting outs, not when you'll be asked to get them.
As the Dodgers prepare for a fourth consecutive playoff appearance, the bridge to All-Star closer Kenley Jansen has never been stronger. But the route to Jansen has never been less predictable.
Roberts has fashioned a bullpen without conventional roles. Forced to adapt by necessity in his first season at the helm, Roberts learned the creativity that often rewards managers in October.
Blanton is Jansen's set-up man, but he could pitch as early as the sixth inning. Optioned to double-A in August, Pedro Baez reclaimed his place in the hierarchy last month. Grant Dayton emerged from obscurity as a 28-year-old rookie to become Roberts' most reliable left-handed reliever. The team is unafraid to shift starters such as Stripling, Alex Wood or even Julio Urias into relief.
"Our guys are willing to adapt and not make excuses about it," Roberts said. "Sometimes you sell players short when you don't continue to challenge them."
As injuries derailed the starting rotation, the bullpen prevented the club from foundering. The relievers finished the season ranked first in the National League in walks plus hits per nine, first in strikeout-to-walk ratio, second in strikeout rate and second in batting average against. The unit relies upon a diversity of options capable of interchangeable usage.
The Dodger bullpen's improvement over previous seasons appears "more about depth than a massive jump in quality," one National League scout said. Added another NL scout, "When you look on paper, the talent looks about the same. You have to give credit to how they've been managed."
The success classifies as an organization-wide triumph. It begins with the eyes of the advance scouting department, includes the input of the analytical wing, and relies upon the communicative skills of Roberts and pitching coach Rick Honeycutt.
"The bullpen has been, in my mind, a very underappreciated aspect of this team, and the success that we've had," said Andrew Friedman, president of baseball operations. "And I think Dave and Honey have been masterful at putting guys in positions to succeed."
When Roberts interviewed for the manager's job last winter, he sensed the front office's interest in "someone to come in who wasn't afraid of change, someone who was forward-thinking," he said.
Roberts felt he could fit that mold, but he still sought orthodoxy. In April, he tried to use Chris Hatcher in the eighth inning, with Baez and Yimi Garcia his other primary options.
The approach quickly backfired. Hatcher combusted. Garcia injured his elbow. Baez was inconsistent. Roberts tried to stick with his plan, even as his eyes told him that other pitchers, Blanton especially, deserved the high-leverage opportunities.
"A couple times it happened where I just had that sick feeling in my stomach," Roberts said. "Me trying to do what's conventional — I just didn't feel good about it."
A team-wide shift started in May, veteran members of the bullpen said. An ethos took hold. Roberts credited Blanton, who became a slider-throwing Swiss Army knife, and J.P. Howell, the 33-year-old left-hander who never whined as his usage waned. "We don't have any sensitive guys in the bullpen, guys that get sensitive over little stuff like that," Jansen said.
The attitude and adaptability displayed by the veterans set an example for the younger players. In the minors, Dayton explained, he had always known when he was expected to pitch. In this bullpen, he learned to ready himself for any assignment.
"It may be a little more mentally taxing," Dayton said. "But who cares? It's our job."
The onus fell on Roberts to maneuver the moving parts. He maintained a dialogue with his players, took input from his coaches and studied the information provided by his superiors.
Before each series, the front office and the coaching staff build a matchup-based plan. The scouts decipher the attributes of the opposing batters, with insight added by Honeycutt and Bard. The Dodgers pair that information with internal assessments of their relievers.
The conversations create a blueprint, offering Roberts a group of pitchers who figure to have the most success against each hitter. "That work goes a long way toward mapping out how a game might unfold," Friedman said.
The team also builds charts for the pitchers to consult. The principle is the same, intersecting the pitcher's strengths with the opponent's weaknesses. There is also advice about tendencies early in the count and late in the count. The information acts as a "safety net," Howell said, and an aid to the less-experienced pitchers.
"It helps you commit to something," Howell said. "You can commit to a game plan, which is a problem for a lot of young guys."
Roberts does not suffer from sentimentality. Take the case of left-hander Adam Liberatore. He started the season in the minors, but by mid-summer had become one of Roberts' most trusted relievers. Liberatore set a franchise record with 28 consecutive scoreless appearances.
But near the end of July, Liberatore succumbed to worsening elbow discomfort. He missed three weeks. Upon Liberatore's return, Roberts felt the pitcher lacked his prior sharpness and relegated him to limited duty.
Liberatore underwent season-ending surgery on Tuesday. Dayton has taken his place. He fires a fastball that registers in the low 90s, yet still induces whiffs, a factor that intrigued the Dodgers when they acquired him from Miami in 2015.
Dayton joins a group filled with an array of options for Roberts as he tries to sort through the chaos of October. He has weapons for right-handed batters and left-handed batters, for those who can't handle heat and those who can't read spin.
And when those options fall through, Jansen is willing to throw multiple innings at a time.
October rewards bullpen creativity. The last six months prepared the players for this assignment. Roberts can say the same.
"I'm not afraid to open myself up for criticism," Roberts said. "I understand that some of the decisions I've made go against certain things. But if it's what I believe, and I feel the best thing to help us win that night, then I'll do it."
andy.mccullough@latimes.com
Twitter: @McCulloughTimes
---