Kenta Maeda and Dodgers win another outing against Zack Greinke and Diamondbacks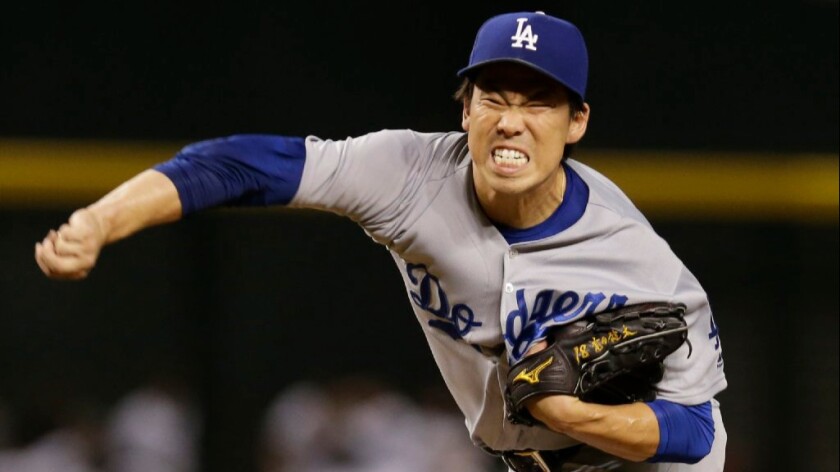 Reporting from PHOENIX —
A first-inning fastball flew over the head of one Arizona hitter. A pair of walks contributed to a second-inning run. A curveball in the third bent at the chin of another batter. Infected by uncharacteristic wildness, Dodgers rookie Kenta Maeda resided on the precipice of danger throughout his five innings in a 3-2 victory.
Maeda maintained his balance on the tightrope, interspersing fastballs outside the zone with sliders that evaded the bats of the Diamondbacks. He held his hosts to one run, three hits and three walks.
"It was a grind for him tonight," Manager Dave Roberts said. "But he still found a way, like he always does, to give us a chance to win a baseball game."
Roberts deployed six relievers to procure the final 12 outs. Kenley Jansen allowed a run in the ninth on a triple by shortstop Chris Owings and a towering sacrifice fly by first baseman Paul Goldschmidt. He still recorded his 45th save.
The victory maintained a four-game lead for the Dodgers (83-64) in the National League West and lowered the team's magic number. Any combination of 12 Dodgers victories and San Francisco Giants losses will clinch a fourth consecutive division title.
For the second time in less than two weeks, Maeda (15-9, 3.24 earned-run average) opposed Zack Greinke and emerged with a victory. The offense could not replicate its previous bombardment of Greinke. But the Dodgers scratched together three runs, two unearned, to exasperate their former teammate.
Eleven days ago at Dodger Stadium, the Dodgers hung eight runs on Greinke. They smacked five home runs, including four in a stunning seven-batter sequence. Unwilling to chase Greinke's pitches on the margins, the team feasted on offerings over the middle.
"We need to get back to that," Roberts said. "Because outside of that start, we've been in and out with the at-bat quality."
In the nine games between Sept. 5 and Friday, the Dodgers scored three runs or fewer six times. Roberts views the concept of hitting through a simple but accurate prism: Take balls, swing at strikes. Too often, his club declined to do the former, putting the players in a more difficult position to do the latter.
The teamwide slump stems from an ongoing inability to hit left-handed pitchers, and some late-season attrition. With rosters expanded in September, teams can send waves of left-handed relievers at the Dodgers. Justin Turner is battling soreness in his right hand. Corey Seager feels the fatigue of his first full season in the majors.
The eldest member of the roster sparked the offense in Friday's first inning. Chase Utley, 37, stroked a 90-mph first-pitch fastball into the right-field corner for a leadoff double.
The Dodgers profited on the incompetence of Arizona's defense during the rest of the inning. Two batters later, Turner poked a line drive into right field, the area patrolled by Yasmany Tomas, who allowed the ball to bounce past him for an RBI triple. Turner scored on a passed ball when a slider skipped by catcher Welington Castillo.
"I thought we did a good job that first inning, able to score a couple runs," Utley said. "After that, Zack settled down a little bit, and he gave us a tough time."
Maeda wavered in the second inning. After a one-out single by Castillo, he walked a pair of batters to load the bases. He induced a ground out from outfielder Mitch Haniger, which allowed a run to score. Greinke flied out to end the threat.
Greinke resembled his former self in the third inning, carving up Utley, Seager and Turner by mixing all four of his pitches. But his defense betrayed him again in the fourth. Adrian Gonzalez led off with a single. Josh Reddick walked. When Howie Kendrick hit a potential double-play grounder, Diamondbacks second baseman Jean Segura made a throw that came closer to hitting first-base coach George Lombard than Goldschmidt.
Gonzalez scored on the error, and Maeda again had a two-run advantage.
He stranded two runners in the fourth inning when Greinke grounded out.
In the fifth, he fanned Goldschmidt with a slider to finish his outing with a flourish.
"I felt OK overall," Maeda said. "I just didn't have my command today."
The bullpen followed Maeda's path, flirting with trouble for the final four innings. In the eighth, Joe Blanton issued three walks to load the bases with two outs. Roberts declined to call Jansen in early for a four-out save. He trusted Blanton, who got pinch-hitter Rickie Weeks to roll over on a ground ball and maintained the lead.
Blanton managed some levity in the situation. He stared at Roberts as he walked off the field and placed two fingers to his neck as though checking his pulse.
"Just making a joke out of something that was a little frustrating for me," Blanton said. "And we got out of it."
Follow Andy McCullough on Twitter @McCulloughTimes
---
Get our high school sports newsletter
Prep Rally is devoted to the SoCal high school sports experience, bringing you scores, stories and a behind-the-scenes look at what makes prep sports so popular.
You may occasionally receive promotional content from the Los Angeles Times.