Dodgers Dugout: Worst home plate umpire ever? Dodgers vs. Mets Game 1 thoughts, Game 2 preview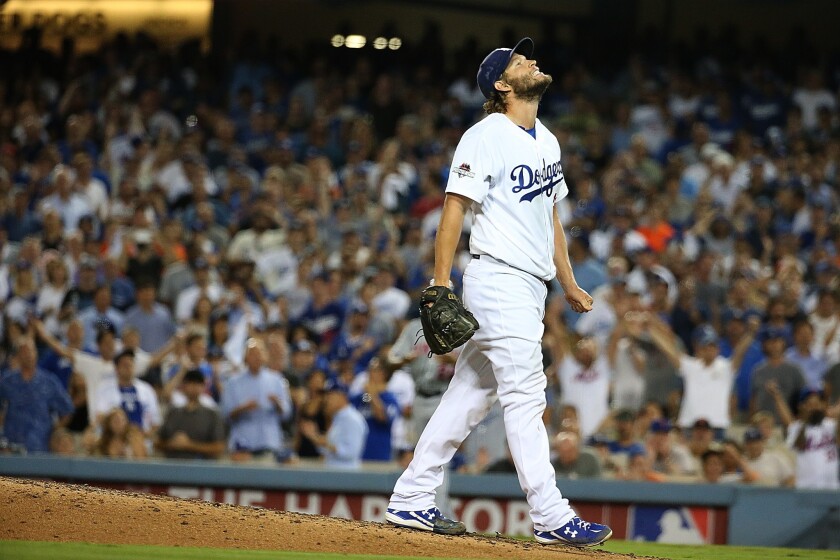 Hi and welcome to another edition of Dodgers Dugout. My name is Houston Mitchell, wondering if it is possible to just skip the seventh inning and go directly to the eighth the next time Clayton Kershaw pitches.
Game 1 loss
I don't know what to say. What a depressing game to watch. Rather than relive it all, here are some random thoughts and stats that came to me while watching the game on TBS. By the way, even though I am going to point out a couple of negative things about him below, it is unfair to blame this loss on Kershaw. The inability to get a clutch hit, strange lineup decisions, and bringing in Pedro Baez are the things to blame for this one.
That 12-pitch at-bat by David Wright in the first inning set the tone for the game. Kershaw couldn't put him away, and that made me nervous.
Worst. Home. Plate. Umpire. Ever.
Clayton Kershaw in the postseason now: 1-6, 4.99 ERA.
Kershaw's ERA in the seventh inning of postseason games since 2013: 42.49.
For three innings, I thought the Dodgers were celebrating Halloween by having the Crypt Keeper sit behind home plate. Then I realized it was Larry King.
Baez has allowed a .320 batting average to the first batter he faces. So he was the perfect guy to bring in with the bases loaded.
Puzzling lineup by Don Mattingly. I would have much rather seen Kiké Hernandez in the game and leading off, with Crawford batting sixth or seventh and Joc Pederson on the bench.
Jacob deGrom pitched a great, great game. The Dodgers just couldn't get a hit when it counted.
Those Matthew McConaughey car commercials are really creepy.
All the pressure is on Zack Greinke now. It will be interesting to see if Mattingly makes any lineup changes at all.
Game 2
Game 2 is at 6 tonight at Dodger Stadium, with Greinke taking on Noah Syndergaard.
How key Mets have fared against Greinke (minimum six plate appearances):
Wilmer Flores, .375, 0 HR, 0 RBIs
David Wright, .333, 0, 0
Daniel Murphy, .308, 0, 0
Michael Cuddyer, .250, 1, 7
Lucas Duda, .250, 1, 1
Yoenis Cespedes, .200, 0, 0
Curtis Granderson, .192, 1, 3
Juan Lagares, .125, 1, 3
Ruben Tejada, .000, 0, 0
Kelly Johnson, .000, 0, 0
In his career against the Mets, Greinke is 3-1 with a 2.48 ERA in four starts.
The Dodgers have faced Syndergaard, a rookie, only once. On July 3, they went 2 for 24 against him in a 2-1 loss. The only Dodgers with hits were Adrian Gonzalez, who was 1 for 3 with a homer, and Justin Turner, who was 1 for 2 with a double. Syndergaard pitched six innings, striking out six.
The rest of the schedule
Game 3: Monday at New York, 5 or 5:30 p.m., Brett Anderson (10-9, 3.69) vs. Matt Harvey (13-8, 2.71)
Game 4*: Tuesday at New York, 5 p.m., TBA vs. Steven Matz (4-0, 2.27)
Game 5*: Thursday at Dodger Stadium, 5 p.m., TBA vs. deGrom
* if necessary. All times Pacific. All games on TBS.
Ask Ross Porter
Former Dodgers announcer Ross Porter will be answering select reader questions for the rest of the season. Email me a question for Ross, and I will pass it on to him. Here is his latest response:
Ronald Sorrels asks: Hey Ross! So good to hear that you are still around and kicking! You were always fun to listen to calling the games with a unique style that made listening on the radio not only fun but informative as well.
Do you think that the Dodgers, and Major League Baseball in general, have lost the ability or interest to do the fundamentals? I notice that until Chase Utley showed up for the Dodgers and started to go about the game in a professional way, the stolen base was rare and baserunning could be described as comical, with runners getting picked off of second base for crying out loud!
It seems that the little things that makes the game great, like heads-up plays and having a sense of doing the right thing at the right time, is sadly lacking by many of the youngsters. I enjoy watching the game when pros like Utley and Rollins show how to get the bat on the ball at the critical moment and nurture the kids as well.
Ross: Believe me, Ronald, being around and kicking is better than the alternative.
I think you are absolutely right about the lack of practice on fundamentals. It's always been puzzling to me that teams spend hours on fundamentals in spring training, and rarely, if ever, after that when the regular season opens. You might see a manager schedule a "fundamentals" practice if his team is in a long losing streak that has seen the club make frequent mental mistakes. Maybe managers try to avoid tough discipline on their players.
I'm glad Chase Utley made the roster for the divisional series. He has playoff experience, and the Dodgers might be able to use his leadership skills in the crucial games of the season. Since Ron Roenicke became the third base coach, the team has not been as reckless on the bases.
And finally
Bill Plaschke defends Mattingly's decision to pull Kershaw. You can read all about it here.
Have a comment or something you'd like to see in a future Dodgers newsletter? Email me and follow me on Twitter: @latimeshouston.
---
Get our Dodgers Dugout newsletter for insights, news and much more.
You may occasionally receive promotional content from the Los Angeles Times.