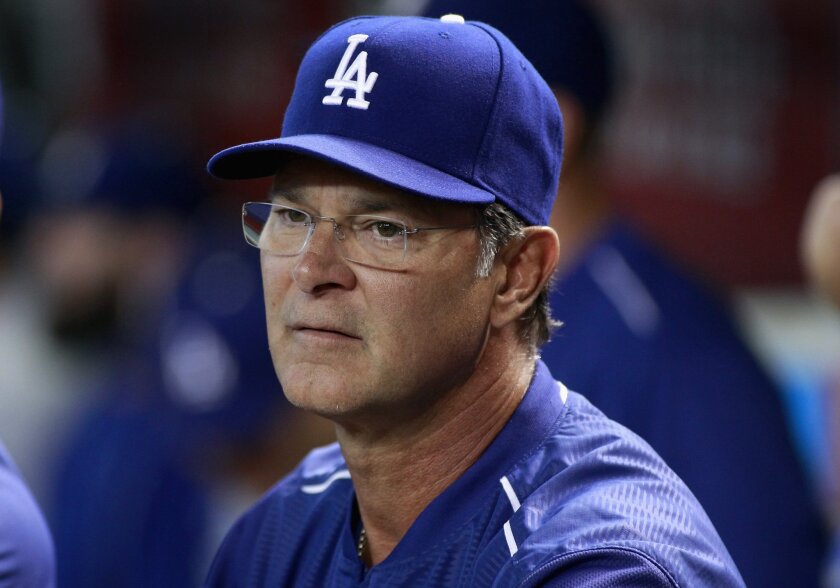 Hi, and welcome to another edition of Dodgers Dugout. My name is Houston Mitchell, wondering if anyone in Los Angeles will actually watch the World Series this year.
Don's gone
—Just when I thought I could relax until the end of the World Series, the Dodgers pull me back in by firing, I mean "parting ways," with Don Mattingly. The news brought much rejoicing among Dodgers fans, most of whom did not like Mattingly as a manager, though they thought he was a pretty good guy. But was it a good move? Let's break it down.
—When pointing to why they didn't like him, most fans who emailed me said he was horrible at filling out a lineup. He would often have his worst on-base guy at the top spot and bench guys who were hot in order to give someone like Chris Heisey a start. And those fans are right. The lineups the Dodgers trotted out were often poorly thought-out, with no consideration given to who was pitching for the Dodgers or who was playing well, or to any number of things a manager should consider. But here's the bad news: Mattingly had very little to do with the lineups. The Dodgers' front office gave a great deal of input into who should play, and when and where they should bat in the lineup. Andrew Friedman and Farhan Zaidi are still here, so look for more odd lineups next season.
—Here's the problem with the front office having the main say in the lineups: They just look at raw numbers. That only gives you part of the picture. Statistics are effective tools in helping you make decisions, but they should not be the only thing you consider. Friedman and Zaidi don't know things that Mattingly, or any manager, knows before any given game. They just look at numbers. But the manager knows if Chris Heisey's dog died that morning, so maybe his head isn't entirely in the game. He knows if Kike Hernandez faced the opposing pitcher in the minors, and that the pitcher hit Hernandez with a pitch intentionally, so Hernandez has extra motivation that day. The manager knows which player had a fight with his girlfriend or wife that morning, and which player has his family at the game that night for the first time in a long time. So, by all means, give the manager all the data you want, but if you don't let the manager ultimately decide the lineup, then you don't have a manager at all. You have a puppet.
—The Dodgers' bullpen failure. This one can't really be pinned on Mattingly at all. Friedman and Zaidi gave him little to work with. When Chris Hatcher finally became a reliable setup man for Kenley Jansen, Mattingly stuck with him. Sure, he picked the wrong guy to come in with the bases loaded in Game 1 of the NLDS, but it's not as if any option he had was great.
—Mattingly's seeming lack of emotion. Hey, I wish Mattingly showed a little more emotion too, but the days of Tommy Lasorda are over. Look at the most successful managers of the last 20 years: Joe Torre, Bruce Bochy and Tony LaRussa. All pretty emotionless. Besides, with Andre Ethier on the bench, there is already plenty of emotion in the dugout.
— Seems to me that Mattingly was just as tired of being a puppet of the front office as anyone and wanted to go, hence the "mutual parting of the ways." I would not be surprised if Mattingly gets hired in the off-season and has success wherever he manages from here on out. I hope he does, because he seems to be a good, stand-up guy, whose players loved him (most of them anyway). So good luck to you, Don Mattingly, and best wishes against every team except the Dodgers.
— How can we rate Mattingly as a manager? Well, one way is to look at how many games the Dodgers were expected to win each year and how many they actually won. You can do this by using the Pythagorean theorem for managers. What is that? As explained by baseball-reference.com, Pythagorean winning percentage is an estimate of a team's winning percentage given its runs scored and runs allowed. If a team has a better record than its Pythagorean winning percentage, you can give some credit for it to the manager. If it is worse, you can give some blame to the manager. The formula is runs scored times 1.83 divided by the sum of runs scored times 1.83 plus runs allowed times 1.83.
Is it a perfect tool? Of course not, no stats are perfect. But it gives us just one more way to evaluate managers. Using this method, here's how Mattingly looks:
2011
Pythagorean W-L: 84-77
Actual W-L: 82-79
Credit: -2
2012
Pythagorean W-L: 86-77
Actual W-L: 86-77
Credit: 0
2013
Pythagorean W-L: 89-73
Actual W-L: 92-70
Credit: +3
2014
Pythagorean W-L: 92-70
Actual W-L: 94-68
Credit: +2
2015
Pythagorean W-L: 89-73
Actual W-L: 92-70
Credit: +3
With this formula, Mattingly's Dodgers finished a combined six games better than they should have, with his worst season coming in his rookie season. Now, how does that compare to other managers who led teams from 2011-15? Let's take a look:
Clint Hurdle (Pittsburgh), +17
Buck Showalter (Baltimore), +13
Fredi Gonzalez (Atlanta), +11
Bruce Bochy (San Francisco), +10
Joe Girardi (Yankees), +8
Mike Scioscia (Angels), +7
Don Mattingly, +6
Joe Maddon (Tampa Bay, Cubs), +5
Ron Roenicke (Milwaukee), +4
Mike Matheny (St. Louis), +2
Bud Black (San Diego), +1
Ned Yost (Kansas City), 0
Kirk Gibson (Arizona), -1
Robin Ventura (White Sox), -1
Terry Francona (Boston, Cleveland), -3
Terry Collins (Mets), -3
Bob Melvin (Oakland), -21
Yep, that's Mattingly sitting in seventh place.
So, what does all this mean?
I have been one of Mattingly's strongest critics all season long. But it's possible that I, and all you who agreed with me, have put too much blame on him.
Of course, the Dodgers could have explained all the above to the fans and kept Mattingly around for another season. But the people running the Dodgers now don't like to explain things to the fans. They like to treat Dodgers fans like children. They will point out all the shiny toys they bought them ("Hey, look at all the great stadium improvements!"), but when it comes to explaining important things like the TV deal or why they make key decisions, it's more like, "You kids go to your room while mom and dad talk about some adult stuff."
Well, Dodgers fans aren't children and they deserve some explanations occasionally. The news conference they had announcing Mattingly's departure was a joke, explaining nothing. They prefer to keep everyone in the dark. Well, hopefully Friedman, Zaidi and Dodgers ownership realize that 2016 will be a big test. Dodgers fans will accept nothing less than the World Series, and they will want the TV situation solved, especially since this will apparently be Vin Scully's last season. All eyes will be on you now. Dodgers fans are smart. Treat them like adults and they will be willing to give you the benefit of the doubt. Keep treating them like children and don't be surprised if they don't try to find some new parents.
What's next?
In the next newsletter, we will look at the top candidates to replace Mattingly.
And finally
Times baseball columnist Bill Shaikin takes a look at what the Dodgers' pitching staff might look like next season. You can read it all here.
Have a comment or something you'd like to see in a future Dodgers newsletter? Email me and follow me on Twitter: @latimeshouston.
---