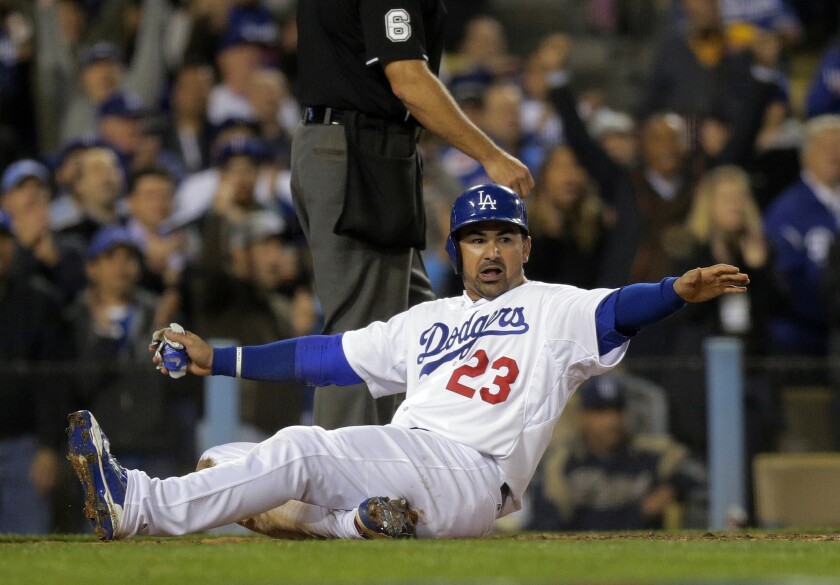 Hi, and welcome to another edition of Dodgers Dugout. My name is Houston Mitchell, and congratulations to the Denver Broncos for winning Game 1 of the NFL Championship Series. They play a best-of-seven like baseball too, don't they?
Comparing the teams
Over the next few newsletters, I will take a look at all five NL West teams, comparing them in the infield, outfield, bench, rotation and bullpen. Every team will be ranked at each position, so we can get a better idea of where the Dodgers stand as they try to win their first World Series since the Reagan administration.
First base
1. Paul Goldschmidt, Arizona.
Last three seasons: .309 AVG/.412 OB%/.556 SLG%/20.4 WAR
As much as I like Adrian Gonzalez, Goldschmidt is the class of the NL West at first base. Not only does he lead NL first baseman in homers over the last three seasons, he also leads them in stolen bases (45).
2. Adrian Gonzalez, Dodgers
Last three seasons: .281/.342/.474/11.6
Gonzalez is Mr. Steady, always reliable for around 100 RBIs every year. He will also have one amazing hot streak where he hits a bunch of homers, and one amazing cold streak where he hits nothing. He is the heart of the Dodgers offense.
3. Brandon Belt, San Francisco
Last three seasons: .277/.349/.474/9.0
After struggling in 2014, Belt rebounded last season, hitting .280 with 18 homers. He is only 27 and could move past Gonzalez in the next couple of seasons. He almost moved past him last season.
4. Ben Paulsen, Colorado
Last two seasons: .284/.329/.479/1.3
Paulsen has surprising power but strikes out a lot and slumped at the end of last season. He does well against right-handed pitching and will probably platoon with Mark Reynolds this season.
5. Wil Myers, San Diego
Last three seasons: .256/.327/.407/2.1
Myers has struggled with injuries the last two seasons, missing almost half the games each year with assorted wrist and leg injuries. He can hit when he's healthy, but he is seldom healthy.
SECOND BASE
1. Howie Kendrick, Dodgers
Last three seasons: .295/.340/.414/9.8
Kendrick is a guy you don't have to worry about. You know at the end of the year he will hit about .295 and will have played steady defense. Re-signing him allows the Dodgers to use Enrique Hernandez where he fits best (wherever he is needed each day) and keep Chase Utley where he belongs (on the bench).
2. Joe Panik, San Francisco
Last two seasons: .309/.364/.419/4.5
Panik is a good hitter and was on his way to a great season before a sore back hampered him. You have to worry about a 25-year-old who already has a sore back and plays second base, which I'm pretty sure requires a lot of bending. If he can stay healthy, he rivals Kendrick as the best second baseman in the NL West.
3. D.J. LeMahieu, Colorado
Last three seasons: .284/.331/.367/5.1
Nearly all of LeMahieu's offensive progress last season came as a result of an inflated BABIP of .362. He did walk a little more, but he is just average defensively
4. Cory Spangenberg, San Diego
Last three seasons: .274/.330/.408/2.4
Spangenberg played well last season after Jedd Gyorko stopped hitting, but he is best suited as a utility player.
5. Chris Owings, Arizona
Last three seasons: .243/.283/.356/1.4
Owings was horrible last season, hitting .227 with 144 strikeouts. He was also one of the worst-fielding second baseman, making you wonder why the Diamondbacks have him listed No. 1 on their depth chart. Zack Greinke is going to love watching all those grounders to the right side elude Owings and go into right field.
Third base
1. Nolan Arenado, Colorado
Last three seasons: .281/.318/.500/13.6
Before you say his power is a result of playing in Coors Field, consider that he hit more home runs on the road than at home last season. He has won the Gold Glove all three of his seasons and is one of the best players in the NL.
2. Justin Turner, Dodgers
Last three seasons: .306/.370/.467/9.0
Turner could be the most popular Dodger not named Kershaw, and he has been outstanding the last two seasons. There's no reason he won't do it again, but there's one nagging thing that bothers me, and it's called "microfracture surgery" on his knee. The Dodgers need Turner to start about 120 games at third. If he does, their chances to win the division go way up.
3. Matt Duffy, San Francisco
Last two seasons, .292/.331/.415/4.8
This isn't supposed to happen like this. A guy isn't supposed to play just three games at third in the minors, then come up and look like he has played there all his life. Dodgers fans want to hate their upstate rivals, but the Giants keep doing things like this and all you can do is tip your cap to them.
4. Yangervis Solarte, San Diego
Last two seasons: .269/.325/.406/2.6
Probably played a bit over his head last season (.270 with 14 homers and 63 RBIs), but if the improvement he showed is for real, he will be a more-than-adequate third baseman.
5. Jake Lamb, Arizona
Last two seasons: .254/.314/.382/1.7
Lamb is great defensively, with a FRAA of 9.8 in 2015, but he couldn't hit a left-hander even if they told him the type of pitch and location.
SHORTSTOP
1. Brandon Crawford, San Francisco
Last three seasons: .251/.319/.405/11.1
Were Crawford's offensive gains last season for real? Probably, because Giants GM Brian Sabean said they had corrected a flaw in his swing. The corrections (lowering his hands) led to 33 doubles and 21 homers. Add that to Gold Glove defense, and the Giants turned a flaw into a diamond.
2. Corey Seager, Dodgers
Last season: .337/.425/.561/1.8
Where do you rank Seager? If he played like he did the last six weeks of the season, then he is the best shortstop in baseball. But the odds of him doing that are slim. I would expect him to hit .290 with 20 homers to go with average to above-average defense. Look for him to be at the top of this list next year.
3. Jose Reyes, Colorado
Last three seasons: .283/.329/.399/6.0
Reyes just isn't that good anymore. It's hard to believe he was once tabbed as a future superstar, but his fielding is now so bad (-14.9 FRAA last two seasons), he shouldn't even be playing shortstop.
4. Jean Segura, Arizona
Last three seasons: .267/.300/.364/4.6
Good fielder and can steal a base, but you have to actually get on base before you can steal the next one.
5. Alexei Ramirez, San Diego
Last three seasons: .269/.301/.382/6.9
Ramirez has lost the ability to hit (.249 with a .285 OB% last season). When you hit that poorly, you better be more like Ozzie Smith with the glove and less like Ozzy Osbourne.
CATCHER
1. Buster Posey, San Francisco
Last three seasons: .308/.371/.470/16.3
Remember Mike Piazza? Posey is Piazza if you take away about 15 homers and add a superior throwing arm.
2. Derek Norris, San Diego
Last three seasons: .256/.333/.405/7.2
Remember the classic "Mirror, Mirror" episode of "Star Trek," where Kirk gets transported to an alternate universe where almost everything is opposite? That happened to Norris. He went from the AL, where he couldn't field (-11.7 FRAA) and got on base a lot (.361 OB%) to the NL, where he could field (13.5 FRAA) but couldn't get on base (.305 OB%). Maybe the Padres can fix their transporter issues and merge the two.
3. Welington Castillo, Arizona
Last three seasons: .250/.315/.412/7.3
Castillo has some power (40 homers in last three seasons), but there are reasons he played for three teams last year: He struggles against righties and he is an average catcher who is one of the worst in the league at framing pitches.
4. Yasmani Grandal, Dodgers
Last three seasons: .228/.341/.395/3.4
Last season it looked like the Dodgers had a star in the making as Grandal made the All-Star team by hitting .282 to go with a .401 OB% and a .526 SLG%. Then reality set in, as he went .162/.280/.218 in the second half. If he can find some middle ground there, he will be OK. If not, expect him to be looking over his shoulder for Austin Barnes.
5. Nick Hundley, Colorado
Last three seasons: .261/.305/.412/2.9
Don't let last season's .301 average fool you. He hit .355 at Coors Field and .237 away from Coors Field. Hundley is still the same league average player he has always been.
So that concludes the look at the infield. If we assign points based on where a player ranks at each position, giving seven points for first place, five for second, three for third, two for fourth and one for fifth, then the NL West infield stack up like this:
San Francisco, 25 points
Dodgers, 24 points
Colorado, 16 points
Arizona, 14 points
San Diego, 11 points
Of course, that doesn't really mean much, but it's just a fun little system to see where they all stand. And isn't fun what this is supposed to be all about? A new season is about to begin, and a chance for the Dodgers to win the World Series. Set aside the TV talk, Vin Scully's retirement and everything else for a moment and get back in touch with that feeling that comes around every year around this time: Anything is possible and hope that this will be the year.
Ask Ross Porter
Once again, former Dodgers announcer Ross Porter will be answering select reader questions. Email me a question for Ross, and I will pass it on. The answers will begin once the season starts, but send the questions in now!
By the way, Cal State Northridge announced last week that Porter and Brandon Marcus will call baseball and softball games this season. The CSUN Sports Network will have audio streams of all baseball and softball home games, as well as select road baseball contests. For more information, go to visit www.gomatadors.com.
And finally
It doesn't look like there will be a lot of jobs open at spring training this season. Steve Dilbeck takes a look here.
Have a comment or something you'd like to see in a future Dodgers newsletter? Email me and follow me on Twitter: @latimeshouston.
---