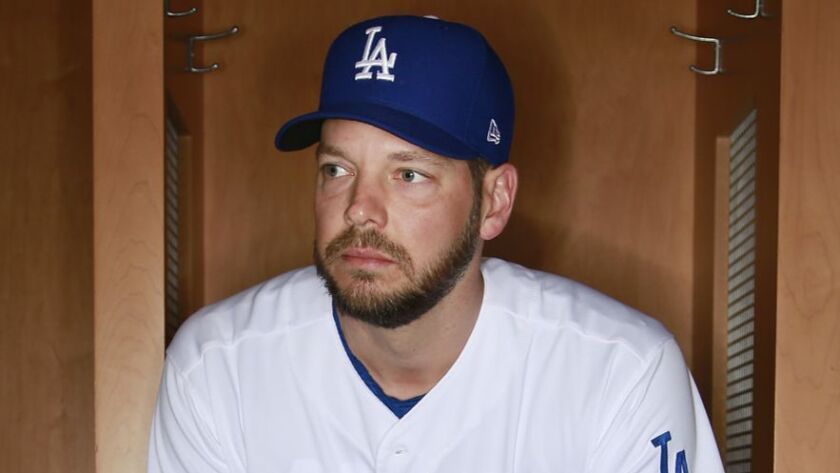 Hi, and welcome to another edition of Dodgers Dugout. My name is Houston Mitchell and I found some rare footage of Chris Taylor at the plate you can watch here.
Rich Hill
I was all set to write about the Dodgers' top 10 prospects for today's newsletter, but then I came across something that easily preempted it until next time.
Rich Hill is in his fourth season with the Dodgers and has been a pretty good pitcher, going 26-15 with a 3.27 ERA, good for a 127 ERA+. He has a 2.66 ERA in the postseason. But none of that really matters in the light of what happened to Hill and his wife, Caitlin, in 2014. That's when their baby son, Brooks, died.
Hill opened up about his son's death this week in a story for the Players' Tribune. A story you should read by clicking here.
Here are some excerpts:
"As he was pointing to different parts of the MRI images, the neurologist kept using medical terminology we'd never heard before — words that sounded truly awful, even though we had no idea what they meant. And, to be honest, we were pretty much lost and confused from the beginning. It all just seemed like double-talk.
"There was one particular word that he kept mentioning, though. One word that stood out simply because it was being repeated so many times.
"Lissencephaly.
"The neurologist eventually told us that the neurons in our son's brain had not fully developed and referred to 'a smoothness of the brain.' But it was just so far beyond our level of understanding — like a mechanic trying to explain an automobile engine to someone who has never once looked under the hood of a car. I remember at the time just kind of wanting to scream out at the top of my lungs…."
---
"Newborns with this syndrome go on to experience developmental disabilities, impaired motor function, seizures and many other health issues. There have been a few cases of people with lissencephaly living into their 20s, but a more realistic estimate is two to five years, max. And for those who do live to be 20, it's not an easy life. We were told about one patient who lived to that age but was unable to speak, or even move. He only occasionally opened his eyes, and that was basically the extent of his interaction with the world.
"The more we heard, the more our hearts broke."
---
"But in hindsight I can't help but recall this one experience we had just few days before that awful MRI meeting, when the universe seemed to be telling us that something wasn't right.
"The doctors had informed us that they wanted to keep Brooks in the hospital's special-care nursery to help him work on his feeding technique but advised Caitlin and me to go home and get some rest.
"We didn't want to leave, but it'd been a long couple of days. And I remember the doctors were pretty adamant that it would for the best. Plus, they said we could come back as often as we wanted to visit our boy, and we figured it probably would be good to check on how Brice was doing back home. So, we walked out into the cold, only to find that…
"Our car wouldn't start.
"No matter how many times I tried, or how much I leaned into that key-turn with my shoulder, the car just totally wouldn't start. So, Caitlin and I — teeth-chattering and hands shivering — trudged back inside the hospital.
"Back to Brooks.
"Thinking about it now, it was almost like we were being told in that moment to stay by our son's side and spend all the time we could with him. But, in any case, we went back up to Brooks's room to wait for Caitlin's dad to arrive with the jumper cables and hung out some more with our boy.
"We smiled and laughed and took some really cute pictures, and just enjoyed being all together for a few more hours.
"Five years later, it's safe to say that I've never been more grateful for car trouble in my entire life."
---
"Thank God for Brice.
"While everything was happening with Brooks, our older son was a constant source of perspective for us.
"When he came to the hospital for the first time a few days after Brooks was born, his long hair was flowing, and he had his pacifier in his mouth, and his boogers were everywhere. And it was just flat out … wonderful.
"Brice brought the Toy Story dolls that he'd gotten from Santa for Christmas, and when he noticed that Brooks slept with a little blue bunny, he begged us to let him give his Woody doll to his little brother. At one point he even offered to give Brooks his pacifier. It was just the cutest thing ever.
"It was like: This is love!
"And every time we took Brice to see his baby brother, that love just grew stronger and stronger. It lifted us up. And man did we ever need that as days turned into weeks, and things with Brooks just continued to snowball."
---
"We needed to decide whether to go through with the dialysis against our doctors' recommendation, or to take Brooks home on hospice to pass away in peace.
"I honestly wouldn't wish that sort of decision on my worst enemy.
"Looking back on it, I remember Caitlin and I didn't even really say anything to one another. We just held hands and looked at each other and cried. There was no real deliberation or conversation. We both knew. We were on the same page in every way. It was like we were reading each other's thoughts. And then at one point, in between sobs, I spoke up.
"I'm not even sure where the words came from, to be honest. I just remember saying….
"We have to go home."
---
"In the final moments with our son, we sang our little guy a song that's near and dear to our hearts. It was quiet. Almost like a whisper. But I'm positive that he heard us as we sung.
"Take me out to the ball game
Take me out with the crowd
Buy me some peanuts and Cracker Jack
I don't care if I never get back….
"And when I held him in my arms and sang that song to him, I truly believe that Baby Brooks felt the boundless, never-ending love I have for him in my heart.
"Brooks Stephen Hill passed away at 9:35 p.m. on February 24, 2014.
"Caitlin, Brice and I loved Brooks to the moon and back, and we miss him like crazy. He remains a gigantic part of our family to this day, and moving forward after his passing has not been easy.
"There's no blueprint for how to go on after you've lost a newborn child.
"You just kind of have to try to do the best you can. In whatever way allows you to make it to the next day."
---
The excerpts above are only a small fraction of what Hill wrote. It's more than worth your time to read it. Go read it here. And the next time Rich Hill pitches, give him a little extra cheer. For Brooks.
A.J. Pollock
When the Dodgers signed A.J. Pollock in the offseason, a lot of fans were unhappy that they would spend money on a player who spends more time injured than playing. But the Dodgers reassured everyone that those were fluke injuries involving broken bones and not a sign on an injury-prone player.
Well, one of those fluke injuries have come back to haunt Pollock and the Dodgers.
Pollock, who signed a four-year, $55-million deal last winter, developed a bacterial infection in his bursa sac after bumping his elbow last week in Chicago and was put on the 10-day injured list Tuesday. But he'll be out a lot longer than that.
You see, the elbow with the infection is the same elbow Pollock broke in 2016. Back then, doctors inserted some metal in his elbow to hold everything together. That metal is part of what makes it difficult to treat the infection. Luckily, if you can call it luck, Pollock's broken elbow has healed well enough that they can remove all the metal from his elbow, which they will do in a surgery today.
Pollock will be out for a few weeks.
"Absolutely," manager Dave Roberts said, when asked if he expects Pollock to be back this season. "From what I understand, the bone structure is in a good place, and that's encouraging. There's no need to replace the hardware. They can just remove it, and that's a good sign.
"It's a blow, but I think for us, it's more we feel for A.J. because this guy prepares so well," Roberts said. "He was so excited to sign with the Dodgers, a place he targeted, and for something freak to happen like this, he's disappointed."
This will certainly open up a lot more playing time for Alex Verdugo.
When Pollock was put on the IL, the Dodgers recalled Matt Beaty from the minors. Beaty, 26, can play first, third and the outfield and was considered the team's 29th-best prospect. He got his first major league hit Tuesday.
Chris Taylor
A lot of people have asked me if sending Chris Taylor down to the minors is an option. Yes, it is. He has one option year left, so the Dodgers can send him down any time they want without losing him. I would guess, however, that before they do that they would suddenly discover an "injury" to Taylor and put him on the IL. This way he can continue to work with the major-league coaches and get a quick breather to clear his mind. Then they could put him on a rehab assignment. That's only a guess though.
The big problem to consider is not whether to send him down or put him on the IL. Who do you replace him with? Taylor's versatility is one of his great strengths. He is basically the backup at the middle infield positions and all three outfield spots. In these days of four-man benches, you need someone who can play all those positions and play them well. Taylor rediscovering his hitting stroke would really be nice for the Dodgers' future.
Andrew Toles
Good news regarding Andrew Toles. He is back at extended spring training in Arizona. Hopefully he has taken care of the issue that caused the Dodgers to put him on the restricted list. However, it will still be a while before you see him with the Dodgers. He missed all of spring training and the first month of the season. He is going to have to play himself back into shape, then go to the minors for a while to get used to playing in games again. But the important thing is that he is back.
Charley Steiner
A lot of you have asked me where Charley Steiner has been. He is just taking extra time off this season. In fact, he was back in the radio booth this week.
Which brings me to a couple of points I have made before about Steiner, and I'll make them again.
1. I was in my car listening to the game the other day. I timed it. It took him 16 minutes, 23 seconds to give the score and situation of the game.
2. Why is it Steiner thinks every fly ball is a home run? I'm telling you, I one day expect to hear "THERE'S A DRIVE….. And the catcher settles under it for an out." Really, Charley, Dodgers fans were taught for years by Vin Scully how to tell if a ball is a home run or not: Watch the outfielder, don't watch the ball. And it works. Please try it sometime.
Ask Ross Porter
Ross Porter will once again answer reader questions this season. All you have to do is email me your question at houston.mitchell@latimes.com. I will forward the email to Ross, and he will answer some each week. Take it away, Ross.
Dr. Stan Kunin of Woodland Hills asks: Hi, Ross, is it time for a robo-ump? Seems like more and more controversial strikes/balls lately. That way, there's no arguing against a machine. Umps need to swallow their pride and accept any help they can get.
Ross: It's no secret, Stan, that different umpires have different strike zones. A study of the 2018 season reports that there were an average of 14 incorrect ball and strike calls a game, and 55 contests ended on incorrect calls by plate umpires. There is already available technology to call the strike zone through software-fueled robot umpires. A digital pitch-tracking system has been used successfully in independent leagues with three cameras recording the velocity, trajectory and location of every pitch. Whether a ball is in the strike zone can be relayed by central control to the umpires who would be fitted with headsets or earpieces and make calls correctly and quickly. Major League Baseball uses the excuse that technology may not be reliable. Commissioner Rob Manfred has been against robo-umpires, but he now admits the accuracy is much improved. Manfred worries about a management of the game issue. MLB has agreed to test it in the Atlantic League. The home plate umpire will still be needed for judgment calls such as fair or foul balls, and calls at the plate. MLB is slow to change rules, but there is no reason to retain inaccuracy solely for tradition's sake.
Doug Brown of Thousand Oaks asks: Hello Ross! When was the ERA statistic created?
Ross: An English-born American sportswriter, baseball statistician and historian Henry Chadwick is credited with devising the stat. He also created the batting average, "K" for a strikeout, and the box score in 1859. The National League first tabulated official earned-run averages in 1912. Lowest ERA in a season: Dutch Leonard, 1914, 0.96, 225 IP. Lowest ERA by a pitcher with 300-plus innings: Bob Gibson, 1968, 1.12. Lowest career ERA: Ed Walsh, 1904-1917, 1.82.
Bill Estrada asks: Why do they call the third game of a series the rubber game?
Ross: It is any game played to break a tie resulting when each team has won the same number of games. As far back as 1599, the term "rubber" was used to refer to a tiebreaker. It began in the sport of lawn bowling and is common today in a variety of sports, including bridge.
You can follow Ross on Twitter: @therossporter
TV schedule
KTLA will televise five more Dodgers games during the season. They are:
Saturday, May 11, vs. Washington, 6 p.m.
Monday, May 27, vs. New York Mets, 5 p.m.
Thursday, May 30, vs. New York Mets, 6:30 p.m.
Saturday, June 1, vs. Philadelphia, 7 p.m.
Saturday, June 15, vs. Chicago Cubs, 6 p.m.
Up next
Tonight: Dodgers (*Clayton Kershaw) at San Diego (*Eric Lauer), 7 p.m.
Saturday: Dodgers (*Rich Hill) at San Diego (*Joey Lucchesi), 5:30 p.m.
Sunday: Dodgers (Kenta Maeda) at San Diego (*Nick Margevicius), 1 p.m.
*left-handed
And finally
Reggie Smith teaches us some hitting fundamentals. Watch it here.
Have a comment or something you'd like to see in a future Dodgers newsletter? Email me and follow me on Twitter: @latimeshouston.
---