Dodgers Dugout: Random thoughts as the team, minus Kenley Jansen, heads to Denver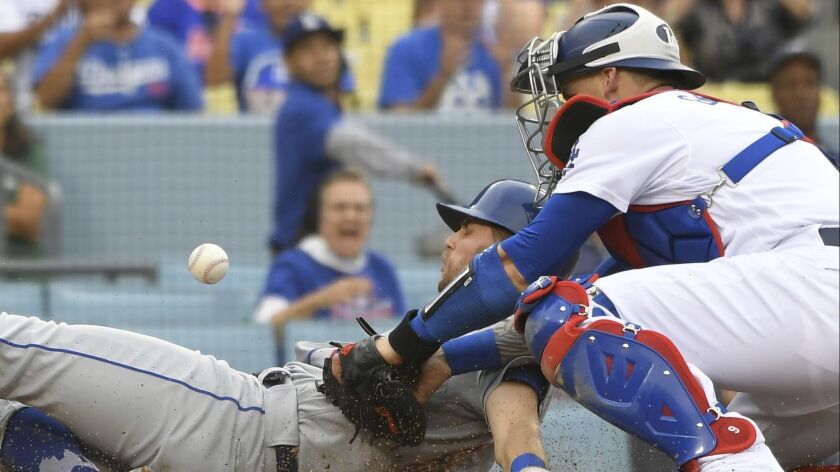 Hi, and welcome to another edition of Dodgers Dugout. My name is Houston Mitchell, and there are only 22 games left in the season.
The new most important series of the season
The Dodgers-Diamondbacks four-game series being the most important series of the season was so last week. The real most important series is the weekend series against the Colorado Rockies. The Dodgers are 1½ games behind the Rockies, so winning two out of three is vital. Get swept and suddenly they are 4½ out (five games back in the loss column) with 19 to play.
The big news, of course, is that Kenley Jansen will not be making the trip to Denver. His doctors recommended he stay away from the high altitude because it could cause a recurrence of his heart arrhythmia. Ross Stripling will be off the disabled list and in the bullpen, so that should help. Hopefully the Dodgers won't be involved in close games, but if they are, look for Stripling, Kenta Maeda and Scott Alexander to get the bulk of the high-leverage late innings. Alexander, with his tendency to make batters hit a lot of ground balls, could be particularly valuable in the thin air of Colorado.
We all know how important this series is and we all know what the Dodgers' biggest weaknesses and strengths are. I'm not going to bother to repeat what we all know.
So, let's get to some random thoughts instead.
--Yasmani Grandal drops more balls than a drunk juggler. I don't care how great a pitch framer he is, it doesn't make up for his other defensive deficiencies. He is in the bottom half of the league in errors, passed balls and caught stealing percentage. The word "catch" is literally in the name of the position, so he might want to work on that aspect of the game. Oh, and in the last month he is hitting .133. Odd fact: Even though he has been horrible at the plate for most of the season, Austin Barnes (.340) actually has a higher OB% than Grandal (.339). It will be very interesting to see if the Dodgers re-sign Grandal in the off-season.
--Brian Dozier is hitting .196 since the Dodgers acquired him.
--How do you beat Arizona three out of four games, then lose two of three to the Mets?
--You have a game against the Mets that would be nice to win, followed by a day off, and you sit Manny Machado? Whom you acquired for the sole reason to help you win games like that? Isn't it the time of year to have your best defense out on the field?
--Justin Turner is a hitting machine. He was named NL player of the month for August after hitting .402/.491/.722 and is hitting .294/.400/.588 in September. He is one of the few hitters in baseball who realize that if it's second and third with no one out, you don't really have to hit a home run. A base hit will do nicely.
--The Dodgers have the best starting rotation ERA in the NL at 3.16.
--The Dodgers are 4-3 at Colorado this season. They swept their first trip there from June 1-3, winning by scores of 11-8, 12-4 and 10-7. Then they lost three of four there from Aug. 9-12, winning 8-5, then losing 5-4, 3-2 and 4-3. The last two were walkoff victories by the Rockies, with the winning runs coming against J.T. Chargois and Dylan Floro.
--The Dodgers could end the season with no pitcher winning 10 games. Right now the team leaders are Alex Wood, Maeda and Stripling with eight.
--Whatever happens this weekend, we should have a lot to talk about on Monday.
Wild-card standings
Milwaukee, 79-62
St. Louis, 78-62
Dodgers, 76-64, 2 GB
Arizona, 75-65, 3 GB
Philadelphia, 73-66, 4½ GB
The top two teams qualify for the one-game wild-card playoff.
Ask Ross Porter
Hi, fans! It's good to be back with you to answer your questions during this baseball season. Please send your questions to Houston, and he will pass them on to me. List the city in which you live.
Bill Hinchberger of Paris asks: Ross, did you know that there is a French Dodger fan Twitter page? What is the Dodgers' record when they hit home runs and when they don't?
Ross: 61-38 when they homer, 15-26 when they don't.
Dave Kiffer of Ketchikan, Alaska, asks: Has a player won the Triple Crown and led all of the majors in the three categories?
Ross: Yes, Rogers Hornsby in 1925, Lou Gehrig in 1934, Ted Williams in 1942 and Mickey Mantle in 1956.
Mick Spencer of Dayton, Tenn., asks: Ross, can you tell me if any major league hitter ever made all three outs in an inning?
Ross: No one has done it in three at-bats, Mick. In 2009, Mike Lowell of the Red Sox grounded out, and later in the inning, hit into a double play. It would require 19 batters and 13 runs in one inning for anyone to suffer the humbling experience three times.
Steve Fuller of Torrance asks: How many baseballs are available for each game?
Ross: The home team has to have 90 new baseballs ready per day. What is the average life span of a ball? Six pitches. Since the average number of pitches each game is 275, Steve, that would be 46 baseballs an encounter. They cost $3 apiece.
Peter Alling of Marshall, Mo., asks: When were batting gloves first used, Ross?
Ross: Bobby Thomson of the Giants wore golf gloves during spring training in 1949. Ken Harrelson of the A's was the first in a major league game in 1964, and Rusty Staub the first on a daily basis. Why? They provide for a tight and controlled grip of the bat and offer protection against blisters.
Brock Murdoch and Joe Ashburn of Bristol, Tenn., ask: Why do hitters adjust their batting gloves even when they don't swing?
Ross: A nervous habit.
Up next
Friday, 5:30 p.m.: Dodgers (Clayton Kershaw, 6-5, 2.40 ERA) at Colorado (Jon Gray, 11-7, 4.70 ERA)
Saturday, 5 p.m.: Dodgers (Walker Buehler, 6-4, 2.92 ERA) at Colorado (Kyle Freeland, 13-7, 2.96 ERA)
Sunday, noon: Dodgers (Alex Wood, 8-6, 3.37 ERA) at Colorado (Tyler Anderson, 6-7, 4.80 ERA)
And finally
Having Kenley Jansen miss the trip to Colorado is the smart choice. Read all about it here.
Have a comment or something you'd like to see in a future Dodgers newsletter? Email me and follow me on Twitter: @latimeshouston.
---
Get our Dodgers Dugout newsletter for insights, news and much more.
You may occasionally receive promotional content from the Los Angeles Times.