Dodgers Dugout: Free advice to whomever buys naming rights to field at Dodger Stadium—'Vin Scully Field'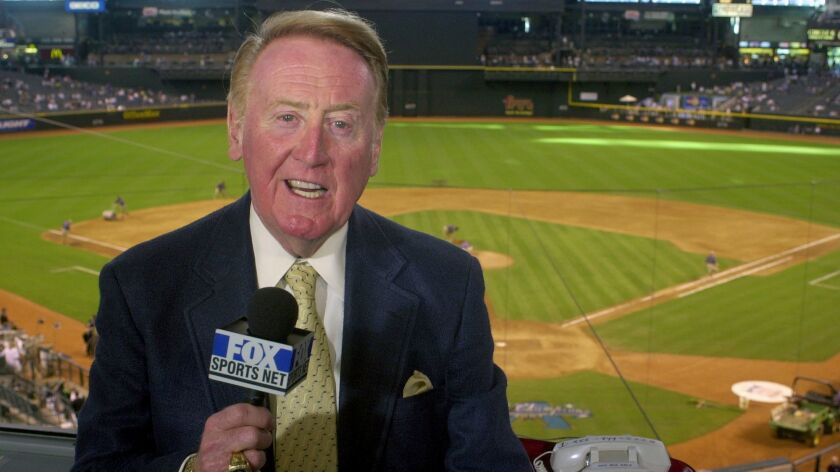 Hi, and welcome to another edition of Dodgers Dugout. My name is Houston Mitchell and if you haven't seen "Spider-Man: Homecoming" yet, go see it. It's really good.
The name game
While the Dodgers continue to play well, sweeping the White Sox in a quick two-game series in Chicago, the big news is that the team is open to selling naming right to the field at Dodger Stadium. So, for about $12 million a season, you could have the field named after you and hear on broadcasts, "Welcome to Joe Smith Field at Dodger Stadium."
To be clear, the Dodgers say they have no interest in changing the name of the stadium with team President Stan Kasten telling Times baseball columnist Bill Shaikin, "That has never been for sale. It never will be for sale."
Some Dodgers fans are up in arms about this, but it doesn't really bother me. Fans will still just call it Dodger Stadium. And while it's probably true that Dodgers ownership doesn't need the extra money, it's also true you don't get rich as by letting money-making opportunities pass by. As long as they don't change the name of the stadium, it's really not a big deal.
However, if I am in charge of a major corporation, I'd jump on this immediately. But I wouldn't name the field after my company. Let's say that McDonald's pays to name the field. If I am in charge of McDonald's, as soon as the deal is completed I announce to Dodgers fans, "While it is true we have bought the naming rights to the field at Dodger Stadium, we feel there is only one appropriate name for it: Vin Scully Field."
The good vibes that would cause among Dodgers fans would be worth gold, and would generate more business than naming it "McDonald's Field."
Hopefully some smart corporation does that. And McDonald's, if you are reading this and do that, how about sending along some free French fries as a gesture of goodwill.
He's just like.....
In the 1980s, Bill James came up with a new concept called similarity score, which is designed to tell you who your favorite player is most similar to, as far as career stats are concerned. For a detailed explanation, you can go here. For example, you can take Yasmani Grandal's career stats and compare them to other players in two ways: Which players had the most similar stats in his career, and which player had the most similar stats through the same age. For career numbers, the most similar players to Grandal are Yan Gomes, Ramon Castro and Bill Schroeder. The most similar batters through age 27 are Jarrod Saltalmacchia, Jason Castro and Andy Seminick.
What does that mean? Well, not a lot, but it is fun and interesting to see what names come up. And while worrying if the Dodgers will win it all this year, let's not forget that all this is supposed to be fun. So let's look at the similar players for other Dodgers.
Adrian Gonzalez
Career: Derrek Lee, Kent Hrbek, Greg Luzinski
Through age 35: Derrek Lee, Paul Konerko, Will Clark
Chase Utley
Career: Bret Boone, Ian Kinsler, Vern Stephens
Through age 38: Victor Martinez, Bobby Grich, Ken Caminiti
Corey Seager
Career: Francisco Lindor, Devon Travis, Carlos Correa
Through age 23: Hanley Ramirez, Francisco Lindor, Derek Jeter
Justin Turner
Career: Tim Naehring, Anthony Rendon, Wilson Betemit
Through age 32: David Freese, Elston Howard, Wilson Betemit
Joc Pederson
Career: Juan Francisco, Ken Hunt, Oswaldo Arcia
Through age 24: Melvin Nieves, Dave Kingman, Dave Henderson
Yasiel Puig
Career: A.J. Pollock, Ed Coleman, Cliff Lee
Through age 25: Leon Durham, Rondell White, Larry Walker
Clayton Kershaw
Career: Max Scherzer, David Price, Jeff Tesreau
Through age 28: Pedro Martinez, Roger Clemens, Rube Waddell, Tom Seaver
Kenley Jansen
Career: Greg Holland, Bryan Harvey, Mark Melancon
Through age 28: Craig Kimbrel, Aroldis Chapman, Joakim Soria
Comparison
The Dodgers are trying to win their fifth consecutive division title. Let's take a look at this year's record and how it compares to the same point in the last four seasons.
2017: 66-29, first place in NL West, 11 games ahead of Colorado
2016: 53-42, second place, 4 1/2 games behind San Francisco
2015: 53-42, first place, 2 1/2 games ahead of Arizona and San Francisco
2014: 52-43, second place, half a game behind San Francisco
2013: 48-47, second place, 1 1/2 games behind Arizona
Ask Ross Porter
Trisha Higgins asks: How many men have played major league baseball?
Ross: Just over 19,000, Trisha.
Manny Katz asks: Ross, do you think we will ever see another pitcher win 300 games?
Ross: No, I don't, Manny. A pitcher has to average 15 wins for 20 seasons. There are too many no-decisions, too much emphasis on pitch counts, many relievers, and few complete games. Bartolo Colon has 235 wins and he's 44. CC Sabathia has 231 and he's 36. No other active pitcher has over 181. Clayton Kershaw, the best pitcher in the game, has 141 victories and is 29. From this point on, he would have to average 20 wins for eight years.
Terry Walker asks: Dodger Stadium has not hosted an All-Star game in 37 years. Ross, why do you think that is?
Ross: Great question, Terry, and one I have asked myself. The Dodgers have the longest active All-Star game hosting drought. Nine teams have hosted it at least twice since Dodger Stadium in 1980. The game has been played 20 times in National League parks after that. Do you think politics might be a factor? The next three sites have been chosen by a major league baseball selection committee which chooses the venue. Dodger Stadium is not one of them. Only Tampa Bay has not had an All Star game.
Ross answers reader questions every week. Email me and I will pass your question on to him.
Next series
Thursday, 7 p.m. PDT, Atlanta (Mike Foltynewicz, 7-5, 3.84) at Dodgers (Brandon McCarthy, 6-3, 3.38)
Friday, 7 p.m. PDT, Atlanta (Jaime Garcia, 3-7, 4.33) at Dodgers (Alex Wood, 11-0, 1.56)
Saturday, 6 p.m. PDT, Atlanta (Julio Teheran, 7-7, 4.69) at Dodgers (Rich Hill, 6-4, 3.55)
Sunday, 1 p.m. PDT, Atlanta (Sean Newcomb, 1-5, 4.86) at Dodgers (Clayton Kershaw, 15-2, 2.07)
Note: Pitchers are subject to change
And finally
Clayton Kershaw tweaks his strategy on the mound. Read all about it here.
Have a comment or something you'd like to see in a future Dodgers newsletter? Email me and follow me on Twitter:@latimeshouston.
Twitter: @latimeshouston
---
Get our high school sports newsletter
Prep Rally is devoted to the SoCal high school sports experience, bringing you scores, stories and a behind-the-scenes look at what makes prep sports so popular.
You may occasionally receive promotional content from the Los Angeles Times.