Dodgers Dugout: It's time to send Yasiel Puig to the minors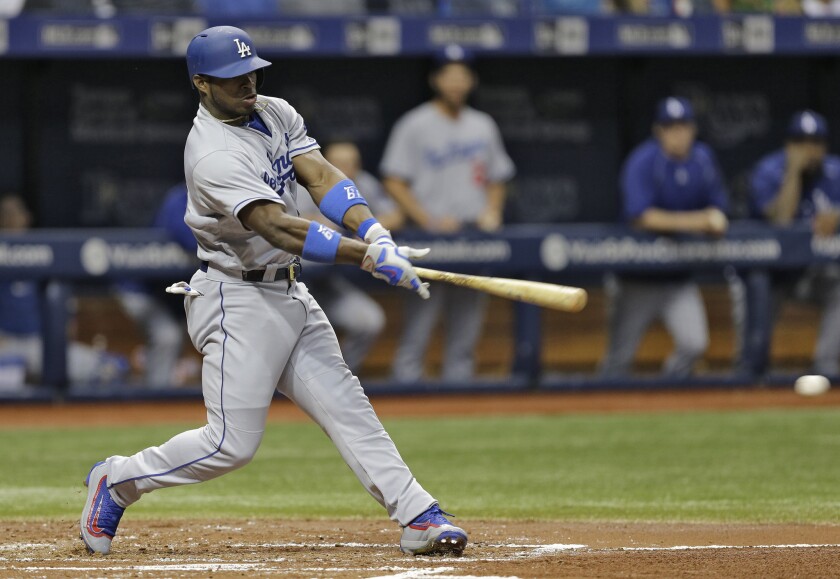 Hi, and welcome to another edition of Dodgers Dugout. My name is Houston Mitchell, and I'm wondering if the Dodgers can trade for Noah Syndergaard so he can give the offense a boost.
What to do about Puig
As the Dodgers continue to stumble along at the .500 mark, there are a lot of people who wonder what can be done to improve the team. An easy target is Carl Crawford, who plays like he's 80 (and I apologize to you 80-year-olds out there). Another easy target is Howie Kendrick, who is off to a dreadful start. But Kendrick was good last season, so it's way too early to write him off (perhaps not asking him to play second, third and left field in the same game might help).
But let's take a look at someone else: Yasiel Puig.
We all remember the great Puig, the one who came up in 2013 and hit .319 with 19 homers and 42 RBIs in 104 games. The guy with the cannon arm. While he still has the cannon arm, he is getting worse at the plate. Let's take a look at his AVG/OB%/SLG% year by year.
2013: .319/.391/.534
2014: .296/.382/.480
2015: .255/.322/.436
2016: .230/.276/.365
He's getting worse each year. In fact, in his last 162 games (a full season), these are his numbers:
AB: 593
Runs: 74
Hits: 149
Doubles: 24
Triples: 5
Homers: 18
RBIs: 65
Walks: 52
Strikeouts: 138
Batting average: .251
OB%: .307
Slugging%: .400
Ouch. I went to baseball-reference.com and looked for other players who put up .251/.307/.400 numbers in their career, just to see who Puig has been similar to over his last 162 games. The players who had numbers close to those:
Jerry Martin, who hit .251/.307/.410 for five teams between 1974 and 1984 and Javier Valentin, who hit .251/.310/.402 for three teams between 1997 and 2008.
But wait, I hear you saying to me, it's tough to compare players from different eras. That is true. So let's use OPS+, which compares a player to his era, with an OPS+ of 100 being an average hitter. Puig's OPS+ over his last 162 games is 98, which is the same as these immortals:
Lee Stevens
Delino DeShields
Roy Howell
Gene Larkin
Danny Cater
Ron Swoboda
So, what to do with Puig? Well, Scott Van Slyke is due back from the disabled list at the end of the month. The leading candidates to be sent down when he is activated are Trayce Thompson and Charlie Culberson. If the decision had to be made today, I'd keep both of them and send Puig down. Maybe in the minors he can figure out how to hit again. And learn how to stop swinging at balls that are low and away. You might say they should trade him, but his trade value is low right now. Send him down and tell him that he needs to work on a few things and when he improves, he'll be brought back up.
And for good measure, when Andre Ethier comes back at the end of June, I'd release Crawford if he isn't playing any better than he is now.
Time to send a message to this team, a team which in my mind has become a little too comfortable. And that message should be: "We are going to put our best 25 guys out there."
Kershaw the great
I could spend every newsletter talking about how great Clayton Kershaw is. A lot of people think Jake Arrieta has surpassed him as the best pitcher in baseball. Let's look at the numbers over their last 34 starts.
Kershaw: 20-6, 1.65 ERA, 0.775 WHIP, 250.1 innings, 159 hits, 35 walks, 322 strikeouts, six complete games, five shutouts.
Arrieta: 24-3, 1.40 ERA, 0.828 WHIP, 232 innings, 139 hits, 53 walks, 232 strikeouts, five complete games, four shutouts.
I think you'd do OK picking either one, but I'm glad the Dodgers have Kershaw.
Just wanted to point out
Zack Greinke is 3-3 with a 5.26 ERA for Arizona. It's like they signed Scott Kazmir.
Remember him?
It appears that the Miami Marlins really like Manager Don Mattingly. Among the players who spoke glowingly of him to Barry Jackson of the Miami Herald were ace Jose Fernandez, who said, "He's amazing. I love his passion. I love the environment he has created. He's like a friend, is always going to have your best interests in mind."
Catcher Jeff Mathis: "The steadiness he brings is comforting to a lot of people in here. He has been good for everybody here. He brings the same energy and attitude every day and that's something that was needed in this locker room."
Pitcher David Phelps: "Donnie doesn't lose his emotions. He keeps his cool. He had a very quiet confidence about him in the spring. You can tell the difference here; guys aren't hanging their heads if we're losing. You can't have a team riding highs and lows. That carries over to players and [is bad for] a young team."
MASH unit
If you want to keep track of all the players the Dodgers have on the DL and when they are expected to return, click on this link and bookmark it.
What Vin Scully means to me
I asked you to tell me your best Vin Scully memories, and I got a lot of responses. I will publish selected ones in each newsletter. And keep emailing them to me.
Eric Warren: I have to ask myself, is Vin Scully an Earthly Angel? What I mean is that, and not to get religious on you, but there are people walking this Earth that just embody everything that is good about human beings, and literally nothing that is bad. And Vin Scully is one of those people. He is not only outstanding at his job – a job which he clearly loves – but he is a genuinely humble and good human being.
Listening to Vin call a game, and watching the game unfold on TV is the most relaxing thing I can possibly imagine. Like curling up next to a fire on a cold night with my favorite book and a mug of hot cocoa. To think that Vin has been doing this as long has he has – that he has seen decades of Dodger teams, witnessed Jackie Robinson, the move to L.A., Koufax, Fernando and more recently Clayton, and has brought us these experiences with his wit, beautiful voice and vast knowledge of the game – well, that just blows my mind. And to consider that he is still doing it, today not because he needs to, but because he wants to, and he is doing it for the fans. That is really something. I will be sorry when he calls his last game.
Ask Ross Porter
Former Dodgers announcer Ross Porter will be answering select reader questions for the rest of the season. Email me a question for Ross, and I will pass it on. His latest response:
Peter Alling: Ross, do you think all the pitches that Sandy Koufax threw, the strikeouts, and complete games was at least part of the problem as to why had to retire when he did?
Ross: There's no doubt about that, Peter. Here are the numbers on Sandy's last two seasons:
1965
Estimated pitches: 4,999
Innings pitched: 336
1966
Estimated pitches: 4,892
Innings pitched: 323
Koufax was told by a doctor after the 1965 season that if he kept pitching with his arthritic elbow he would never play golf again. Sandy decided to go one more season, and in 1966, won 27 games, lost 9, and had an earned-run average of 1.73. Since then, no left-hander has had more wins or a lower ERA in a season. No pitcher has worked that many innings in the last 37 years. Clayton Kershaw led the majors last year when he tossed 233 innings.
If Dr. Frank Jobe had been able to perform Tommy John surgery in 1965 instead of 1974, Koufax would have pitched longer and not retired at 30. John won more games after the historic operation (164) than before (124) and pitched until he was 46.
Koufax is the youngest player ever elected to Baseball's Hall of Fame. He was 36. Sandy turned 80 last December and looks great.
The TV situation
If you would like to complain about the Dodgers' TV situation, you have three options: The Dodgers, Time Warner Cable and whatever local cable or satellite provider you have that doesn't carry the Dodgers. Here's who to contact:
For the Dodgers, click here or call (866) DODGERS ([866] 363-4377). (I hope you like form letters).
For Time Warner, click here.
For your local cable or satellite provider, consult your bill for the customer service number and for the website.
And finally
Vin Scully is on the cover of Sports Illustrated this week. Read the accompanying story here.
Have a comment or something you'd like to see in a future Dodgers newsletter? Email me and follow me on Twitter: @latimeshouston
---
Get our high school sports newsletter
Prep Rally is devoted to the SoCal high school sports experience, bringing you scores, stories and a behind-the-scenes look at what makes prep sports so popular.
You may occasionally receive promotional content from the Los Angeles Times.