Fan was killed by foul ball last August at Dodger Stadium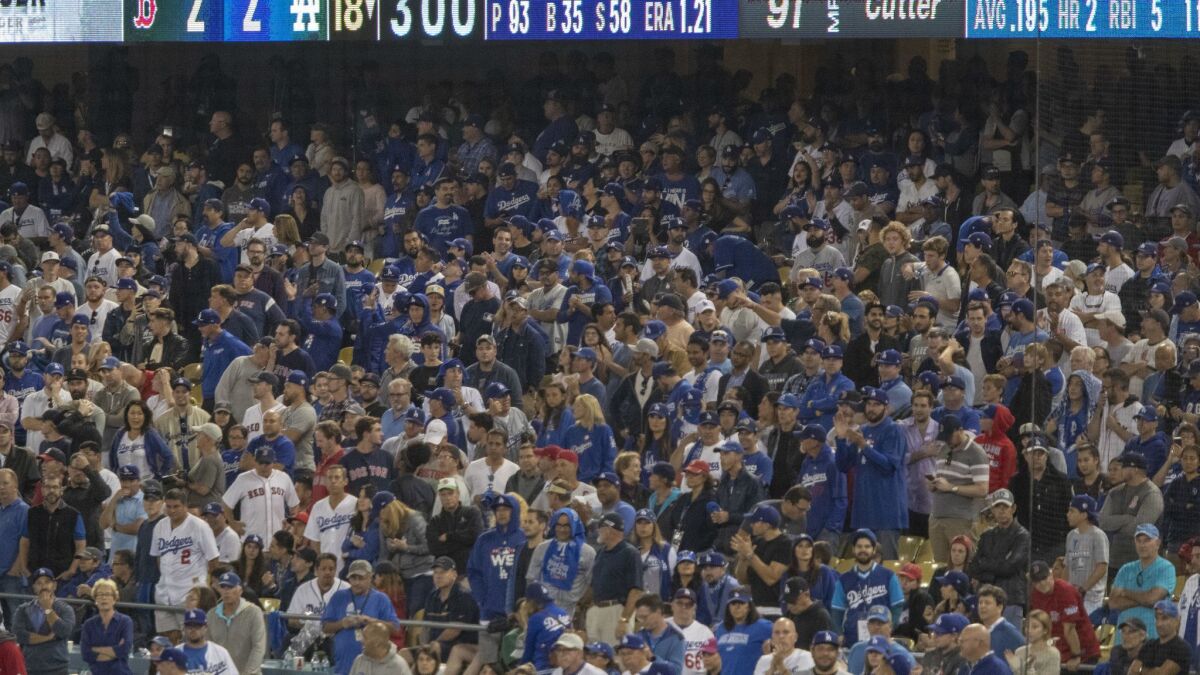 A woman struck by a foul ball at Dodger Stadium last August died four days later as the result of bleeding in her brain, according to a Los Angeles County coroner's report.
Linda Goldbloom, 79, died on the morning of Aug. 29 as a result of "acute intracranial hemorrhage" due to "history of blunt force trauma," the report said. The incident occurred Aug. 25 at approximately 8:40 p.m., during a game against the San Diego Padres.
Goldbloom "began to experience left-sided weakness," the report said, after she was hit in the head by the ball. She was transported to Los Angeles County-USC Medical Center in an ambulance. She underwent surgery but never opened her eyes in the hospital and breathed using a ventilator, a family member told ESPN, which first reported the accident Monday, five months after it happened.
Sign up for our daily sports newsletter »
The Dodgers did not address Goldbloom's death publicly until this week. Reached for comment Tuesday, a Dodgers spokesperson referred to the statement previously given to ESPN.com: "Mr. and Mrs. Goldbloom were great Dodgers fans who regularly attended games. We were deeply saddened by this tragic accident and the passing of Mrs. Goldbloom. The matter has been resolved between the Dodgers and the Goldbloom family. We cannot comment further on this matter."
The Dodgers released another statement Tuesday. "The Dodgers generally do not make public reports of accidents that take place at Dodger Stadium. We avoid doing so out of respect for the privacy of the persons involved in the accidents and their families. However, nothing prevents such persons or their families from making such information public at the time of the accident."
A spokesman for the coroner's office noted that the autopsy report was completed Sept. 2 and available to the news media upon request the next day.
Goldbloom was struck while seated in the loge level of the stadium, just to the first base side of home plate in an area not protected by netting. Her death is the second reported instance of a fan dying after getting hit by a ball at Dodger Stadium; the other occurring in 1970. Fans dying from batted-ball incidents at ballparks have been rare across the majors over the decades, but recent scares motivated all 30 teams to extend protective netting on the first level down the baselines starting last season after Major League Baseball recommended the measure.
However, seats above the lower bowls remained exposed. A Dodgers spokesperson declined to comment when asked if the team plans to add more netting for the upcoming season.
Twitter: @jorgecastillo
Get our Dodgers Dugout newsletter for insights, news and much more.
You may occasionally receive promotional content from the Los Angeles Times.