Dodgers lose Hyun-Jin Ryu to arm injury and then game to Giants
Dave Roberts was a key member of a Boston Red Sox team that ended an 86-year championship drought by winning the World Series in 2004. And though Roberts wouldn't compare the Dodgers' current dry spell to what Boston's long-suffering fans endured, he said he can sense a similar frustration.
"It's been a long time," the Dodger manager said of the team's title-less string, which dates to 1988. "We in the clubhouse understand that there's a lot of anxiousness with our fan base. And rightfully so.
"We checked a box off by clinching the division. So now it's up to us to go out and finish what we started."
Exactly how — and when — the Dodgers finish the season could well be determined by what happens over the next week, Roberts said. Because after securing the team's fifth consecutive National League West crown, he had just eight games to prepare the Dodgers for the postseason.
That process didn't get off to a good start Saturday, with left-hander Hyun-Jin Ryu exiting in the third inning after taking a line drive off his left arm and Yasiel Puig hurting his ankle and apparently losing his common sense while making the final out of a 2-1 loss to the San Francisco Giants.
Roberts said Ryu, who was in the conversation for spot in the playoff rotation, sustained a forearm contusion and X-rays were negative. His reaction to Puig's play was negative as well.
"He went on his own. And decided not to slide," Roberts said of Puig, who tried to steal second with two outs in the ninth. "You can't get thrown out right there. You can't. A bad baseball play."
Puig, who limped off the field, said he noticed reliever Sam Dyson's delivery was slow to the plate and wanted to get into scoring position. But as he neared second, he began to stutter-step and decided not to slide after feeling pain in his left ankle.
Puig, who was evaluated by the team's trainers and walked to his locker without a noticeable limp, said what really pained him was "that I made an out."
"If I would have made it," he said in Spanish, "we'd still be playing."
However, Roberts said the Dodgers won't be playing long in the postseason if they keep trying things like that. "Plays like that when you're trying to win a championship can't happen," he said.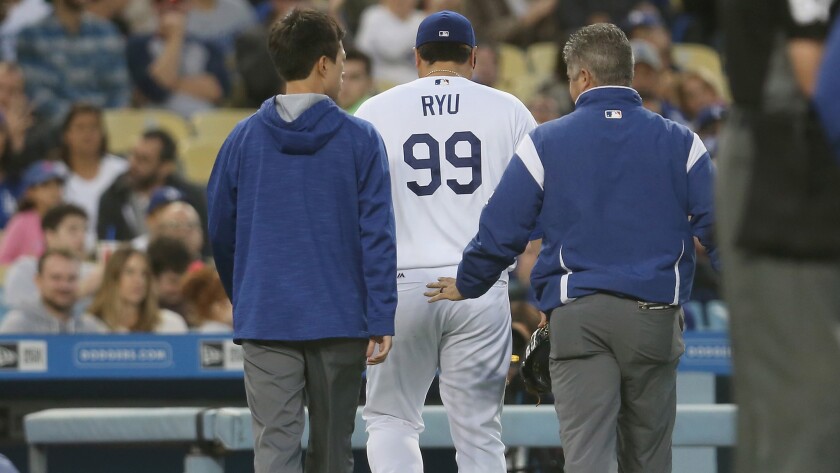 Another thing that can't happen is the Dodgers continuing to play without Justin Turner, the National League's second-leading hitter, who missed his second straight game because of what the Dodgers are calling a stomach virus. Roberts is unsure when Turner will play again but said the team needs to get its regulars back in a groove before the playoffs start.
The Dodgers never led Saturday. Gorkys Hernandez gave the Giants a first-inning lead for the second night in a row by rapping a double to left on the game's first pitch, then coming around to score Buster Posey's two-out single.
The Giants doubled the lead in the fifth against Brandon McCarthy, who was pitching for the first time since July 20. And Hernandez — who went 3 for 4 with a walk — started the rally again, singling to center with one out, stealing second and scoring on a two-out single by Denard Span, who also had three hits.
Those were the only two hits McCarthy gave up in his three-inning outing.
Giant starter Madison Bumgarner (4-9), meanwhile, was brilliant, allowing just two singles through six innings. He retired 11 batters in order before Enrique Hernandez ended the streak with a double in the seventh.
An inning later, Austin Barnes gave the Dodgers their only run, lining his seventh home run of the year.
Twitter: @kbaxter11
---
Get our Dodgers Dugout newsletter for insights, news and much more.
You may occasionally receive promotional content from the Los Angeles Times.