Column: Giants' slump defies explanation, and Brandon Belt is among the perplexed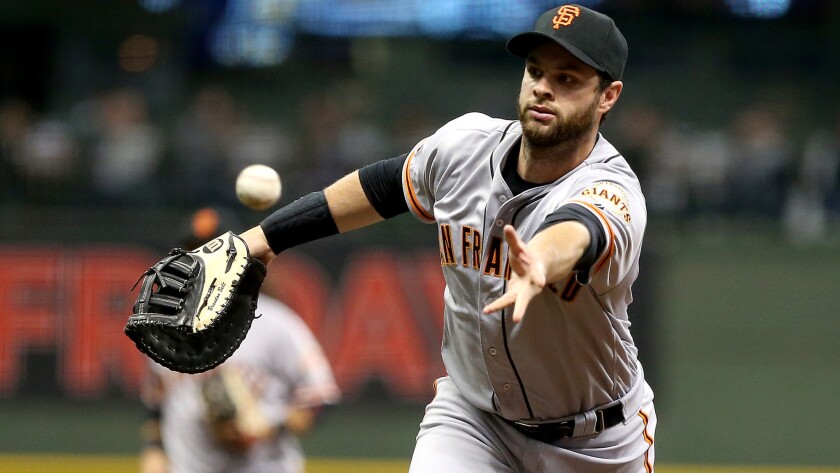 The San Francisco Giants are in the kind of tailspin that is beyond explanation.
They went into the All-Star break with the best record in baseball, only to post the league's worst mark since. What was once an eight-game lead in the National League West completely vanished, and then some. The Giants trailed the Dodgers by a game entering their three-game series at Dodger Stadium.
The reversal made the usually talkative Brandon Belt a reluctant speaker Tuesday before the Giants' 9-5 loss to the Dodgers.
"I don't want to talk to you right now," the Giants first baseman said. "The last time, you jinxed us."
That was about as good an explanation as any, I guess.
The last time Belt and I spoke was at the All-Star game in San Diego, where I congratulated him on the division title the Giants looked bound to win. Belt declined the early coronation, saying with a straight face that the Dodgers were a "very good" team. I assured him they weren't.
The Giants were still leading the Dodgers by 6 1/2 games at the time, prompting me to write that the race was basically over.
I asked Belt if he felt he owed me an apology. After all, I staked my credibility on the Giants, who repaid me by wrecking my reputation.
"You owe me an apology, because look at this," Belt said. "We're one game behind now."
"What happened?" I asked. "You made me look like an idiot."
Belt shrugged.
"I don't know," he said. "I told you, though."
Except the change in the standings had little to do with the Dodgers. It's not as if they suddenly transformed into the 1927 Yankees. They entered Tuesday only three games over .500 since the All-Star break.
"Well, we're a lot less than that," Belt cracked.
The Giants were 11-23 over the same period.
"I know," I said. "That was what I didn't take into account."
The main points I made to him at the All-Star game remained true. The Dodgers barely have a rotation, their starting pitchers averaging fewer than five innings a game this month. The situation went from really bad to even worse Tuesday, when Scott Kazmir and Brett Anderson were placed on the disabled list.
The Dodgers' overachieving bullpen looks run down.
"Hopefully, they're run down in this series," Belt said.
Belt reflected on our conversation in San Diego.
"I knew when you said that, I was like, 'There's something about this rivalry, nobody just gives up,'" he said. "We haven't played the way we should have, but we had to know it was going to be a lot closer than it was."
Belt laughed when I asked him if he thought about me from time to time.
"I have," he said. "I was like, 'This guy, he did that on purpose. He's a lifelong Dodger fan, probably.'"
That's news to me, but I'm sure Stan Kasten will be delighted when he reads that.
When Belt said Andrew Friedman should thank me, I had to inform him that the Dodgers' president of baseball operations doesn't seem to like me very much.
"I think he should probably a lot nicer to you next time," Belt said.
Belt later joked that the Dodgers should award me a share of their playoff earnings if they win the division. I later relayed this to Dodgers catcher A.J. Ellis, who reminded me, "With as many players as we've had play for us this year, it's going to be like $11."
In a more serious moment, Belt acknowledged he was perplexed by how the Giants have unraveled.
"I think everybody went through a little slump at the same time, to be honest with you," he said. "I really don't feel this is going to be who we are. To me, I think we're a much better team than this. We're going to figure it out. We have to figure it out. It's just going to happen."
Belt is part of the problem. He was batting .302 at the All-Star break. He entered Tuesday hitting .213 since then.
"It's mental," he said.
Belt isn't alone. Buster Posey, a former NL most valuable player, is having a down season. Outfielder Hunter Pence's return from the disabled list in late July didn't change much.
The real culprit is the bullpen. Closer Santiago Casilla had six blown saves through the weekend, which was tied for the most in the NL. The Giants have lost six games in which they had four-run leads, the most in baseball.
"It can't be one of those things where the pitching has a good game and the offense has a bad game or offense has a good game and pitching has a bad game," Belt said. "It has to be one of those things where we put it all together. That's what we did in the first half. I think it's going to happen. We just have to get our butt in gear."
Belt was encouraged by the Giants' recent uptick in scoring, which is well over four runs per game this month.
He wondered if speaking to me again might help.
"Reverse jinx," he said. "It has to happen."
Who could blame him? The season was winding down and there were no obvious answers.
dylan.hernandez@latimes.com
Twitter: @dylanohernandez
ALSO
Dodgers second baseman Chase Utley is dealing with a foot issue
Jimmy Feigen admits to 'omissions' in his initial statement to Rio police after Ryan Lochte incident
For fifth consecutive time, the Giants fail to win a Madison Bumgarner start against the Dodgers
---
Get our high school sports newsletter
Prep Rally is devoted to the SoCal high school sports experience, bringing you scores, stories and a behind-the-scenes look at what makes prep sports so popular.
You may occasionally receive promotional content from the Los Angeles Times.