Dodgers need a healthy and productive Adrian Gonzalez to have any shot this season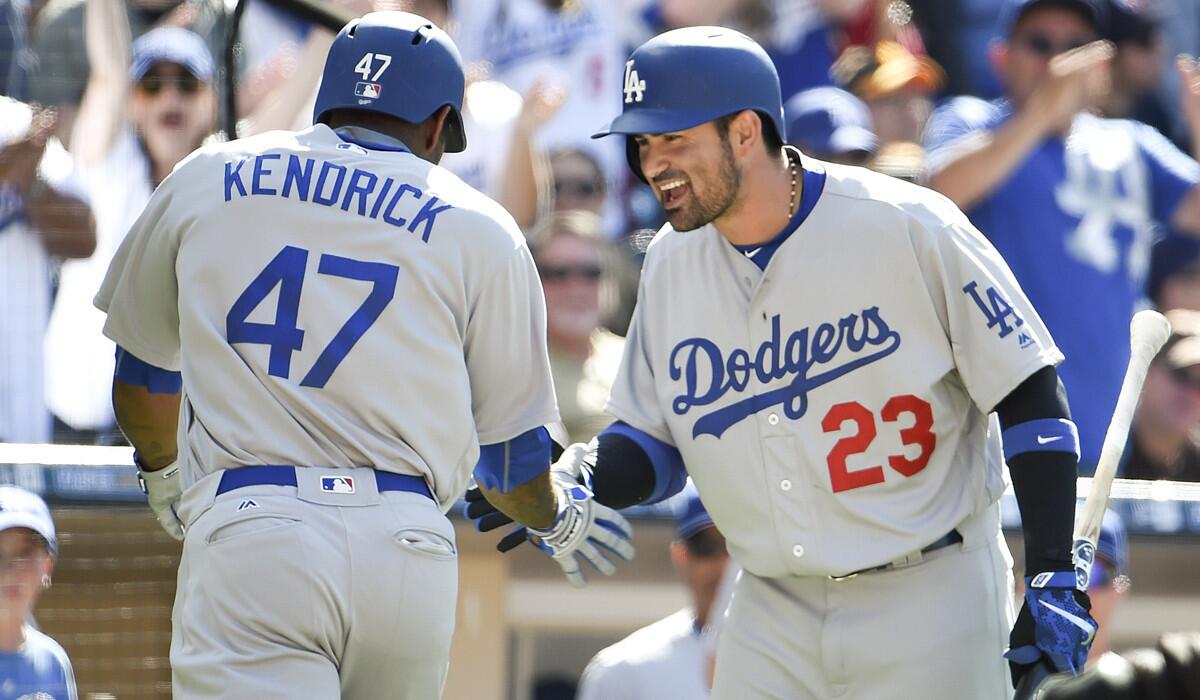 When Adrian Gonzalez returned to the Dodgers' lineup last weekend, he stepped on the field without any noticeable discomfort in his lower back for the first time this season. Days earlier, he had received an epidural to treat a pinched nerve.
"Hopefully, that corrected the problem," he said.
The Dodgers' season depends on it.
Gonzalez is the team's most important position player. He is to the everyday lineup what Clayton Kershaw is to the starting rotation or what Kenley Jansen is to the bullpen.
"You don't want to put that on any one player, but I think Adrian understands that dynamic," Manager Dave Roberts said.
Gonzalez hits, the Dodgers score. He doesn't, they don't. It's that simple.
It's no coincidence the Dodgers burst to the top of the standings last year in April, when Gonzalez blasted eight home runs. And it's no coincidence they remain stuck around .500 for the first six weeks of this season with Gonzalez's power diminished by back problems.
"I definitely need to produce," Gonzalez said.
The team's dependence on Kershaw and Jansen wasn't addressed by the front office this winter, and neither was the burden shouldered by Gonzalez, who turned 34 this month.
Rather than search for a middle-of-the-order hitter who could complement Gonzalez, the architects of the team went in-house and gambled that Yasiel Puig would play up to his potential.
Puig is the team's regular No. 7 hitter, his .246 average a career low.
Another bounce-back candidate the Dodgers counted on, All-Star catcher Yasmani Grandal, is batting .192.
Howie Kendrick has started slow. So has Justin Turner, who is still recovering from an off-season knee operation. Andre Ethier remains sidelined with a freak injury he sustained in spring training.
While Corey Seager is the team's offensive leader of the future, the 22-year-old rookie shortstop is still in the process of establishing his identity as a major league player.
Joc Pederson and Trayce Thompson have surprised with their power production — Pederson has a team-leading eight home runs and Thompson has seven — but both are platoon outfielders.
About the only consistent producer in the lineup has been Chase Utley, who tops the Dodgers in on-base percentage. However, Utley is 37, which raises questions about how his body will hold up over the 162-game season.
Gonzalez was understandably reluctant to remove himself from the lineup. He played through similar back problems last year. When the pain resurfaced this year during spring training, he figured he could play through it again.
"I've been that guy that plays through pain my whole career," he said. "I was like, 'I can do it.'"
But he was compromised.
"You take one good swing, then one bad swing, because your back won't let you," Gonzalez said. "You get to that point where you're just like, 'Let me just take my swing the other way rather than drive the ball.'"
While his batting average and on-base percentage remained at normal levels, his power production dropped significantly. He has only four home runs — a pace to hit only 14 this season.
The discomfort prevented him from establishing any kind of rhythm. And he risked creating bad habits.
"You take a swing and it hurts," he said. "Then you go up there and swing with less intensity and that changes your swing."
Over the team's second homestand of the season, he failed to get a hit and the Dodgers lost six of seven games.
As Gonzalez slumped and the Dodgers dropped games, Roberts trusted the All-Star first baseman to tell him if or when he had to be taken out the lineup. Gonzalez has played a minimum of 156 games every season since becoming a full-time player with the San Diego Padres in 2006.
"You don't post as much as he's posted his entire career if you don't know your body," Roberts said.
In the middle of a game against the Angels last week, Gonzalez's body said enough was enough. He asked Roberts to remove him from the game.
Gonzalez didn't start any of the next four games, taking advantage of the time off to receive an epidural.
"Hopefully, that's behind me," said Gonzalez, who collected hits in each of his first four games after his return to the lineup.
Whatever his numbers look like now, Gonzalez is confident they will end up similar to what they were in previous seasons.
While there's a perception that Gonzalez is a steady producer, that's largely indicative of how consistent he is on a year-to-year basis. The reality is that he is a streaky hitter, his home runs often coming in clusters.
Of his team-high 28 home runs last year, five were hit in the first three games of the season. Another eight were hit over a 14-game period in July.
He thinks stretches like that are ahead of him.
"It doesn't just feel early, I know it's early," he said.
The Dodgers better hope he's right.
Get our Dodgers Dugout newsletter for insights, news and much more.
You may occasionally receive promotional content from the Los Angeles Times.