By any means of thinking, Dodgers' Zack Greinke gets job done on mound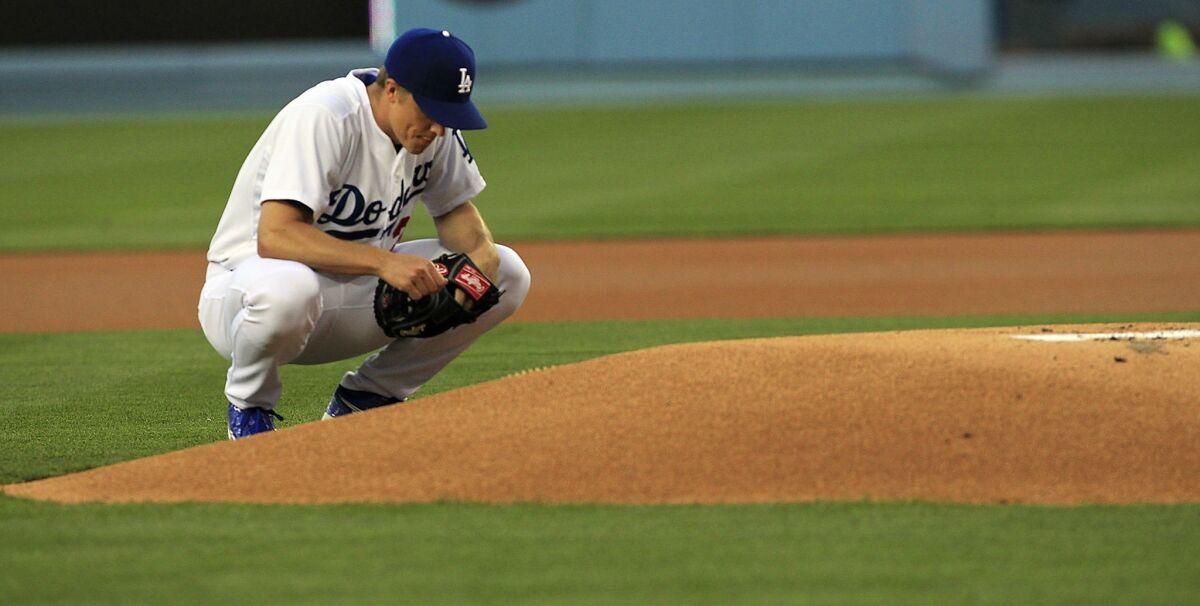 Zack Greinke had retired eight of the last nine batters and needed only one more out in the fifth inning of a recent game against the Milwaukee Brewers. He had navigated the heart of the lineup and was set up for an easy next inning against the bottom of the batting order if he could get the last out.
But then came a walk, followed by another and another, before he struck out the pitcher to end the inning that included a lot more effort and angst than necessary.
He later explained that after walking the No. 6 hitter he had decided to pitch around the next two.
"I walked three guys to face the pitcher," Greinke said, shaking his head. "It worked, but looking back at it, it probably wasn't the right decision."
Greinke, 30, is a former Cy Young Award winner who would be the Dodgers' ace if not for Clayton Kershaw. Pitchers such as Greinke typically don't feel the need to pitch around Nos. 7 and 8 hitters.
Former teammates and coaches say Greinke is one the smartest people in baseball. Dodgers President Stan Kasten says his initial meeting with the pitcher — before the club signed him to a six-year, $147-million deal in 2012 — was the most interesting player interview he's ever had, covering topics such as the team's negotiations for a new television contract, the talent in its minor league system and basketball.
Greinke is also brutally honest, someone who would tell a reporter there was a 50-50 chance of a full interview depending on the initial questions.
He almost left baseball in 2006 because of a social anxiety disorder, yet in a Dodgers clubhouse with buoyant personalities such as Yasiel Puig and Brian Wilson, Greinke's quirks and intellect are accepted, even embraced.
It's only a problem when Greinke over-thinks things. Eleven years into his major league career, he's still trying to get out of his own head.
"Baseball is a sport where being stupid and keeping things really simple a lot of times is the right way to do things," he said. "There are very few guys that are capable of processing a lot of information and applying it and still being good at it. … I don't want to name names, but there were guys I played with that were so stupid that they're really good, because their mind never gets in the way."
::
Greinke always loved baseball, but not pitching. He hit over .400 as a shortstop in high school and preferred playing every day. There was too much time to think between starts as a pitcher, but when you throw 97 mph your position becomes pretty clear.
In high school and the minor leagues, Greinke was viewed as an artist who experimented in hopes of finding the perfect combination on the mound. While true to a certain extent, that didn't paint the whole picture.
"When I was younger, the only reason I pitched like that was because I really didn't like pitching," Greinke said. "Just messing around was the only way I enjoyed doing it. I was getting a lot of outs, so I just kept doing it that way."
He would throw balls on purpose, choose nothing but off-speed pitches during stretches, and constantly tinker with his velocity. The problem was, whatever he tried got batters out. Everything came easy.
"I think the one thing with Zack, at that time, not now, was that he constantly needed to be challenged," said Allard Baird, former general manager of the Kansas City Royals, who chose Greinke with sixth overall pick of the 2002 draft. "Everybody can say that pro ball has to be challenging for any young kid, but I think Zack was unique. After he accomplished something, it was really important to get to the next thing. Otherwise he got bored."
After the Royals signed him, Greinke pitched just 11 innings in the minors before being sent to play winter ball in Puerto Rico — the first American pitcher straight out of high school to make that jump in the history of the league. He was 19.
To protect their investment, the Royals assigned veteran pitching coach Guy Hansen to look after Greinke.
Hansen recalls telling Greinke before one outing that he planned to have him throw up to 45 pitches and wanted about 60% to be fastballs.
In the third inning, with his pitch count nearing 45, Greinke fired a 0-2 fastball right under the batter's chin, then immediately looked over to Hansen. The next pitch caught a couple inches of the plate on the outside corner, a perfect fastball to end the inning.
It was his 45th pitch and 27th fastball — exactly 60%.
Minor league hitters were totally overmatched. Besides having a pitcher with an overpowering fastball and an advanced approach to attacking hitters, the Royals also had a natural all-around athlete.
Greinke hit a golf ball over 300 yards, and his double-A manager, Keith Bodie, recalls watching him in a hotel pool on an off day. Greinke was doing laps like a medley race — backstroke, breaststroke, butterfly, freestyle. Bodie, dumbstruck, asked where he had taken swim lessons. Greinke shrugged and said there were never any lessons. He just kind of figured it out.
Greinke bolted through the minors in less than two years.
"To me, with Zack, it was like pin the tail on the donkey," Bodie said. "All I had to do was stop and point him in the right direction. He did the rest. With some other guys, you have to lead them up to the donkey, take their hand, and put it an inch away from the tail.
"Zack was just unbelievable, the things he could do with a baseball. It was like Rembrandt."
Indeed, Greinke looked like the perfect prospect.
He was actually anything but.
::
Even as he continued to experiment, Greinke pitched well. In 2004, his first season in the majors, he gave up less than a hit per inning and struck out four batters for every one he walked. But the next season he had a 5.80 earned-run average and lost 17 games — more than any other pitcher in the American League.
The next year, Greinke almost dropped out of baseball with what was later diagnosed as a social anxiety disorder. He began taking medication and didn't return to the Royals until September, pitching in three games out of the bullpen. Greinke and people close to him don't like to talk about that span of his life, but he has said anxiety problems are no longer an issue.
After returning in 2007, Greinke strung together two solid seasons before breaking out in 2009, winning the AL Cy Young Award with a 16-8 record and a 2.16 ERA.
Last year, after signing with the Dodgers what was then the largest contract in history for a right-handed pitcher, he posted a record of 15-4 with a 2.63 ERA and finished eighth in the National League Cy Young voting.
Yet, even with all his success, Greinke still finds himself occasionally analyzing himself into a corner. Finding his fourth-best pitch to be weak, he'll tinker with it to the point where his second-best pitch suffers.
"Now, I think I realize it, but it's still hard," Greinke said. "That's one thing that Kershaw does really well. He's perfected his strengths so much that people can't stop it, because his strengths are so good.
"And then I'm constantly tinkering with my weaknesses, and it hurts my strengths. Sometimes I go through slumps because I'm messing with too much and I forget how to do things properly."
Other times, his analysis can be useful.
Greinke works out every off-season at Apopka High in Florida, his alma mater. There, he often meets with Eric Lassiter, a former high school teammate who is now the head coach of the baseball team.
One day, Greinke watched the team scrimmage and told Lassiter that he should consider a defensive shift to save some runs. Lassiter tried it out and said that in two weeks using the shift his team had taken away 13 hits and given up two.
It's not just the game that Greinke sees differently.
Baird, the former Royals executive, says Greinke is among the best evaluators of talent he's ever been around, someone who would spend his nights in spring training inspecting minor league prospects instead of taking a break.
Greinke sat in on drafts with both the Royals and Dodgers, and the NBA draft is one of his favorite sporting events of the year. He likes comparing and projecting players, and tracking them to see how their careers develop. He takes particular interest in players who have similar physical attributes but totally different major league careers.
He admits he makes plenty of mistakes. He thought Boston Red Sox second baseman Dustin Pedroia was too small, Texas Rangers first baseman Prince Fielder too big.
The more he evaluates, the less Greinke is drawn to what are said to be can't-miss prospects. He'd rather watch players who might be, as he was, one less-than-obvious weakness away from figuring it all out.
Up next
The Dodgers on Friday at 7 p.m. open a three-game home series against the Arizona Diamondbacks by sending Dan Haren (11-10, 4.27 ERA) against left-hander Vidal Nuno (2-9, 4.46). On the air: TV: SportsNetLA. Radio: 570, 1020.
Get our Dodgers Dugout newsletter for insights, news and much more.
You may occasionally receive promotional content from the Los Angeles Times.