Column: Bryce Harper is a star the Dodgers need to reach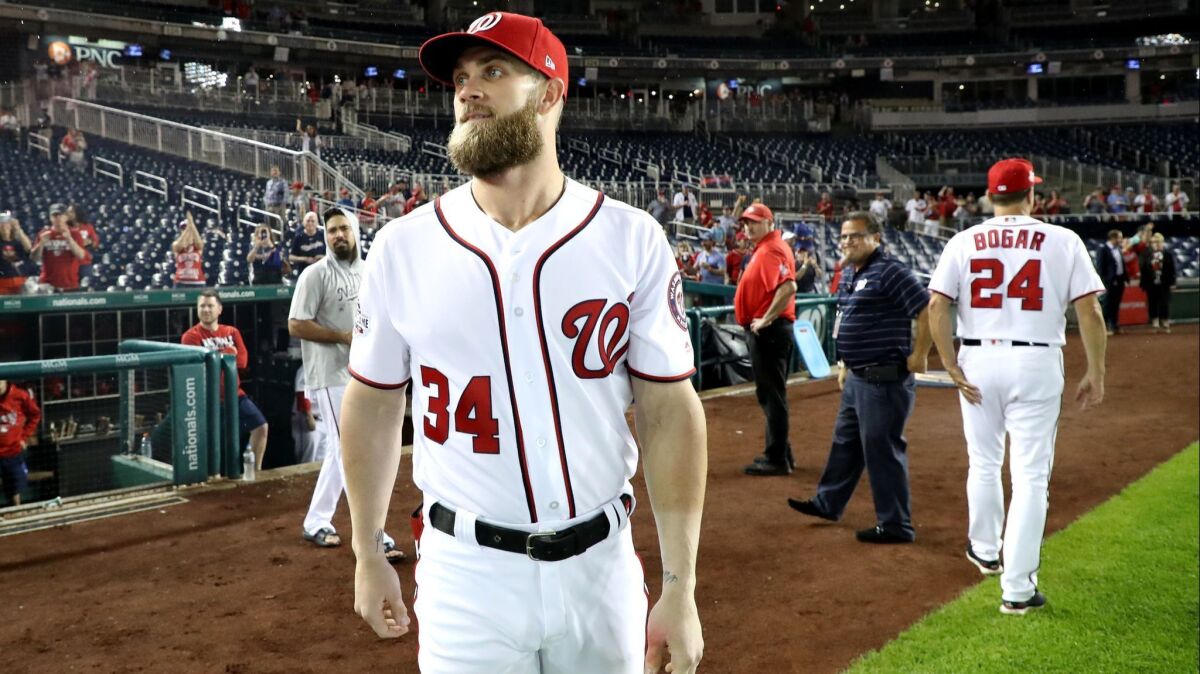 Andrew Friedman is a magician. Not because he built teams that reached the World Series in consecutive seasons. There are other executives who could produce similar results if given similar budgets and equally downtrodden competition.
The real miracle is the degree to which Friedman has changed the conversation about what the Dodgers should do at this time of the year. He has conditioned the city of stars to not dream about stars.
So as Friedman and his small army of assistants head to Carlsbad for the general managers' meetings that start Monday, Los Angeles isn't expecting the Dodgers to land Bryce Harper this offseason.
How weird. How unnatural. How un-L.A.
This is the same city that spent the last couple of years counting down to when LeBron James would become a free agent. This is the town that once had visions of Alex Rodriguez in a Dodgers uniform — and that was when the team was owned by Frank McCourt, who was broke. And this is the same market that convinced the present-day owners of the Dodgers to spend more than $260 million to acquire Adrian Gonzalez from the Boston Red Sox.
The Dodgers again have to embrace the responsibility that comes with playing in this market. They can't use the luxury-tax threshold as an excuse anymore. They have to reinvest the money they are earning from their disastrous but nonetheless lucrative television contract, as well as the sales of tickets that continue to escalate in price. They should absolutely pursue Harper, who is not only the most talented free agent of his generation but also a personality capable of representing the franchise.
Harper is already a six-time All-Star and National League most valuable player, but still 26. He has the highest offensive ceiling of any player in baseball and that includes Mike Trout. At a time when the majority of America's most popular athletes are basketball or football players, he's as close to a superstar as there is in baseball.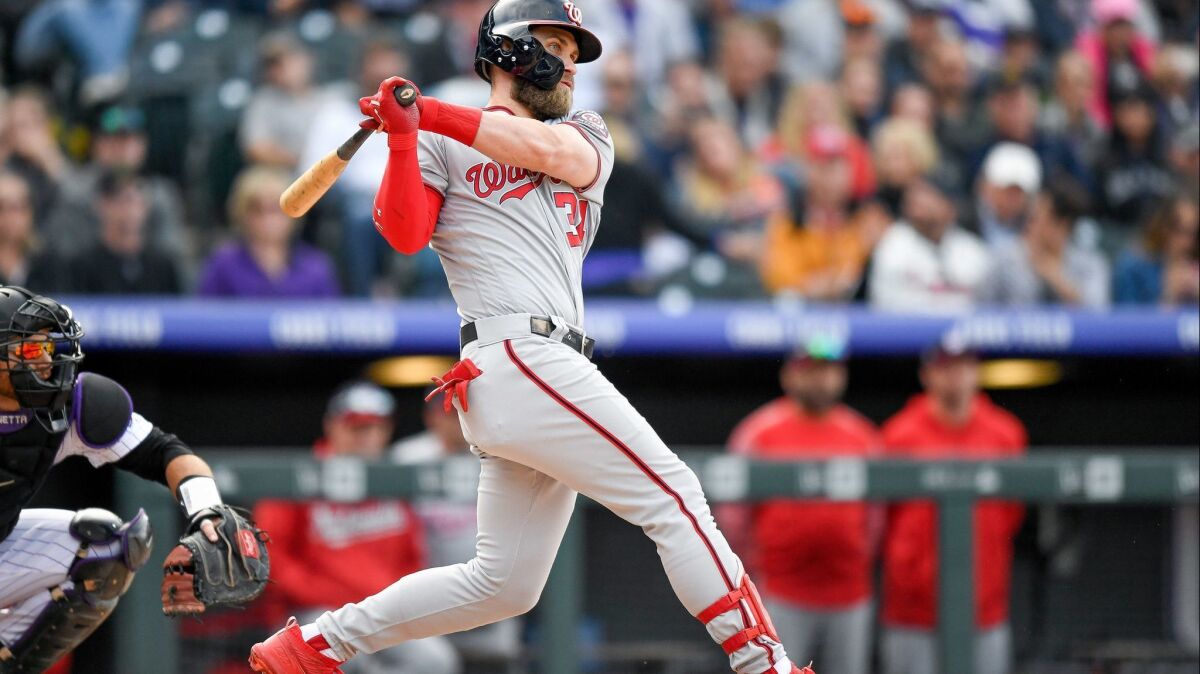 "He has that 'it' factor," Steve Garvey said.
The sometimes outspoken Harper can be divisive, but that kind of character plays well here. That's more than can be said for fellow free agent Manny Machado, who repulsed nearly the entire city over the last three months of the season with his casual arrogance.
Said Garvey about the Dodgers: "We don't have that star. We have a lot of nice players, but we really don't. Nobody's Bryce Harper."
The Dodgers' signature player of the 1970s, Garvey once had the "it" factor, too. Garvey has known Harper since the Las Vegas native played on a Southern California-based travel team with his son as a 15-year-old. The Garveys have remained close to Harper and his family, enough to where Harper helped Garvey's youngest son ask a girl to his high school prom last year.
Like James, Harper was on the cover of Sports Illustrated when he was in high school. And like James, he was selected first overall in the draft.
"Who comes to L.A.?" Garvey said. "The big stars. LeBron's here. L.A. has the best path for the remainder of his career. He can make a difference with his personality and who he is."
And with how he plays.
The best of his seven seasons for the Washington Nationals was in 2015, when he hit .330 with a career-high 42 home runs and was selected NL MVP as a 22-year-old. Harper posted an on-base-plus-slugging percentage of 1.109 that year. No other player has posted a single-season OPS of 1.100 in the 2010s.
Trout has never produced as much offensively, but is considered the better player because of his superior consistency. Whereas Trout has finished in the top four in MVP voting in each of the previous six seasons, Harper is prone to down seasons. He had one such season this year. Still, even after his batting averaged remained under .220 until the final days of July, he played well enough over the final months to finish with 34 home runs and 100 runs batted in. He also led the major leagues with 130 walks.
The widespread presumption is that Harper's relative youth offers him a chance to improve as a player. Harper's agent, Scott Boras, made the case some of Harper's abilities are age resistant, in particular that of reaching base. Boras said his research showed players who had on-base percentages of .400 or better from the ages of 22 to 25, as Harper did, had an average on-base percentage of .383 as a 40-year-old.
Securing Harper's services could require a contract more expensive than the record-setting, 13-year, $325-million deal Giancarlo Stanton signed with the Miami Marlins after the 2014 season.
Friedman has never signed a player to even a nine-figure contract. The most lucrative deals he has struck were to Dodgers who had the options of departing as free agents: Clayton Kershaw ($93 million over three years), Kenley Jansen ($80 million over five) and Justin Turner ($64 million over four).
With Friedman overseeing the baseball operations department, the Dodgers have avoided the more expensive end of the free-agent market. This manifested itself on the field with a team that is more dependent on its depth than it is on high-level performers.
The limitations of that strategy became evident in the World Series, when they encountered a team with equal, if not greater, talent in the Red Sox. The problem wasn't that the Dodgers switched their lineup every day. The problem was that they were forced to switch their lineups because Turner and Machado were the only players capable of hitting left-handed and right-handed pitchers.
His personal relationship with Harper aside, this is one of the reasons Garvey wants him to sign with the Dodgers this offseason. Garvey said he would like to see the Dodgers field lineups with five or six regulars, with Harper, Turner and Corey Seager serving as the foundation.
"I think that every team that is looking for that final piece, like the Dodgers, I think Bryce is that final piece," Garvey said.
And it's not as if the Dodgers never had stars in Friedman's time in L.A. They did, only Friedman inherited them from the previous regime. And what the team's inconsistency exposed was what happens when frontline performers such as Kershaw, Jansen and Turner decline in form.
Mind you, a change in approach will increase costs. And don't for a second think it's by accident the Dodgers are run by former small-market general managers who specialize in bargain-hunting. This is a business. Whatever the owners say publicly about spending whatever it takes to win, they would prefer to limit costs.
Except these are the Los Angeles Dodgers, not the Tampa Bay Dodgers. The city should demand more. The market should demand Harper.
---
Get our Dodgers Dugout newsletter for insights, news and much more.
You may occasionally receive promotional content from the Los Angeles Times.