Column: A big signing was expected after the Dodgers traded Yasiel Puig, so what are they waiting for?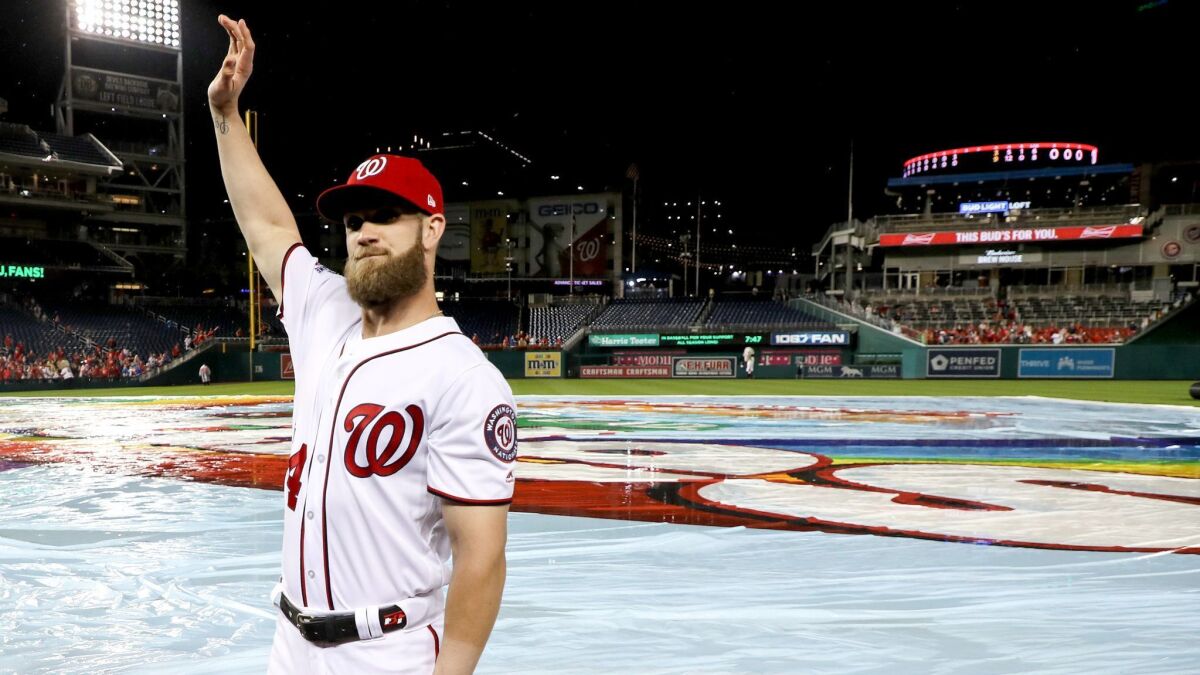 Because of their relative frugality last year, the Dodgers will be penalized as first-time offenders if their payroll for next season exceeds the luxury-tax threshold. And because they traded Yasiel Puig and Matt Kemp to the Cincinnati Reds, they can take on another outfielder.
So where's Bryce Harper?
The Dodgers would be a better team with Harper in their lineup. They would be a more interesting team. They would have the star attraction this star-driven city demands.
So, again, where's Bryce Harper?
With five weeks or so left until the start of spring training, the former National League most valuable player remains a free agent. The free-agent market's other prize, Manny Machado, is also unsigned.
The reason is that the homogeneity of thought across front offices has created nearly an entire league of risk-averse teams that are reluctant to offer long-term contracts to even a couple of 26-year-old franchise cornerstones. The teams are counting on their fans to not notice the sport generates nearly $10 billion annually, almost three times as much as it did when Alex Rodriguez signed a then-record 10-year, $252-million contract with the Texas Rangers in 2000.
Whereas teams such as the Washington Nationals, Philadelphia Phillies and Chicago White Sox have made public their interest in Harper, the Dodgers have remained secretive about their intentions. That has been their standard mode of operation in their four-plus years with Andrew Friedman as president of baseball operations.
Only in this particular case, there shouldn't be any questions about whether the Dodgers are pursuing Harper. They absolutely should be.
Anything less would be an insult the fans who have made the Dodgers the major league leaders in home attendance in each of the last six years. The fans have tolerated escalating ticket prices. Many of them can't watch the team on television because of the broadcasting deal that guaranteed the franchise more than $8 billion. They accepted the team's plan to reduce payroll last year, even if it resulted in the lack of firepower necessary to compete against the Boston Red Sox in the World Series. And they have responded to the trade of their beloved Puig by taking a wait-and-see approach.
The Dodgers have rewarded their customers for their loyalty, first by taking on hundreds of millions of dollars in player salaries in the early stages of the Guggenheim Baseball Management's ownership, then by reaching the World Series in each of the last two years. But if the fans are continuing to do their part, it's crucial for the franchise to do so as well. A start would be to stop pretending the luxury-tax threshold is an impenetrable barrier that prevents the team from doing what it should. Anyways, didn't they stay under the limit last year so they could go over it this year?
The slow-moving markets for Harper and Machado are further evidence the teams are beating the players in the public relations arena. Teams have convinced their fans that players rarely live up to long-term contracts. Only this is a matter of perspective. The reality is that if star players were paid what they were really worth, they would earn considerably more on an annual basis. Contracts are lengthened as a means of deferring compensation.
Of course, that's not what the fans see. When they see a player in his mid- to late-30s being paid $25 million, they think he's stealing money, when in reality he probably should have already collected that $25 million on top of whatever he made as a 30-year-old at the height of his powers. So if the Dodgers are looking for a shorter deal, that's fine. But they should be prepared to pay accordingly.
The degree to which the Dodgers pursue Harper will say a lot about where they are headed as a franchise. At the moment, they have a worse team than they had last year. Not making a serious effort to acquire Harper or some other frontline player will be an indication they are ceasing to be what they were in recent years, a team that combines financial might with the insights cultivated by its analytics department. That would be shameful. Their fans have behaved like fans in a major market. The franchise has to behave like it's from one, too.
---
Get our Dodgers Dugout newsletter for insights, news and much more.
You may occasionally receive promotional content from the Los Angeles Times.