Vin Scully is retired, but the Los Angeles Dodgers still have longevity in the booth with Jaime Jarrin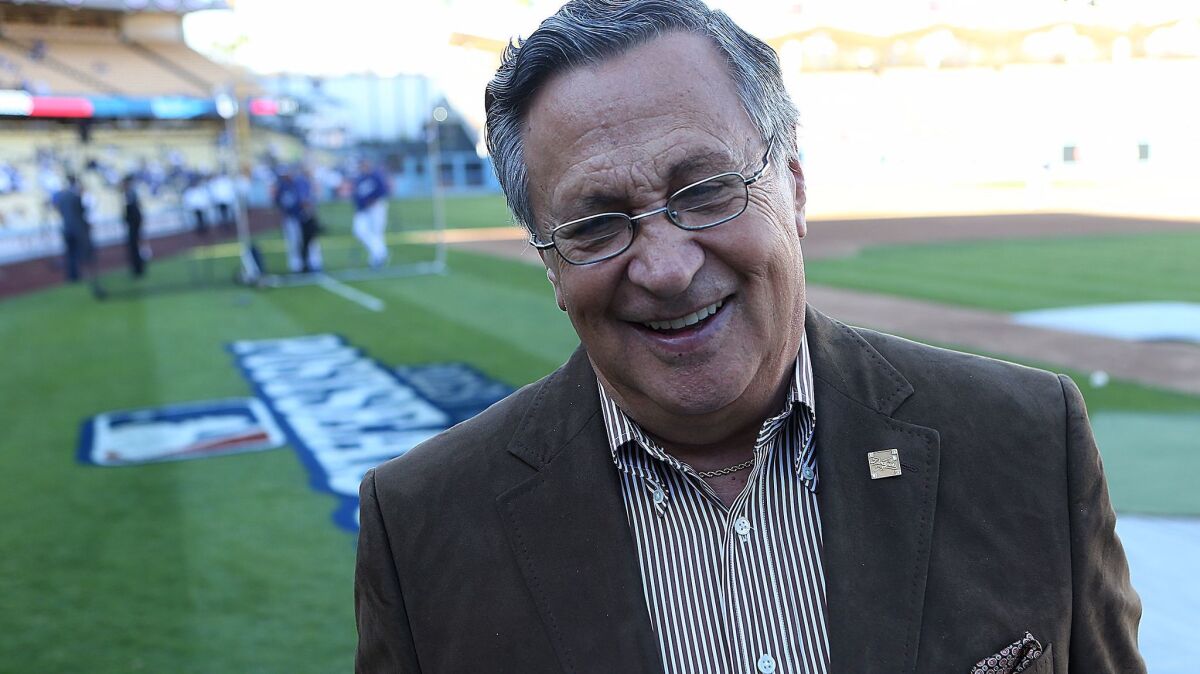 Reporting from Scottsdale, Ariz. —
With the retirement of Vin Scully after a 67-year career with the Dodgers, the announcer that has worked the most years with one team broadcasts for … the Dodgers.
He's Jaime Jarrin, the Spanish voice of the Dodgers since the team arrived in Los Angeles in 1958. The baseball broadcaster next on the seniority list: Denny Matthews, who started calling games for the Kansas City Royals in 1969.
"It has been a great ride," Jarrin said. "To be on the same page with Vin Scully and Jack Buck and Ernie Harwell and Joe Garagiola, for me, has been fantastic. And now, I am the senior of all.
"It's amazing. I never thought I would last this long. But I fell in love with the game."
Jarrin will be feted by Southern California Public Radio at a March 18 gala, one of three honorees "whose life's work has transformed our region."
When he started calling Dodgers games, Jarrin said, Southern California had no Spanish-language television station.
"He was the voice that was saying, 'Welcome,'" said Bill Davis, president of Southern California Public Radio.
"It was a process of becoming a Dodger fan, then becoming an Angeleno, and then becoming an American. I think it's a story that a lot of Latinos know, but I'm not sure that a lot of Anglos and Asians and even African Americans know or understand. We wanted to shine a light on that."
To the previous generations of Latinos that tended to speak Spanish exclusively, Jarrin was the connection to a team that is one of the city's cherished institutions.
"Even back then," Scully said, "I knew Jaime's influence on the Latino community would be immense.
"He's a dear friend of mine. He brings everything possible into the broadcasting booth: He's well prepared, he's informative, he's entertaining, he's interesting. He just does everything correct."
And, as a new generation of Latinos turns to bilingual speech — or to English exclusively — Jarrin's broadcasts are a treasured cultural link for families. Latinos have become such a prominent part of the Dodgers' fan base that the team regularly holds "Viva Los Dodgers" festivals before Sunday home games.
"In Dodger Stadium, everybody speaks Spanish," Jarrin said. "I know we have so many bilingual people. One way to keep the Spanish alive is through our broadcasts."
Jarrin, 81, is under contract through 2018, which would be his 60th year as a Dodgers broadcaster. He said he has not decided how much he might like to work after that.
Waiting on Seager
If this were the regular season, shortstop Corey Seager would be a prime candidate for the new 10-day disabled list.
Seager has sat out three consecutive games because of back soreness. The Dodgers are off Thursday, so Manager Dave Roberts indicated that the team might hold Seager out until Friday.
If Seager does play Friday, he would have been sidelined for six days. By reducing the minimum stay on the disabled list from 15 days to 10, teams can more easily replace a key player such as Seager, rather than play a man short for six or seven days in the hope of not losing him for 15.
"That's going to help a lot of clubs," Roberts said. "It helps you navigate a little bit."
Follow Bill Shaikin on Twitter @BillShaikin
---
Get our Dodgers Dugout newsletter for insights, news and much more.
You may occasionally receive promotional content from the Los Angeles Times.