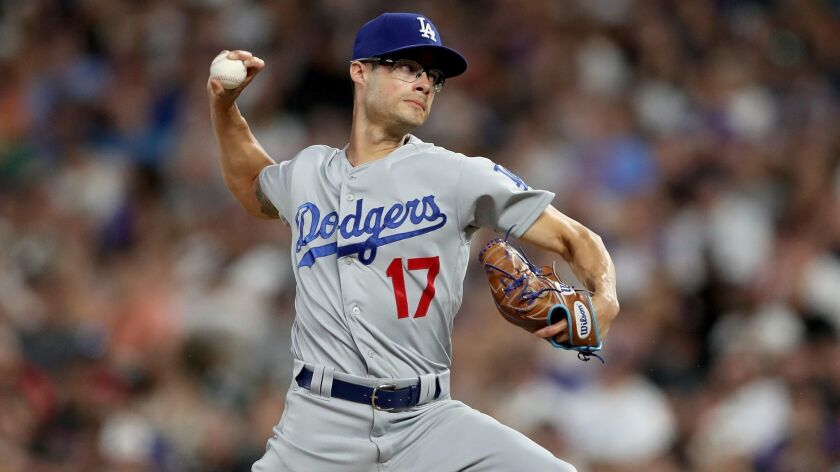 Unlike previous fiascoes, Joe Kelly's latest ugly outing in a Dodgers uniform was not of his own doing.
It was not like his performance April 1 in which he gave up four runs in 1 2/3 innings or the three runs he allowed in one-third of an inning May 4. Or the time he gave up two runs without getting an out May 27. Or the June 10 nightmare in Anaheim in which Kelly did everything wrong but give up a hit.
The box score did not suggest Kelly pitched well in the fifth inning Friday at Coors Field. He was charged with five hits and an earned run after relieving Hyun-Jin Ryu. But his defense committed three errors and other mistakes behind him in the Colorado Rockies' eight-run inning. Just one of the eight batters he faced reached base on a ball hit out of the infield. Kelly, displeased with the official scorer's decisions, questioned whether he was sober. His manager was pleased with the performance.
"He was putting the baseball where he wanted to," Dodgers manager Dave Roberts said. "If you're looking at the big picture, very encouraged."
That big picture is this: The Dodgers, as constructed 30 days before the trade deadline, believe they need Kelly, 31, to become the pitcher they envisioned when they gave the right-hander a three-year, $25-million contract in December.
"For us to be who I think we all want to be at the end of this year, we need Joe to be a big piece of that," Dodgers bullpen coach Mark Prior said. "And he's fully aware of that. He puts a lot of expectations on himself. He understands what his role should be on this team and what it needs to be for us to be a championship ballclub."
Angels pitcher Tyler Skaggs dead at 27 »
Kelly's importance to the club, however, could change by the end of the month. The Dodgers will be one of several playoff contenders in the market for bullpen help before the July 31 trade deadline. The rumors have already begun circulating; last week, MLB.com reported that Los Angeles is interested in acquiring Pittsburgh Pirates left-hander Felipe Vazquez, who has a 1.80 earned-run average and has struck out 14.1 batters per nine innings.
A left-hander of Vazquez's ilk would fill two needs at once, giving the Dodgers an effective left-hander and a proven hurler capable of handling high-leverage, late-inning situations. Such a player would also cost the Dodgers at least one of their top prospects, if not more, depending on the pitcher's contract status.
Vazquez, who is making $4.5 million this season, has two guaranteed years and $13.5 million remaining on his deal plus two team option years at $10 million each. On Sunday, Pirates general manager Neal Huntington, whose team is three games under. 500, reportedly downplayed the chances of trading Vazquez.
Which relievers ultimately become available could depend on the standings, but the last-place San Francisco Giants have left-handers Will Smith and Tony Watson to dangle to the highest bidders. The Kansas City Royals' Jake Diekman could also be moved. Others will surely surface.
The Dodgers have spent the first half of the season without a steady left-handed reliever available. While Julio Urias has solidified himself as one of the Dodgers' three best relievers, the club is only using him for multiple innings at a time with ample rest to limit his workload. Scott Alexander began the year as the team's left-handed specialist but wasn't getting left-handed batters out before going on the injured list. He isn't expected to return until after the all-star break.
Caleb Ferguson was sent back down to triple-A Oklahoma City on Thursday for the second time after struggling to establish his fastball and land his curveball for strikes. In his place, Los Angeles called up left-hander Zac Rosscup, who had been designated for assignment by three teams, beginning with the Dodgers, since November.
Sign up for our Dodgers newsletter »
The Dodgers, of course, would also receive a boost if Kelly, who has gotten hitters from both sides out in his career when at his best, continues trending in the right direction with an adjustment he recently implemented.
When Kelly emerged from a seven-day hiatus following his appearance in Anaheim to secure the final three outs in a blowout win over the Giants, his pitch mix was different. Of his 24 pitches, 10 were two-seam fastballs, according to Brooks Baseball, after he threw one in his first 22 appearances. The selection continued in his next four outings. He has effectively ditched his four-seamer, a pitch he has relied on since he became a reliever in 2016 with the Boston Red Sox.
"I just switched on my own just to go to the two-seamer because it felt more comfortable," said Kelly, who is 2-3 with a 6.26 ERA in 27 appearances this season. "That's what I could command, I guess, so I just went out there and did it on my own."
So far, the modification has produced positive results — Kelly has allowed one earned run in six innings since his appearance in Anaheim. It is an encouraging stretch for the Dodgers, one that could alter how they approach the trade deadline if it proves sustainable.
"It'll all correct itself," Roberts said. "That's why we got to take the long view."
Twitter: @jorgecastillo
---