Los Angeles Dodgers lose to Philadelphia Phillies, 5-4, but ace Clayton Kershaw might soon return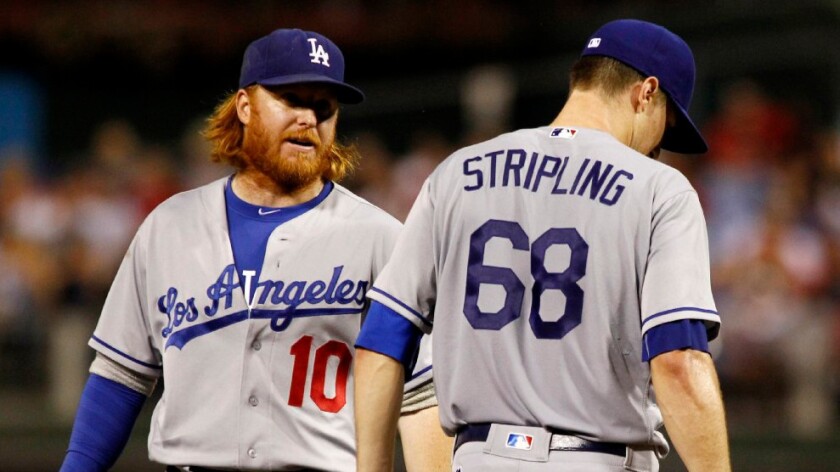 In the most significant sign of progress in weeks for Dodgers ace Clayton Kershaw, the three-time Cy Young Award winner will meet the team in Cincinnati with the hope of ramping up his activity as he attempts to return from a herniated disk in his back.
The news heightened the team's spirits after a 5-4 loss to the Philadelphia Phillies on Thursday, a result that cost the Dodgers (67-53) a chance to sweep. The game turned when rookie reliever Grant Dayton gave up a two-run homer to third baseman Maikel Franco in the seventh inning. This marked the second time in two weeks that Dayton gave up a homer to a Phillies hitter that ruined a potential sweep.
"That's a game that leaves a sour taste in your mouth," Manager Dave Roberts said.
The Dodgers have surged in Kershaw's absence but still feel an acute need for him. He will throw on flat ground Friday, a step he has already completed in Los Angeles. The Dodgers felt comfortable with his recovery from that activity to schedule a light bullpen session Saturday, if Kershaw's back cooperates.
Kershaw last pitched June 26. He received an epidural a few days later. He charted an aggressive course of rehabilitation, which proved unwise. After a simulated game July 16, his symptoms returned. The team chose to shut him down. He has not pitched on a mound since.
The news of Kershaw's impending arrival added an extra patina of happiness to the evening. The offense staked rookie starter Ross Stripling a lead before he took the mound. Justin Turner lifted a three-run homer against Phillies pitcher Jared Eickhoff in the game's third at-bat, lifting a slider high enough to make rain as it cleared the left-field fence.
A wayward throw by Chase Utley allowed a runner to reach second in the bottom of the second. Stripling gave up a run-scoring single to outfielder Aaron Altherr.
In the fourth, Yasmani Grandal blasted a 3-1 fastball into an empty section of seats in right field. It was his 20th homer, four more than the previous career high he set last season.
From there, the offense went silent. After the fourth inning, no Dodger reached third base.
"You can't score 10 runs a night," Roberts said.
The three-run lead slipped away in stages. Phillies first baseman Ryan Howard boomed a solo homer in the fourth. Stripling surrendered a two-out RBI double to infielder Taylor Featherston later in the inning.
Stripling completed only five innings, unable to replicate the seven-inning performance from his last start.
"I wasn't as efficient as I was last outing," Stripling said. "I think I made some good pitches, and I was able to get out of a couple jams. Overall, I'm not disappointed."
Dayton recorded the third out of the sixth. Roberts sent him back out for the seventh to face the top of the Phillies' order.
Roberts felt that Dayton, a left-handeder, would succeed against switch-hitter Freddy Galvis. With left-handed slugger Ryan Howard due up third, Roberts preferred to have Dayton face Franco, a right-handed hitter, over a right-handed reliever such as Pedro Baez face Howard. Howard homered against Baez on Tuesday.
And Roberts did not want to use his pitchers on a per-batter basis. If he inserted left-hander J.P. Howell to face Howard, the Phillies probably would have countered with a right-handed pinch-hitter. So Roberts sacrificed the platoon advantage and allowed Dayton to take on Franco. The decision backfired when Galvis singled and Franco crushed a fastball.
"It's a game of tug-of-war," Dayton said. "He got me on that one."
The defeat annoyed Roberts but did not break his spirit. And there could be reason for uplift this weekend, if Kershaw can take the mound.
For Kershaw, the route from a bullpen session to a big-league game will not be brief. He must rebuild the stamina that has faded during his time on the disabled list. That probably will require multiple rehabilitation starts, which Roberts indicated was part of the theoretical progression.
Kershaw began playing catch with more gusto last week at Dodger Stadium. He had previously been limited to exercises designed to strengthen his core and back muscles.
"He's pain-free," Roberts said. "We wouldn't continue to go forward if he wasn't."
A critical hurdle in his rehab will occur this weekend. If Kershaw's back holds up, the team adds an ace to a first-place club, and just in time for October.
"We feel that there's time," Roberts said, "for Clayton to make a couple, two, three starts for us."
Follow Andy McCullough on Twitter @McCulloughTimes
---
Get our high school sports newsletter
Prep Rally is devoted to the SoCal high school sports experience, bringing you scores, stories and a behind-the-scenes look at what makes prep sports so popular.
You may occasionally receive promotional content from the Los Angeles Times.