Modest but proud, Clayton Kershaw gets another chance to polish his October legacy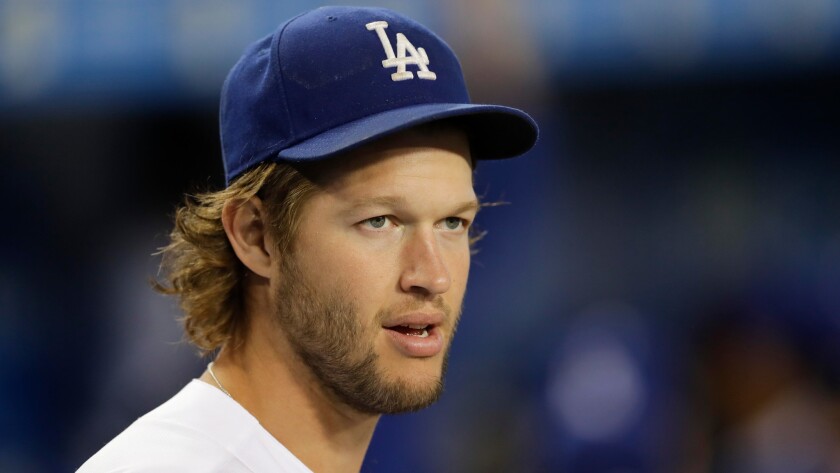 Reporting from Washington, D.C. —
His discomfort manifests in the form of a bashful grin. The moment will occur once or twice in almost every postgame interview with Clayton Kershaw.
Someone will float a theory about his outing, disagree with his assessment of the day, or, worst-case scenario, ask him to find the right words to praise his pitching.
Kershaw will mumble a response, smile, shrug, point his eyes toward the ground and nod, waiting for the moment to pass.
"It's an uncomfortable thing to talk about myself, in general," Kershaw said one day last week, adding, "evaluating performance or talking about things like that is really uncomfortable for me."
On Friday afternoon, Kershaw will climb atop the mound at Nationals Park for Game 1 of the National League division series, aiming to brush aside the Washington lineup, usher his team a game closer to its first World Series berth since 1988, and tweak his own October legacy.
A day before that, during a news conference on the ground floor of the ballpark, he will confront a task he has yet to master after nine seasons in the majors: How to talk about himself.
He is a modest man, so a description of his talent after victory forces him to de-emphasize his dominance. He is a prideful man, so a dissection of his mistakes in defeat activates his honor.
The result veers from genial combativeness to droll comedy. Kershaw rarely barks at his interlocutors. He conveys displeasure in the brevity of his answers, but he usually maintains a smile.
Kershaw is courteous with his time but protective of his privacy. He can wax poetic about the attributes of every member of his team's roster except for one.
On Thursday afternoon, Kershaw will be forced to respond to questions that he can only answer on Friday. How will his back respond after missing 75 days with a herniated disk? Can he pitch on short rest in Game 4? Can he avoid the pitfalls of previous October stumbles? It's a recipe for an awkward encounter.
"He can be very blunt, so I can imagine how it goes," third baseman Justin Turner said with a grin. "And I've heard some of the questions you guys ask."
With that in mind, here is a step-by-step guide in how to properly attempt to interview the best pitcher in baseball.
::
Step 1: Ask a question
Q: "So, how'd you feel? You've had some struggles against the Diamondbacks. You pitched pretty well today."
A: "Thanks!"
—June 15, in Phoenix.
The central dilemma to evaluating Clayton Kershaw — at least during the regular season — is there is nothing left to evaluate. He won his first National League Cy Young award in 2011. Across the past six seasons, he has been worth 42.8 wins above replacement, according to FanGraphs, which is 12 wins more than David Price, the second-most valuable pitcher in that time period.
Kershaw wields a three-pitch arsenal, each sharpened into a scythe. His fastball hums at 93 mph. His curveball earned him acclaim upon his debut, but the development of his slider has carried him to an unquestioned place in the sport's pantheon.
"Clayton understands what he does so well," Nationals second baseman Daniel Murphy said. "So why would he want to focus on a hitter's weaknesses, instead of working with his own strengths?"
His approach is not a secret. Kershaw's delivery upsets the timing of opponents. He hammers right-handed hitters with inside fastballs, which allows him to follow up with sliders aimed at the hitter's back foot. He confounds left-handed hitters because his curveball and his slider operate on opposing planes. The slider runs away from the hitter. The curve dives into the dirt.
"It's one of those at-bats that if you foul off a pitch down the middle of the plate, you've got big problems," Murphy said. "It's one of those situations where, if he's got it all working, you're dead."
The repetitiveness of his brilliance can slacken the jaws of those paid to interview him. Kershaw does pretty much the same thing most starts, with pretty much the same results. As he discusses his performance, he requires prompting, even if there is little to ask.
"I don't think I'm going to ever be the guy that gives soundbite after soundbite," Kershaw said. "If somebody has a question, I'll answer it. But if they don't, I don't have anything to say, really.
"I don't want to be a jerk about it," he added. "I understand everybody is trying to just do their jobs. I don't know. I need a question to provoke an answer."
::
Step 2: Don't make him focus on a specific opponent
Q: "Obviously this game is a lot bigger than just you and Bryce. But as a competitor, when you go up there and he's coming up, and you're able to do what you did against him, do your juices flow a little bit extra when you've got him coming up to the plate?"
A: "No."
—June 20, in Los Angeles.
From an outside perspective, for an audience focused on the glitz of stars colliding, the central clash of this series might be Kershaw dueling with outfielder Bryce Harper, the Nationals' brash, hyper-talented cleanup hitter.
Kershaw does not allow himself to fixate merely on the men capable of matching his talent. He understands how the game works — he did not give up a home run in 2016 to Buster Posey, San Francisco's star catcher; he did give one up to light-hitting utility man Ehire Adrianza.
The Nationals do not present an individual matchup that should especially trouble Kershaw. Jayson Werth, the veteran outfielder, has hit two home runs off him, but both occurred four years ago. Murphy hit two homers off Kershaw in last year's postseason, but he is currently dealing with a strained buttocks.
The only other National to hit a homer off Kershaw is Harper. It is his only hit in 15 at-bats. He has struck out 10 times.
The team most capable of conquering him in recent years, the St. Louis Cardinals, did not boast one superlative hitter. The group felled Kershaw in the 2013 and 2014 playoffs through chains of tenacious at-bats.
"People love the individual matchups, but I'm just worried about getting nine guys out," Kershaw said. "I don't really care who they are."
::
Step 3: Don't try to read his mind
Q: "You described your performance as 'decent,' and yet you had 13 strikeouts. Obviously, you're on this big strikeout kick. Are your standards that high that a 13-strikeout game is just decent?"
A: "I don't like the question, really. I don't remember saying 'decent.' It was a good game. We won the game. The strikeouts really don't matter in terms of dictating a pitching performance."
—June 10, in San Francisco.
One day last week, during a conversation by his locker at San Diego's Petco Park, Kershaw started to smile and nod toward the ground.
"I don't care," he said. "I really don't care."
He was talking about the perception of his vulnerability during the playoffs. He acknowledges the perception exists. He does not believe it is an accurate assessment of his performance. He also knows his words only mean so much.
"When there's some naysayers and some skeptics about certain things, yeah, I think certain guys might use that to add more fuel," Dodgers Manager Dave Roberts said.
Kershaw has made eight starts in the postseason since 2013. Four times, he faced the Cardinals. In those four outings, he posted a 7.15 earned-run average. In the other four games, his ERA was a more typical 1.69. He closed out Atlanta on short rest in the 2013 NLDS. He won an elimination game at New York's Citi Field in last year's NLDS against the Mets.
"Even in St. Louis, I had a couple really bad ones, obviously," Kershaw said. "But I pitched on .... Never mind. I don't want to toot my own horn, or whatever."
His modesty prevents him from going further. But his pride rejects the premise, as he remembers he was pitching on short rest when he hung a curveball to Cardinals first baseman Matt Adams in the seventh inning of Game 4 of the 2014 NLDS. Adams hit a three-run homer, the only offense allowed by Kershaw all game. But it was enough to send the Dodgers home.
Backed into a similar corner a year later, Kershaw responded with seven innings of one-run baseball against the Mets. But the Dodgers neglected to cover third base against Murphy in Game 5 and failed to hit Jacob deGrom, meaning Kershaw's effort was for naught. That is the margin for error in October, when "it just gets so magnified, and rightfully so," Kershaw said.
The spotlight will shine on him once more on Friday. This past season has challenged him like none other. He missed more than two months with the herniated disk, and at times it appeared he might not recover before the playoffs. Upon his return, he needed time to recapture his form.
After five starts in September, Kershaw looks like himself. He believes his reputation in October should be different. He can alter it on Friday.
"Nobody talks about the success I've had in the postseason," Kershaw said. "That's fine. Ultimately, what it comes down to is if we win the World Series, everybody will stop saying everything, good or bad. That mindset is what I have to think about."
andy.mccullough@latimes.com
Twitter: @McCulloughTimes
---