Ticket proceeds for seat where Kirk Gibson's '88 World Series home run ball landed will help Parkinson's research
The Dodgers and former World Series hero Kirk Gibson have joined forces on a ticket-price increase that should be easy for fans to rally around.
Gibson, whose dramatic Game 1 walk-off homer off Oakland Athletics closer Dennis Eckersley catapulted the Dodgers toward their last championship in 1988, and the team announced on Monday that the seat in the right-field pavilion where the home-run ball landed will be painted blue and signed by Gibson.
The price of Seat 1 in Row D of Section 302, normally about $50 a game, will be raised to $150 a game this season, with $100 from each ticket going to the Kirk Gibson Foundation to help raise funds for Parkinson's disease research.
"Anything anybody can to do help raise funds for and the awareness of Parkinson's, I'm very interested in talking to," Gibson, who was diagnosed with the disease in 2015, said on a conference call.
"I'm proud to say the Dodgers have stepped up in a huge fashion to join forces with me and my foundation while celebrating the 30th anniversary of the home run."
Gibson, 60, will throw out the ceremonial first pitch before the March 29 season opener against the San Francisco Giants in Dodger Stadium. He will also be on hand March 30 when a special-edition Gibson bobblehead will be given to the first 40,000 fans in attendance for the second game of the season.
An additional 88 limited-edition bobbleheads signed by Gibson will be auctioned off along with game-worn jerseys from the Friday game, with proceeds going to Gibson's foundation. And 50% of the proceeds from the opening-day 50-50 raffle drawing will go to the foundation.
The famous seat has not yet been named, but Gibson has a suggestion.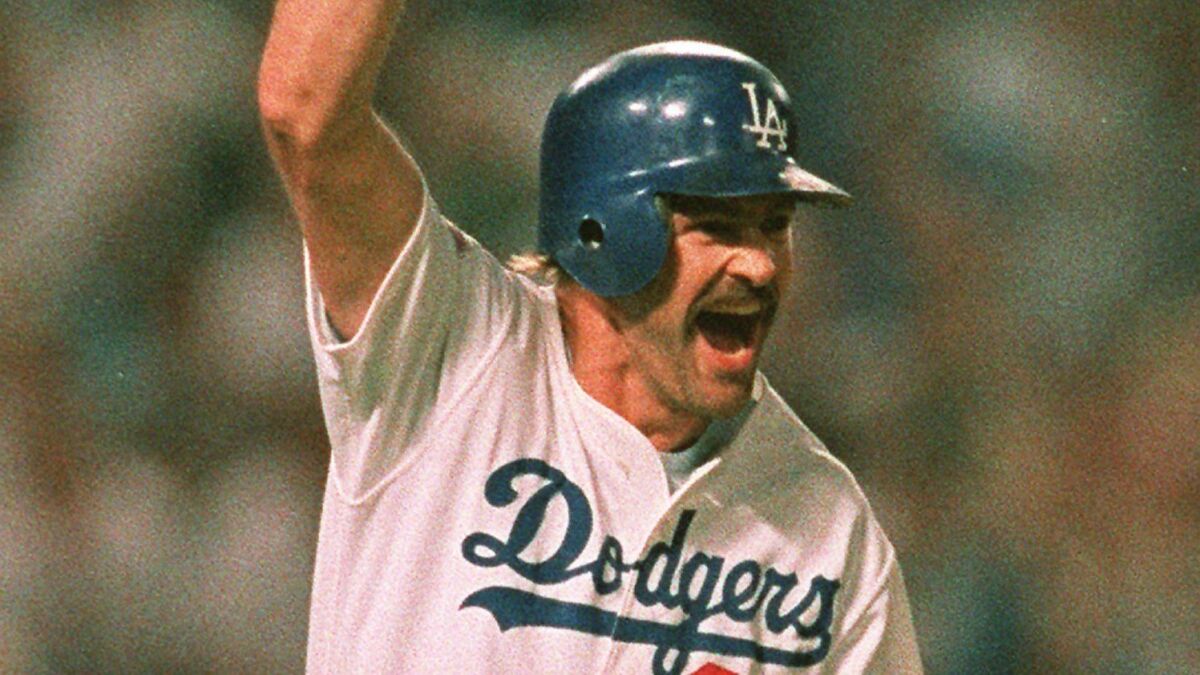 "Every time I walked into Dodger Stadium, I always looked at the seat where the ball landed, and I'd say, 'Hey, look, there's Seat 88,' " said Gibson, who managed the Arizona Diamondbacks from 2010-14. "I'm not sure if that's what they're going to call it, but that's what I'm begging for them to call it."
One of the sport's most iconic home runs came in Gibson's only plate appearance during that World Series. The outfielder injured both legs during the National League Championship Series and wasn't expected to play against the A's.
But Gibson hobbled to the plate as a pinch-hitter in the ninth inning of Game 1, with the Dodgers trailing, 4-3, and a runner on base. He poked a 3-and-2 back-door slider from Eckersley into the right-field seats and pumped his fist as he limped around the bases and into the arms of his jubilant teammates.
"Sometimes I get shy about it because it has been played over and over again, but at the same time, it gives me goosebumps," Gibson said. "Shoot, that was a great moment. I'm proud to be a part of it. Again, that was me doing my part on a great team, adding a contribution."
Get our Dodgers Dugout newsletter for insights, news and much more.
You may occasionally receive promotional content from the Los Angeles Times.