Inside the Dodgers' magical season: Unknown rookies, come-from-behind wins and a chance at history
Reporting from atlanta —
On the 2017 Dodgers, even the anonymous get to spend a day in the sun.
One day in July, in the midst of an 11-game winning streak, the team called up a slender, 30-year-old reliever who had spent a dozen seasons in the minor leagues with four different organizations. As the Dodgers took batting practice, manager Dave Roberts was talking with pitcher Rich Hill about the new arrival.
"What a great story for Paredes, huh?" Hill said. "Twelve years in the minors."
"Yeah, that's great," Roberts said. "Great story."
Roberts paused.
"Hey, what's his first name?"
What happened next to Edward Paredes should come as little surprise to those who have followed this Dodgers' season. In his major league debut, a few hours after his manager learned his name, Paredes pitched a scoreless inning. Minutes later, rookie sensation Cody Bellinger bashed a home run that made Paredes the winning pitcher. He posed for pictures inside the clubhouse at Dodger Stadium holding the game ball.
It has been that sort of season for the Dodgers, a year of talismanic bats, prophetic text messages, clubhouse pranks and an endless supply of indelible moments. The team owns the best record in baseball. They could be the best Dodgers team ever. They have a chance to be the best team in the history of the sport.
"Everyone's on the same page," veteran second baseman Chase Utley said. "We all realize it's not about ourselves as individuals. It's about trying to find ways to win."
The roster overflows with riches. The Dodgers sent six players to the All-Star Game. Eight players have hit 10 or more home runs. At the trade deadline, the front office added four-time All-Star pitcher Yu Darvish to a starting rotation fronted by seven-time All-Star Clayton Kershaw. With a bullpen led by All-Star closer Kenley Jansen, the team is undefeated when leading after eight innings.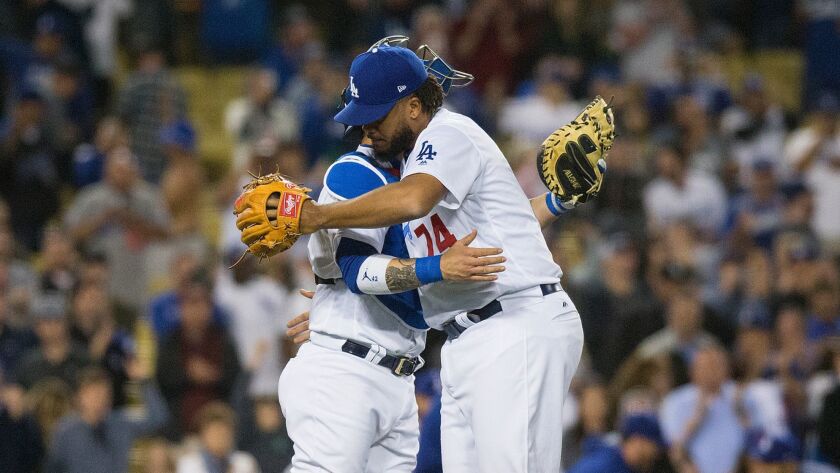 During this torrid summer, the Dodgers set a major league record by winning 53 consecutive games in which they held the lead — at any point. When Kershaw went down with a back injury in late July, the team responded by winning its next seven games.
Across their storied history, the Dodgers have won more than 100 games six times, only three times since V-J Day and twice since moving to Los Angeles. The 1953 Brooklyn Dodgers hold the franchise record with 105 wins. The 2017 Dodgers are on pace for 114. They won 75 games faster than any team in franchise history.
Only two teams have won more than 110 games since big-league schedules were expanded to 162 games in 1962. The 1998 Yankees won 114 en route to a championship. The 2001 Mariners won 116 — but failed to reach the World Series. For these Dodgers, judgment will not arrive until the playoffs. The franchise has not won the World Series since 1988, a 28-season drought that includes early exits the past four years. A bitter October could ruin a joyous summer.
Roberts has not hidden from the expectations. When other teams traded for upgrades in July, Roberts sounded unflappable. "We still know we're the best team," he said.
It was not always this way. On the morning of April 25, the Dodgers were sputtering along with a 9-11 record when Bellinger boarded a flight from the team's minor league affiliate in Oklahoma City. The story of this team's ascendance begins when he joined it for a series in San Francisco.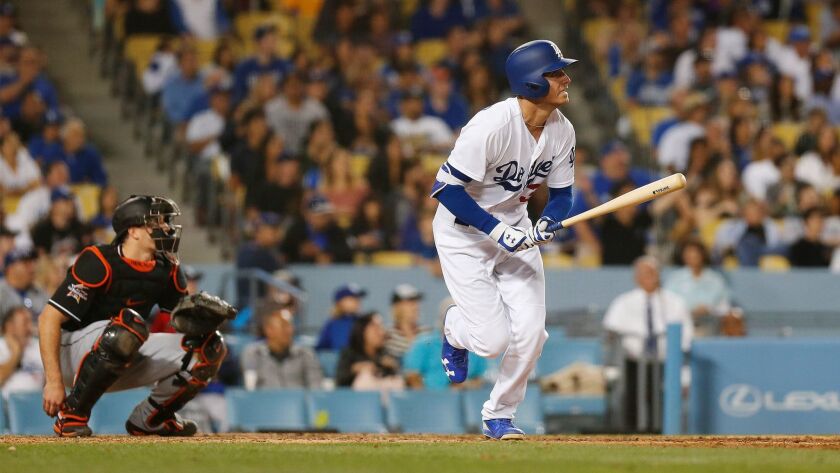 It took Bellinger, the lanky son of a former pro ballplayer, five games to hit his first home run. He has not stopped since. Bellinger accumulated 21 homers faster than any player in major league history. On Wednesday, he became the first Dodgers rookie — he just celebrated his 22nd birthday — to homer 30 times since Mike Piazza in 1993. Along the way, he has awed teammates with his production and left them indebted to him in more ways than one.
Take Justin Turner, the ginger-bearded third baseman. He hit only one homer in his first 39 games. As he recovered from a hamstring injury, he devised a solution for the power outage. He would use one of Bellinger's bats. His first time at the plate upon his return, he carried one of Bellinger's 33.5-inch, 31.5-ounce Louisville Sluggers to the plate.
Turner hit a home run.
By then, the Dodgers were already rolling. They overcame a five-run deficit on June 3 in Milwaukee with a rally capped by a grand slam from Chris Taylor, another player who has emerged as an unlikely force. A reserve infielder when he was acquired last summer, Taylor learned how to play the outfield during spring training, and has become the starting left fielder and leadoff hitter.
A couple weeks later, the offense bruised Cleveland relief ace Andrew Miller on consecutive nights to defeat the reigning American League champions. During a four-game stretch against the New York Mets, the offense scored 36 runs. On the night Bellinger became the first rookie since the 1800s to homer 10 times in a 10-game stretch, another of the team's young stars, 23-year-old Corey Seager, hit three home runs in a game.
Shortstop Corey Seager gets high-fives at the dugout after hitting his second homer of the night, a 2-run shot, giving the Dodgers a 6-4 lead against the San Francisco Giants.
(Gina Ferazzi / Los Angeles Times)
Center fielder Joc Pederson makes a leaping catch on a ball hit deep by New York Mets' Neil Walker to end the game.
(Julie Jacobson / AP)
Yasiel Puig slides safely home for a run in the ninth inning as Travis d'Arnaud of the Mets can't come up with the ball at Citi Field.
(Jim McIsaac / Getty Images)
Pitcher Yu Darvish talks with catcher Austin Barnes after warming up in the bullpen before a game against the Arizona Diamondbacks.
(Ross D. Franklin / AP)
Los Angeles Dodgers right fielder Yasiel Puig is congratulated by teammates after hitting a solo home run against the New York Mets.
(Julie Jacobson / AP)
Corey Seager celebrates after Justin Turner scored the winning run on a double by Kyle Farmer as San Francisco Giants catcher Buster Posey, left, reaches for an off-center throw. The Dodgers won 3-2.
(Mark J. Terrill / AP)
Kyle Farmer has his shirt ripped apart by teammates Enrique Hernandez, Cody Bellinger and Yasiel Puig after hitting the game winning double during his Major League debut against the San Francisco Giants in the 11th inning at Dodger Stadium Stadium.
(Kevork Djansezian / Getty Images)
Justin Turner throws to first to complete a putout against the Mets.
(Kathy Willens / AP)
Yu Darvish delivers a pitch in the first inning against the Arizona Diamondbacks at Chase Field.
(Jennifer Stewart / Getty Images)
Left fielder Cody Bellinger watches his home run ball clear the center field wall to give the Dodgers a 7-0 lead over the Miami Marlins in the eighth inning at Dodger Stadium.
(Gina Ferazzi / Los Angeles Times)
Relief pitcher Kenley Jansen hugs catcher Yasmani Grandal after getting the save in the Dodgers 4-2 win over the Colorado Rockies.
(Gina Ferazzi / Los Angeles Times)
Los Angeles Dodgers' Justin Turner, center, celebrates with Cody Bellinger, right, and Yasiel Puig after hitting a walk-off single during the ninth inning against the Minnesota Twins.
(Kelvin Kuo / AP)
Clayton Kershaw, left, who is on the disabled list due to a back injury, congratulates Cody Bellinger after the Dodgers beat the Twins 6-2.
(Allen J. Schaben / Los Angeles Times)
Pitcher Clayton Kershaw warms up in the bullpen before facingthe Washington Nationals at Dodger Stadium.
(Robert Gauthier / Los Angeles Times)
Washington Nationals shortstop Trea Turner is tagged out at home plate by Dodgers pitcher Pedro Baez in the eighth inning at Dodger Stadium.
(Robert Gauthier / Los Angeles Times)
Closer Kenley Jansen picks up his 10th save after giving up one hit over 1 1/3 innings, closing out a 2-1 win over the Nationals at Dodger Stadium.
(Robert Gauthier / Los Angeles Times)
Pitcher Kenley Jansen pulls away after signing autographs before a game against the Atlanta Braves.
(John Amis / AP)
Catcher Yasmani Grandal steps over Braves first baseman Matt Adams after tagging him out to prevent a run in the eighth inning at Dodger Stadium.
(Robert Gauthier / Los Angeles Times)
Relief pitcher Edward Paredes gets a win in his against the Minnesota Twins.
(Jae C. Hong / AP)
Dodgers' Joc Pederson's bat, right, rests in the dugout before a baseball game against the New York Mets in New York. Pederson is among the most recent major leaguers to adopt the Axe Bat handle, a modern take on the baseball bat that eschews the traditional round knob.
(Julie Jacobson / AP)
After a 10-game winning streak in June, the Dodgers topped that with an 11-game streak in July. The peak came on the first day of the season's second half, inside Marlins Park in Miami. Trailing by a run in the ninth, the team was down to its final strike in three straight at-bats before Yasiel Puig launched a three-run homer. "The team's been playing so great that it gives me joy," Puig said.
The victories did not stop there. Later, in the midst of a nine-game winning streak, the team called up a minor-league catcher named Kyle Farmer. He had roomed with Alex Wood, one of the Dodgers' left-handed starting pitchers, at the University of Georgia. When Wood heard about Farmer joining the team, he text-messaged Roberts to vouch for his friend.
"He's the best," Wood wrote to Roberts. "And he's clutch."
You can imagine what happened next.
In his major league debut, Farmer smacked a game-winning double. Wood sprinted out of the dugout and tackled him at second base. Two dozen Dodgers joined the pile until Farmer emerged, with his jersey ripped open to display his bare chest to a jubilant Dodger Stadium.
"That moment right there, Kyle's going to remember it forever," Roberts said.
Roberts earned raves for his debut as a manager in 2016, when the team overcame a major league record for injuries yet still took the division. He won National League Manager of the Year. He may not repeat in 2017 — the award tends to go to managers who overcome hardship — but the team has its eyes on a bigger prize.
For years, the Dodgers clubhouse was riven with internal strife. These teammates appear to enjoy each other. Sometimes they play poker together after games on the road. A sizable group went to a Garth Brooks concert together at the Forum. They rib each other during interviews and find room for pranks — like one involving a cooler in the visitors' clubhouse in Atlanta this week.
After a win on Monday, catcher Austin Barnes tried to goad outfielder Joc Pederson into the trap.
"Joc, have you tried the mango one?" Barnes asked. "The mango Powerade?"
"Is it good?" Pederson asked.
Barnes insisted it was. Pederson walked over and opened the cooler. Waiting inside was a rubber snake, rigged to rise up with the lid. Pederson screamed and slammed it shut.
A day later, a strange thing happened. The Dodgers lost. They were only one victory away from a third double-digit winning streak — no team has done that since the 1954 Milwaukee Braves.
The clubhouse was quiet as the players came off the field. A victorious clubhouse is a party, usually complete with songs by Drake or Vince Staples or Kendrick Lamar blasting on the stereo. A losing clubhouse can be as quiet as a tomb.
The silence bothered Jansen. He found the speaker system and turned on the soothing sounds of Andrea Bocelli's "Con Te Partiro." As the strings swelled and Bocelli's tenor filled the room, the Dodgers started to crack up. Jansen could not stop smiling.
"We've got to play something when we lose," Jansen said. "I'm too used to hearing music."
Twitter: @McCulloughTimes
---
Get our Dodgers Dugout newsletter for insights, news and much more.
You may occasionally receive promotional content from the Los Angeles Times.