Dodgers mailbag: Which team would be their toughest National League Division Series opponent?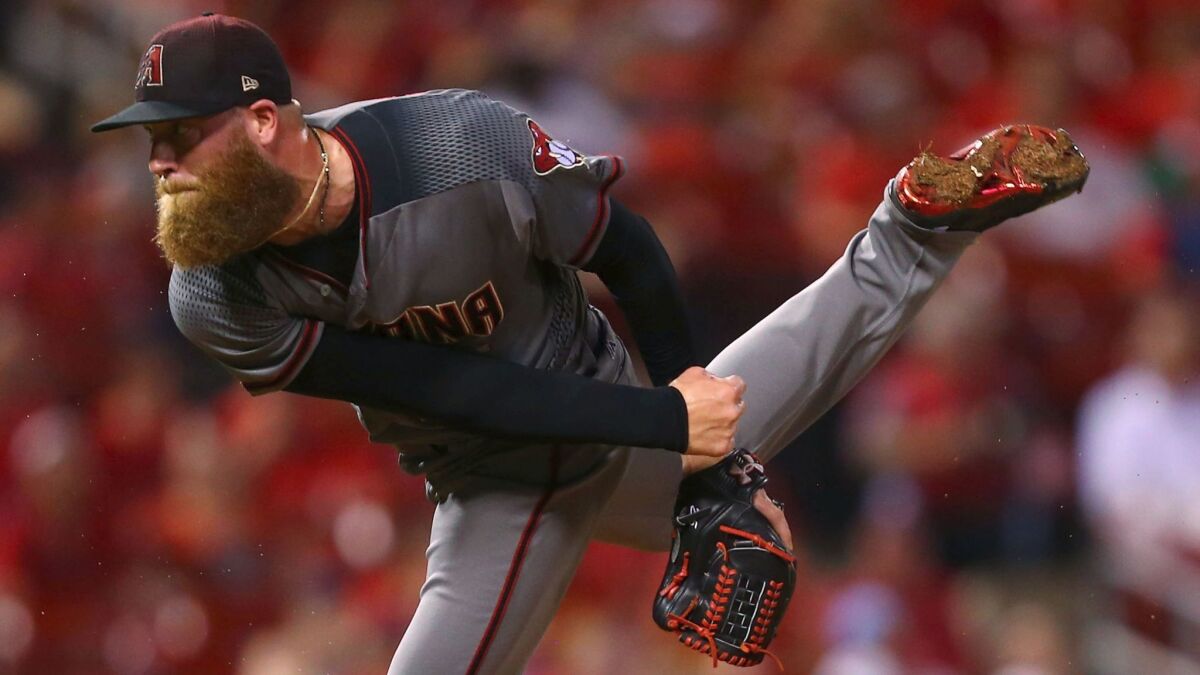 Reporting from pittsburgh —
The Dodgers are 87-35. That translates to a 116-win pace. Only one other team in baseball, the Astros, has won more than 75 games thus far. The Dodgers remain the class of the sport, within striking range of the 2001 Mariners.
The team traveled here on Sunday evening after dropping a series finale to Detroit and Justin Verlander. Here are the pitching matchups for the four games at PNC Park:
MONDAY: LHP Alex Wood (14-1, 2.30 ERA) vs. RHP Gerrit Cole (10-8, 4.04 ERA)
TUESDAY: RHP Brock Stewart (0-0, 1.64 ERA) vs. RHP Jameson Taillon (7-5, 4.64 ERA)
WEDNESDAY: LHP Rich Hill (9-4, 3.54 ERA) vs. RHP Trevor Williams (5-6, 4.71 ERA)
THURSDAY: LHP Hyun-Jin Ryu vs. RHP Chad Kuhl (6-8, 4.52 ERA)
As always, there is plenty to discuss. You can send me questions on Twitter @McCulloughTimes. Let's do this.
Besides the Braves?
The toughest opponent for the Dodgers in the National League Division Series, given the actual candidates, would be Arizona. The Diamondbacks are a more complete team than the Rockies, with a better starting rotation, a quality lineup and a possible relief ace in Archie Bradley.
It would not be fun to play Colorado, given the explosiveness of the team's offense and the prospect of two games at Coors Field. But the Dodgers excel at run prevention — it is their best quality — and can feast on the soft underbelly of the Rockies pitching staff.
Arizona presents a more complicated challenge. The Diamondbacks keep teams off the board. The Dodgers rank first in baseball with a 3.12 earned-run average. Arizona is not that far behind — fourth place with a 3.75 ERA. By keeping the score close, the Diamondbacks can heighten the variance in a short series. Plus, they have Paul Goldschmidt, Jake Lamb and J.D. Martinez. It won't be easy.
I doubt it. It's hard to imagine Curtis Granderson, considered one of baseball's best citizens, ruining things.
It would not make sense for the Dodgers to trade Joc Pederson when his value is so low, given his recent swoon, but if another team offers comparable value, I'm sure the Dodgers would listen. More likely, they'll retain him and hope he can be rejuvenated in 2018.
Sure. I can't guarantee it, though. The team already has Clayton Kershaw, Rich Hill, Alex Wood, Hyun-Jin Ryu, Kenta Maeda, Brandon McCarthy and Scott Kazmir under contract for 2018. They could add in free agency, too. So while the team continues to value Brock Stewart, he may serve as a swingman again next season.
Because Yu Darvish is a better pitcher and he won't cost the team $56 million in 2018 and 2019, like Justin Verlander would.
Not much, although I haven't asked every single player about it. The 116-win season doesn't carry the same weight as an undefeated NFL season or the Bulls' 1996 season. Everyone knows the Mariners didn't even reach the World Series in 2001. As General Manager Farhan Zaidi told Bill Plaschke earlier this week, the Dodgers are more fixated on winning 11 games in October than winning 116 during the summer.
That doesn't mean the players aren't excited about the potential for a historic mark. It just isn't much of a fixation. Most guys don't even know what day of the week it is, let alone their record.
1. I've learned not to rule out anything with the Dodgers, but I doubt there is room on the postseason roster for a Terrance Gore (or Dave Roberts) who operates solely as a threat on the bases. The bench is already clogged.
2. A hot dog is not a sandwich. It's a hot dog.
Andre Ethier will get the occasional start in the field, but the team sees his primary role as a batter off the bench.
It's an intriguing concept, given the importance of leveraging relievers in the postseason. When this season began, I figured Alex Wood would become Kenley Jansen's primary set-up man. Wood pitched his way into an even more prominent role, and earned a selection to his first All-Star team. The team figures he will start Game 3 in the National League Division Series, and it would be surprising to see them change stream from that. Wood has been on a starter's schedule for months, he wants to start and starting pitching still has value in the postseason.
Hyun-Jin Ryu has been excellent in the second half, with a 1.55 earned-run average in five starts. But the downside risk with Ryu, who does not have an arsenal that surpasses Wood, against elite lineups in October probably outweighs the reward of using Wood in leverage spots.
I am more curious to see if the Dodgers try to transition Ryu into a one-inning reliever. It won't be easy, because Ryu requires a lengthy amount of time to loosen up his surgically repaired left shoulder. But he could be a valuable contributor if the Dodgers can find a way to spot him into important spots.
It's actually spelled Ohtani, for what it's worth.
To quote Royals general manager Dayton Moore: My crystal ball is broken.
The Dodgers have the financial capability of signing Shohei Ohtani. They sent a sizable scouting contingent, a group that included president of baseball operations Andrew Friedman and broadcaster Orel Hershiser, to Japan earlier this week. But Ohtani is unlikely to leave Nippon Professional Baseball this winter, and who knows what the baseball world will look like if he leaves in 2018 or 2019 or whenever.
So, to answer your question: It's possible.
No.
This is not a question, but it is great advice, for both readers and for the Dodgers. Stay hydrated, stay active and try to get a good night's sleep as often as you can.
The executives monitored the market for a few weeks after the July 31 non-waiver deadline. It seems like the trade came together relatively quickly, once the Dodgers decided to commit to Curtis Granderson. The ongoing slump of Joc Pederson expedited that pursuit.
I never collected baseball cards. I remember having some NFL cards, but the only one I really remember was Jack Del Rio. I assume I threw them out at some point.
To answer the first question: Rob Segedin and Kyle Farmer are not currently around. They are in triple-A Oklahoma City. Barring injuries, they likely won't rejoin the team until the rosters expand in September. Enrique Hernandez, Chase Utley and Andre Ethier are likely to make the postseason roster as bench players. It's possible Farmer could sneak onto an October roster — the Dodgers carried three catchers against Washington in last year's NLDS — but the bench is already pretty crowded.
As for Adrian Gonzalez, the team is still gauging his readiness and ability to handle opposing pitchers. He showed some encouraging signs in his first weekend back, making some hard contact on Friday and Saturday.
As for Forsythe/Taylor: For now, the team appears committed to using Taylor as the primary center fielder. We'll see how things shape up in the next six weeks. Too much can change. It just depends on who is hitting.
SummerSlam 2017 was like most WWE PPV with Brock Lesnar in the main event. There were some solid moments during the night, but outside of Lesnar's match, there wasn't much worth re-watching.
The finish to the Rollins/Ambrose-Sheamus/Cesaro match was fun. Most of the rest felt unremarkable. Jinder Mahal's run as WWE champion remains embarrassing. They are wasting Shinsuke Nakamura. There isn't much else to say.
The first five minutes of the main event was so bonkers, it almost made the whole card worth it. You know what's funny? For a company that struggles to build new stars, WWE made one in Braun Strowman, which seemed so unlikely a year or so ago. Strowman has come so far since Royal Rumble 2016, when Lesnar absolutely humiliated him. I thought Strowman would never recover from that. Instead they stuck with him, and he might be the biggest babyface in the company. You need to protect him, still, but he can be fun to watch.
So the four-way was tremendous. Lots of action, lots of big-guy high spots. It peaked early, but I'm glad they're keeping Lesnar on top until his contract runs out. He's the best asset they have.
Twitter: @McCulloughTimes
---
Get our Dodgers Dugout newsletter for insights, news and much more.
You may occasionally receive promotional content from the Los Angeles Times.