Dodgers' Don Mattingly says he expects team will keep GM Ned Colletti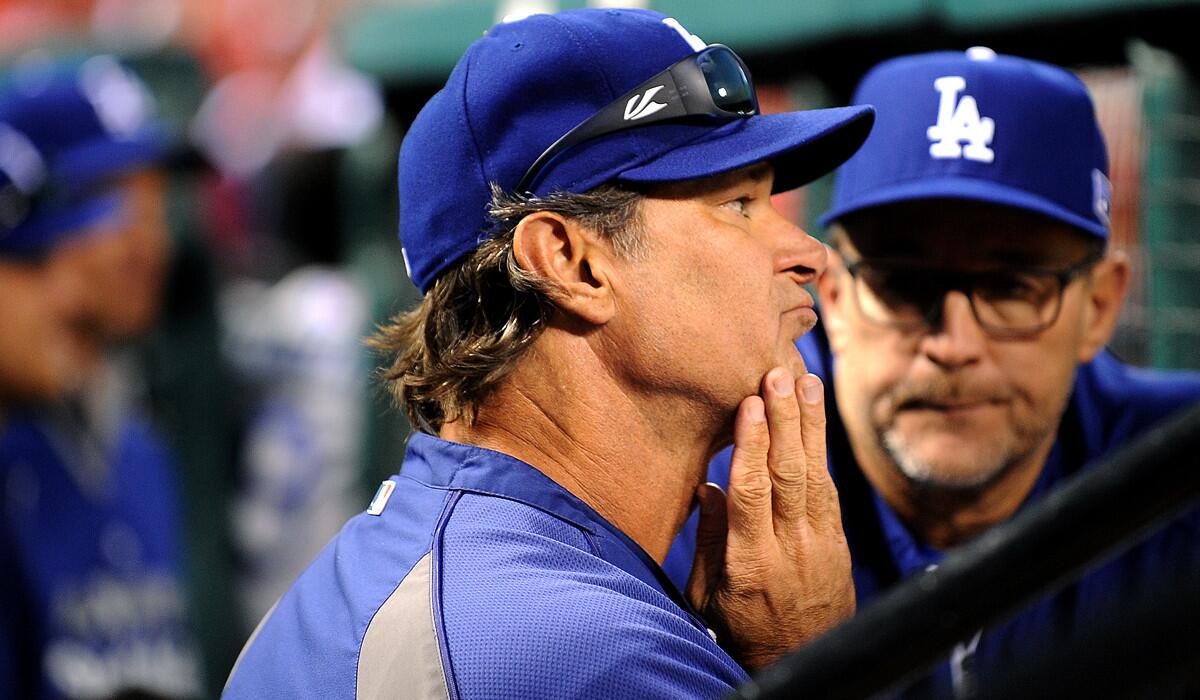 Two days after the Dodgers were eliminated from the playoffs, Manager Don Mattingly said he would be "surprised" if the team didn't retain General Manager Ned Colletti, whose future was becoming a source of widespread speculation.
"We came in today and it seemed business as usual," Mattingly said Thursday at Dodger Stadium.
As for himself, Mattingly said he was "assuming" he would manage the team next season. Mattingly's contract doesn't expire until the end of the 2016 season.
"Nobody's told me anything different," he said.
Colletti spent the day meeting with Dodgers President Stan Kasten, as well as members of the team's baseball operations department. Colletti and Kasten are expected to address the media next week, a team spokesman said.
With Colletti and Kasten occupied, the role of speaking on behalf of the Dodgers fell to Mattingly, who spent more than 30 minutes answering questions from reporters.
Mattingly said he didn't view the season as a failure, even if it ended in a National League division series defeat to the St. Louis Cardinals.
"I didn't feel like it's a bust," he said. " 'World Series or bust' is pretty tough. I don't mind the mentality at all, but then you have to have reality too."
He also said he didn't view team chemistry as a problem.
"You were there when we got into September, how comfortable I was about this team being ready to play," he said. "You just felt it. I don't worry about our chemistry."
Mattingly said there was only one managerial decision he wished he could take back: Sending in Scott Elbert to face Yadier Molina to start the seventh inning in Game 3 of the NLDS. Elbert gave up a double to Molina, a sacrifice bunt to Jon Jay and a go-ahead, two-run home run to Kolten Wong. The Cardinals went on to win, 3-1.
Mattingly said if he could do it over again, he would have Brian Wilson face the right-handed Molina, then call on the left-handed Elbert to pitch to the left-handed hitting Jay and Wong.
The admission was a rare moment of candor for Mattingly, who was almost comically evasive on most topics.
While speculating Hanley Ramirez was affected by his impending free agency — "I think it's almost impossible not to" — Mattingly refused to say whether he wanted the shortstop back on the team next season.
He also wouldn't say whether he felt the Dodgers had to trade any of their outfielders. The unit now consists of six players, with Matt Kemp, Yasiel Puig, Carl Crawford, Andre Ethier, Scott Van Slyke and Joc Pederson.
"I think it's probably not the time and I'm probably not the one to be talking about it," Mattingly said. "I think that's Ned's conversation with you guys."
Asked whether he wanted his entire coaching staff to return, Mattingly offered a rambling non-answer.
"You know what?" Mattingly said. "I'm proud of what we accomplished this year. I know you always hear the talk of the payroll, all that stuff. To me, this is part of a building process for us. I'm proud of what this team was able to accomplish. This is a different season than last year. Even losing at the playoffs, I don't think we made an error in the playoffs. We had the one baserunning thing at third base" when Andre Ethier was thrown out in Game 4, "but that was kind of a funky hop. We talked about that in St. Louis. They got the key hit, made the pitch, we didn't get the key hit or make the key pitch. That's really the difference in this series. We got beat. We didn't beat ourselves. The year before, you look back, we were throwing the ball all over, we were doing this and that. This year, we got beat."
Twitter: @dylanohernandez
Get our Dodgers Dugout newsletter for insights, news and much more.
You may occasionally receive promotional content from the Los Angeles Times.