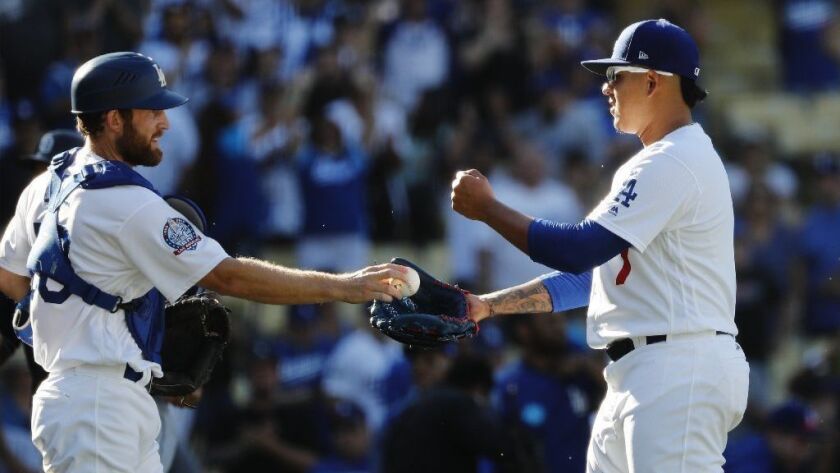 Reporting from Milwaukee —
Less than a month after making his season debut following major shoulder surgery, left-hander Julio Urías was added to the Dodgers' roster for the National League Championship Series against the Milwaukee Brewers. He replaced fellow left-hander Scott Alexander, who appeared in one game in the National League Division Series. The rest of the Dodgers' roster remained intact.
Once a precocious prospect who made his major-league debut at age 19, Urías underwent surgery to repair the anterior capsule in his left shoulder in June 2017. He didn't appear in a major-league game again until Sept. 15 after tossing 11 2/3 innings across eight outings in the minors. The 22-year-old pitched in three games for the Dodgers, all in low-leverage situations in relief and with at least six days' rest. He logged four scoreless innings, striking out seven and walking none. Those were his first big-league games since May 20, 2017.
While Urías was working his way back, Alexander was the Dodgers' most reliable left-handed reliever this season. The 28-year-old appeared in 73 games. He tallied a 3.68 ERA in 66 innings. He appeared in one game against the Braves in the NLDS. He tossed a scoreless eighth inning in Game 3.
PITCHERS (12)
RHP Pedro Baéz
RHP Walker Buehler
LHP Caleb Ferguson
RHP Dylan Floro
LHP Rich Hill
RHP Kenley Jansen
LHP Clayton Kershaw
RHP Ryan Madson
RHP Kenta Maeda
LHP Hyun-Jin Ryu
LHP Julio Urías
LHP Alex Wood
POSITION PLAYERS (13)
C/IF Austin Barnes
1B/OF Cody Bellinger
2B Brian Dozier
IF David Freese
C Yasmani Grandal
IF/OF Enrique Hernández
OF Matt Kemp
IF Manny Machado
IF Max Muncy
OF Joc Pederson
OF Yasiel Puig
OF/IF Chris Taylor
3B Justin Turner
Twitter: @jorgecastillo
---